Summer is back in a big way! We predict a record number of burgers will be grilled at outdoor gatherings this year. Of course, you have your own signature burger… but these recipes give you some great options guaranteed to keep all your parties feeling as special as the first burger of the season.

Tammy Algood develops recipes for The Tennessee Magazine that feature farm-fresh Tennessee food. Those fresh, local ingredients will always add cleaner, more flavorful foods to your table. We recommend visiting local farms and farmers markets to find the freshest seasonal produce.
---
Building the perfect burger
Ground turkey, chicken, pork, Italian sausage and seafood are great foundations for a burger. If you still prefer beef, stick with ground chuck for the best flavor.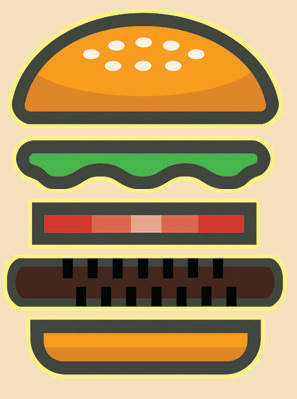 Beyond salt and pepper – Seasonings can change an ordinary tasting burger to one out of this world. Instead of just dusting the surface, mix it in to distribute evenly through the entire burger. Moist ingredients such as onion, fresh herbs and garlic boost the juiciness.
Equal is best – Burgers that are close to the same size are ideal for grilling/cooking purposes so that you have everything ready to serve at the same time. I prefer burgers that are no more than an inch thick and no thinner than ¾ inch.
Give it a mash in the middle – To keep burgers level and prevent puffy middles as they cook, give each an indentation in the center with your thumb.
Temperature control – Use an instant-read thermometer to check for doneness. Slip it into the center from the side.
Take advantage of the heat – While the grill is hot, place the buns cut side down over the direct heat. It takes less than a minute to have them perfectly toasted and gives you a platform for no sogginess!
---
Ask Chef Tammy

Email your cooking questions to Tammy Algood: [email protected].

Janice would like to know an alternative to using breadcrumbs in meatloaf. "I never use breadcrumbs and hate to purchase them for just that one recipe," she writes.
Janice, there are plenty of substitutes for bread crumbs. Pull out your food processor and mince carrots or crushed cornflakes, crackers or chips. If you are using crackers or chips, reduce the amount of salt in your recipe. You can also use oats, dry onion soup mix or, if you have it, cooked rice. But if you really prefer using breadcrumbs and have the space, consider freezing the excess in a moisture-proof zip-top bag. They will keep up to a year, and no thawing is necessary.
Charlene writes, "I love seafood salad, but when I make it, it tends to be watery. I use precooked shrimp that I thaw and peel as well as crabmeat, mayonnaise, shallots, seasonings and a touch of mustard. It is great at first, but if it has to sit in the refrigerator for any time before serving, it gets watery. What am I doing wrong?"
Charlene, I am guessing it is excess moisture in the shrimp. First of all, make sure they are completely thawed, and drain them well. As you peel them, place in a colander to drain even more. You might even take the extra step of wrapping them in paper towels and gently squeezing out any excess liquid.