Union City's new Discovery Park of America is a world-class center of education and fun for the whole family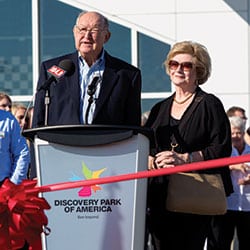 Against all common sense, in the 1989 movie "Field of Dreams," Kevin Costner's character plows under the corn in his Iowa field in order to build a baseball diamond. The movie spawned the now ubiquitous saying, "If you build it, they will come."
The same could be said of the new Discovery Park of America in Union City, which also sits, coincidentally, in the middle of a cornfield.
Tucked away in the northwest corner of Tennessee, Union City is a town of 11,000 people, one of those you-can't-get-there-from-here kind of places, more than 100 miles from the nearest big city. But if you cast your eye to the future, you can see that the fact the under-construction Interstate 69 runs right next to Discovery Park bodes well for accessibility to this phenomenal attraction. Even now, before the completion of the new Interstate, it is well worth the drive to Obion County to visit this "Smithsonian-esque" destination.
Discovery Park of America (DPA) had its genesis in 2006, but it wasn't until the following year that the idea expanded in scope when Obion County natives Robert and Jenny Kirkland got involved. The Kirklands, who began and later sold two large chain stores, including the popular Kirkland's home décor stores typically found in malls, have funded the vast majority of the $100 million project through their Robert E. and Jenny D. Kirkland Foundation and have committed several million dollars to fund future expansion and the operating budget.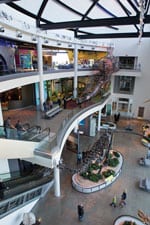 "This area was a wonderful place to grow up," says Robert Kirkland. "My family's focus on education and hard work provided the foundation for my success. People here are hardworking and intelligent and deserve a great future. It was my goal to build a permanent venue to enhance education for children as well as adults and to do it in an entertaining way for all ages. I hope it will be a destination that people will visit again and again and walk away each time with an expectation for continued innovation and having learned something new about our universe, our planet, culture in other parts of the world, the unique history of our region and the people who made our country great."
After several years of work by various committees made up of community members, the Kirklands, staff members and countless designers and construction work­ers, Discovery Park finally opened its doors Nov. 1 and has been busy ever since. It only took a couple of weeks for the total visitation to surpass the population of Union City.
"We are thrilled with the response we are getting, both in numbers and in positive comments," says Mary Nita Bondurant, marketing director for DPA.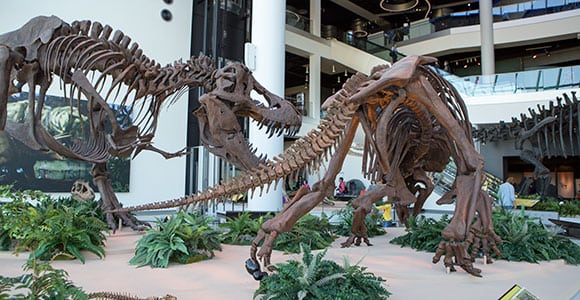 Discovery Park is much more than a museum you can peruse in a couple of hours. In fact, you might want to set aside an entire day, perhaps two, to fully enjoy your visit. You'll be exploring both indoors and out, with displays and interactive exhibits that span from prehistoric times to the modern day and beyond. DPA's mission is to inspire visitors to see beyond their current level of knowledge, and that won't be a problem as you begin to wander through all the offerings.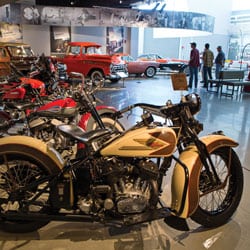 The park's centerpiece is the Discovery Center, a 100,000-square-foot facility that you won't be able to miss if you're driving by. Its shiny exterior is constructed at interesting angles that stand out in the rural setting, but it's what's inside that is truly remarkable. Several galleries are filled with exhibits:
Children's Gallery — Lots of hands-on learning fun for young visitors. This area includes a 48-foot sculpture of a human, and kids can slide down the leg.
Energy — Learn about alternative energy sources and use the activity stations to help the 20-foot model generator turn energy into electricity.
Enlightenment — This gallery, found behind a bookcase door, is filled with artifacts from around the world. You'll see everything from musical instruments to a suit of armor to a life-size replica of the Ark of the Covenant.
Military — Trace the country's military history through artifacts used in every war. Your eyes will certainly zero in on two of the bigger items on display: a replica of a Civil War ironclad and a PT-17 Stearman aircraft suspended above the atrium.
Native Americans — From the Ice Age wooly mammoth to the artifacts and displays chronicling the different eras of native peoples in what would become the United States, this is an impressive area to explore at your leisure.

Fred, Bonita and Jurline Mahan view regional Native American artifacts.

Natural History — Some of the focal points of this gallery are the life-size replicas of several dinosaurs.

Regional History — Numerous aquariums and terrariums help tell the story of the area that is home to Reelfoot Lake. But the biggest draw to this gallery is probably the earthquake simulator that lets visitors get a feel for what the powerful earthquakes that hit the region in 1811-1812 might have felt like. The simulator is one of three add-on features available at the Discovery Center.
Science, Space and Technology — It's home to the interactive starship theater, where visitors can launch a spaceship for a tour of the universe. Things you'll see during your trip include a working model of the Gutenberg printing press. The theater is the second of the add-on attractions.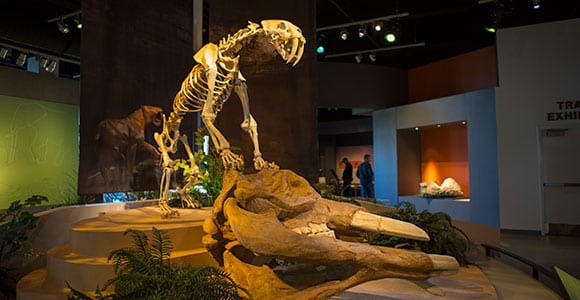 The final of the three special, add-on attractions at the Discovery Center is a 120-foot tower with a glass elevator that gives visitors an expansive view of DPA's 50 acres as well as a lot of the surrounding countryside.
Once you're finished indoors, there's still a lot to discover on the grounds (it's not called Discovery Park for nothing). A 1.5-mile walking track is lined with numerous slices of history grouped into different areas:
The Settlement — Showcases buildings that would have been part of an 1800s small community, including a dog-trot cabin.
The Barn — Several pieces of farm machinery are on display.
Mill Ridge — A look at late 1800s commerce with a working gristmill and blacksmith shop. Visitors can also get a look at the education of yesteryear at the one-room schoolhouse.
Freedom Square — These reconstructed buildings include a version of Liberty Hall, complete with replicas of the Liberty Bell, the Mayflower Compact and the Declaration of Independence.
The Chapel — Cross a covered bridge to reach this little white church, which is more than a century old. This venue is available to rent for events such as reunions and weddings.
The Depot — A 19th-century train depot also has several locomotive cars on display.
Gardens — American, European and Japanese gardens are a big draw for plant and garden-design lovers.
Event venues — Special events can be held on the large lawn area as well as at the hillside amphitheater.
Whether you're a teacher seeking a unique learning opportunity for a class field trip or simply looking for a great day (or two) trip, Discovery Park of America is a wonderful destination. You won't even have to leave for a meal since you can grab lunch at the Café at Discovery Park. And the gift shop will allow you to take a slice of your experience home with you and would make a great place to pick up Christmas gifts that are fun and educational.