Dear Jim: My house is chilly, and I know it needs more insulation. Will adding more make me feel warmer as well as cut my utility bills? What's the best type of insulation to use for this and a new room addition? — Sandi H.
Dear Sandi: It is generally understood that adding insulation to the walls or ceiling of a house will reduce monthly utility bills. The actual amount of savings for each home depends on several factors: the current level of insulation, your climate, efficiency of your heating/cooling system and your utility rates.
The current level of insulation is perhaps the most important factor in deciding whether to add more and how much. For example, doubling the amount of insulation in your attic will typically cut the heat loss through the room ceiling by about half. Your contractor can help you determine the payback from the savings as compared to the installation costs. If you double that amount again and super-insulate the attic floor, it will cut the original heat by only another 25 percent (half of half). This diminishing return is important to keep in mind when determining the amount of insulation to add.
Various types of insulation can be used to reduce conductive heat loss and/or radiant heat loss. Standard fiberglass batts, blown-in fiberglass, cellulose, rock wool and foam are all used to block conductive heat loss. This is the kind of heat transfer that travels through materials such as drywall, studs, bricks, etc.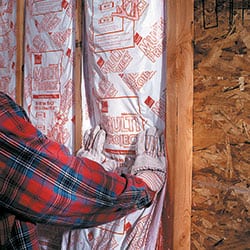 Radiant heat transfer is the way the sun heats the Earth or how you feel heat standing next to a raging fireplace even though the hot air is going up the chimney. Your house also loses heat to the cold outdoor air and nighttime sky by this method. Radiant barrier types of insulation, often aluminum foil films, are effective for blocking this heat loss. Some standard insulation batts include a foil facing to reduce both types of heat loss.
There really is not one "best" insulation to use in all locations in your house. For example, some effective attic insulation will settle if it is used in vertical walls. Even if there is just a slight amount of settling, the relatively small uninsulated void in a wall will lose a lot of energy.
What is important when selecting insulation is its installed R-value, not just its thickness. Some types of insulation have twice the R-value per inch thickness as others. Also, blown-in insulation can be fluffed up when installed, resulting in less true R-value. Make sure your insulation contract specifies the final insulation value, not just the thickness.
Since you are planning to insulate your house to save money and conserve energy, you might consider an environmentally friendly insulation made of recycled materials. One good insulation is made from scrap blue jean material. It is treated for fire safety and has an insulating R-value similar to fiberglass batts.
Fiberglass is made basically from sand. Some manufacturers use 25 percent recycled glass, so check the packaging if you prefer recycled products. Rock-wool insulation is made primarily from waste products. It and fiberglass have an insulation value of about R-3 per inch thickness.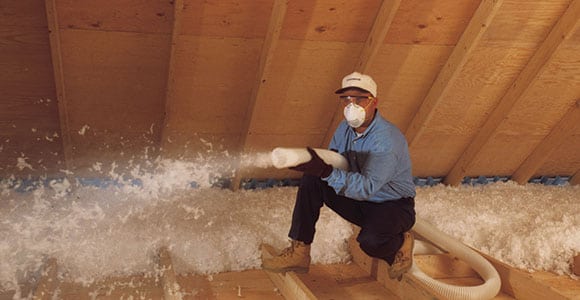 If the amount of space available for the insulation is limited, as in a masonry wall, injected foam is a good option. Some polyurethane foams have an R-value twice that of fiberglass, so only half the thickness is needed. The closed-cell foam also creates its own vapor barrier and stops air leaks. Look for foam that uses no ozone-layer-damaging foaming agents.
Another option to minimize voids is called a blown-in-blanket method, which will work well for your room addition. First a special film is stapled up over the wall studs. Next, loose-fill insulation is blown into the wall cavity to eliminate all voids. Then it is smoothed out through the film, and the drywall is nailed over it. Another similar system adds some binders to the insulation to reduce settling over time.
These companies offer insulation materials: Bonded Logic, 480-812-9114, www.bondedlogic.com; CertainTeed, 800-782-8777, www.certainteed.com; Icynene, 800-758-7325, www.icynene.com; Johns Manville, 800-654-3103, www.jm.com; and Owens Corning, www.owenscorning.com.