Over the last six years, Mark and Holly Johnson of Kingston Springs have poured their individual expertise into a gig that has grown into an international adventure travel company built on integrity, ingenuity, accessibility and the belief that anyone can grow from a typical beachgoing vacationer into a seasoned, adventurous world traveler.
Seeds for the business were sown among the pages of Jon Krakauer's thrilling bestseller "Into Thin Air" chronicling the 1996 climbing tragedy on Mount Everest. After both read the book in 2004, the Johnsons discovered that it is possible to experience Earth's largest peak by trekking to Everest Base Camp. Mere mortals, it turns out, don't have to take the leap of millionaire thrill-seekers and alpine adrenaline junkies starving to test their limits against one of the most formidable summits in mountaineering. Enthralled with the idea, Holly added the base camp trek to her bucket list, which Mark says meant it was also on his.
"And that was really about the end of it," he says, "because how do you even approach something like that? We didn't know how to go about researching it, and we also assumed that something like that was way too expensive and way too outrageous and physically demanding. You had to be an elite Italian athlete to do something like that."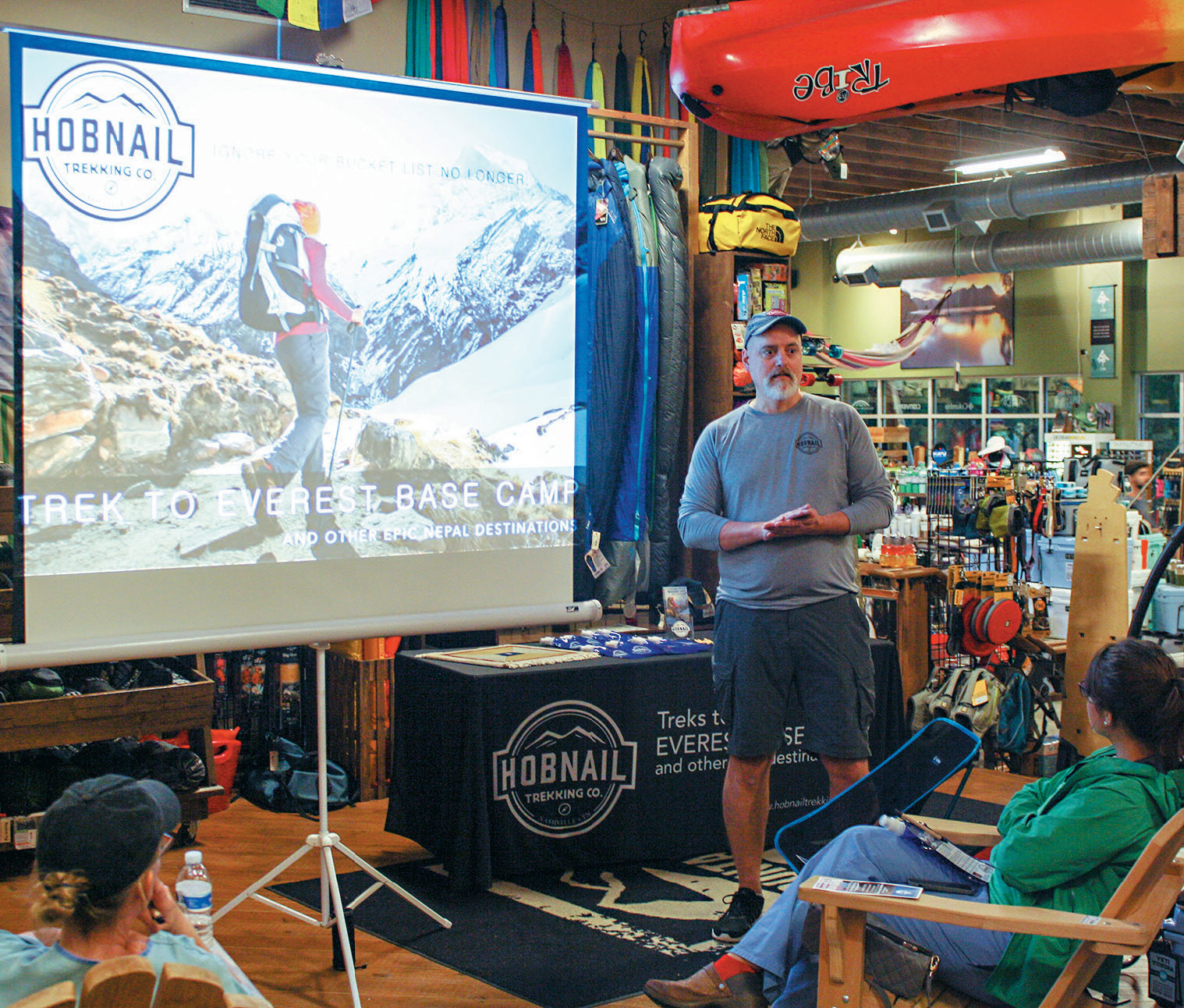 The wanderlust was relegated to the "someday" section on life's itinerary until a family trip to Walt Disney World in February 2016. A section of the Animal Kingdom theme park, appearing as the Western world's interpretation of a Himalayan village with tea houses and a rollercoaster titled Expedition Everest, awakened the Johnsons' Nepalese dreams.
"We got excited about it again," Johnson says, remembering their bucket list revival, adding that they still had no idea how to accomplish it.
A few months later, an email from outdoors retail cooperative REI included pricing and itinerary information on excursions to Everest Base Camp. The Johnsons were finally learning how attainable the trip could be, and a chance encounter via Lyft would be a catalyst that marked off a bucket-list item and spawned a unique business venture.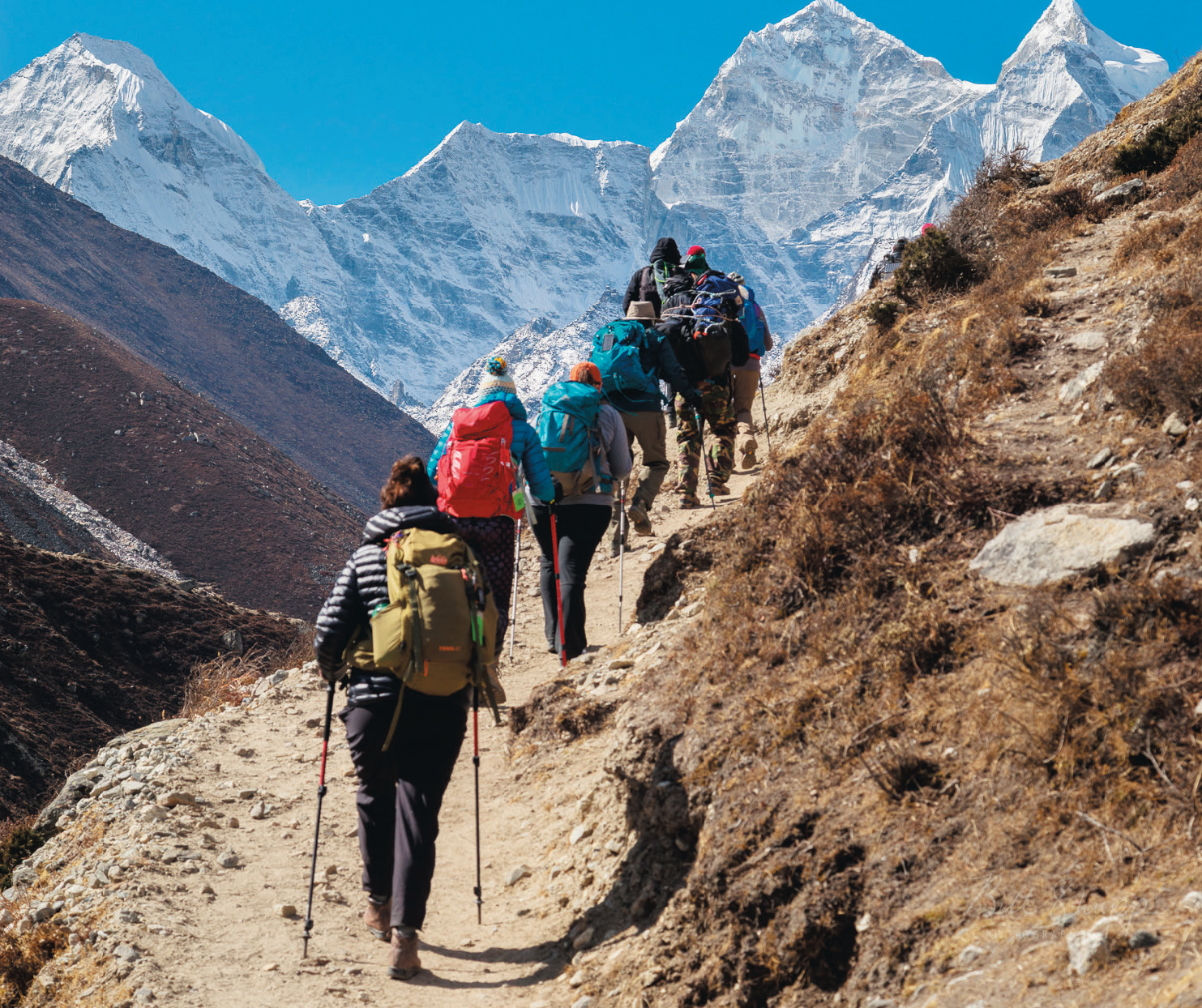 Johnson, soon to leave his position as director of communications with the Tennessee Wildlife Federation, had decided that his next life chapter would cast him in a corporate position with the ride-hailing company, but he figured he should try the service before signing on. Needing to pick up his old truck from the mechanic, he requested a ride through the Lyft app on a fateful Wednesday in August 2016 and made a remarkable connection.
"I download the Lyft app, hit the button and immediately get this message that Dawa is on his way," Johnson says. "He showed up, I got in his car and we had a good time talking just for the 10 minutes to my mechanic's shop. I was leaving the car, and I said, 'Dawa, where are you from?' And he said, 'Nepal.' I stopped in my tracks, sat back down in his car and said, 'Nepal? Do you know anything about the Everest Base Camp trek?' He smiled at me and said, 'Mr. Mark, I'm an Everest Region Sherpa. I grew up there, and I've guided that trek dozens of times.' You could've knocked me over with a feather."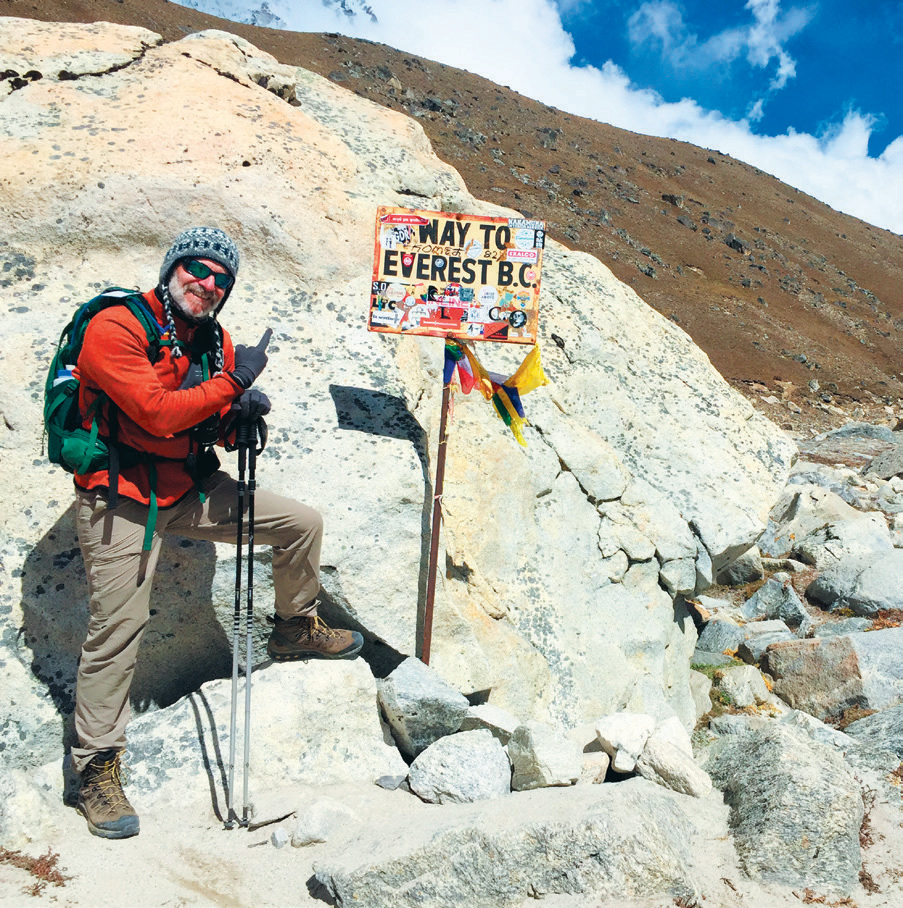 Only a few days later, Johnson had left his job, and he and his wife met with Dawa Jangbu Lama Sherpa at a Nashville Starbucks to discuss a trip to the base camp. An hourlong conversation yielded a "rough price," Johnson says, through Dawa's small trekking company headquartered in Kathmandu. The Johnsons walked out of that coffee shop with a commitment to complete the trek in March 2018. They started training and telling people what they were planning.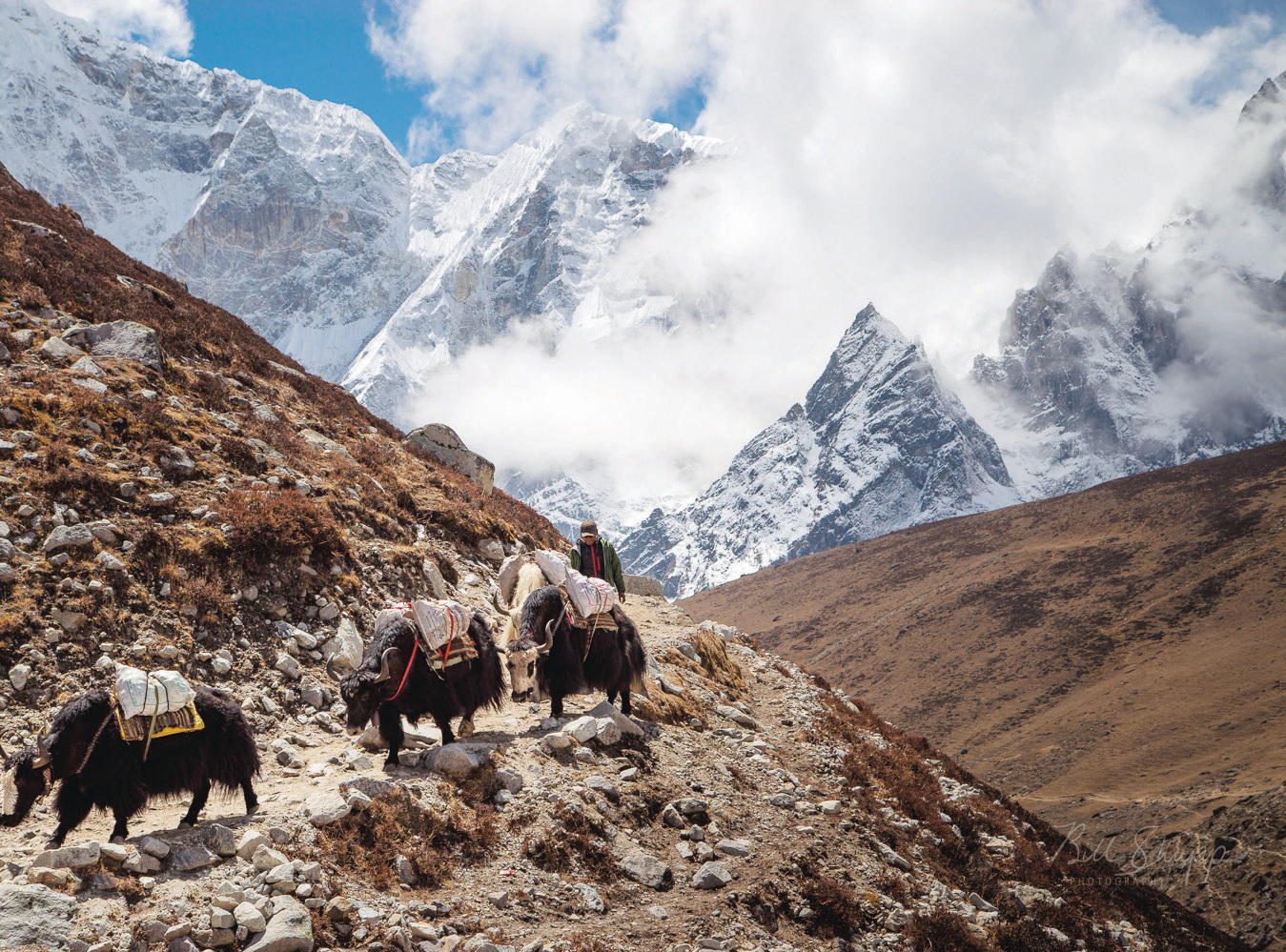 "A lot of people told us, 'Oh, I want to do that, too,'" Johnson explains. "So one day, I was out walking around a track at a park, and an idea popped into my head. 'I don't have a job right now. I build websites and write and know marketing. Dawa is a professional guide who grew up in that industry and has that network already in place. What if we combined forces and started a little company?'"
"It was absurd," he acknowledges. "There was no reason that a guy like me should have the gall to decide to open a Himalayan trekking company. But I've done crazy things all my life, and, frankly, this sounded like fun."
In January 2017, Hobnail Trekking Co. was officially launched.
"We had no visions of grandeur," Johnson notes. "We just thought it would be a neat little side thing that Holly and I could work on together."
In 2018, a group of 16 people, including Mark and Holly Johnson, completed the Everest Base Camp trek with Hobnail Trekking Co., an adventure Mark calls "amazing, life-changing, all of those things." The copious notes he kept on the trip were intended to be material for his popular "Doofus Dad" blog, but on a drive through Nashville, Johnson dreamed bigger and decided to, instead, write a book. His memoir about the trip, "Doofus Dad Does Everest Base Camp," in the vein of Dave Berry humor, was completed that fall. It sold well around the world via Amazon, and that led the Johnsons to decide to more aggressively pursue their new business.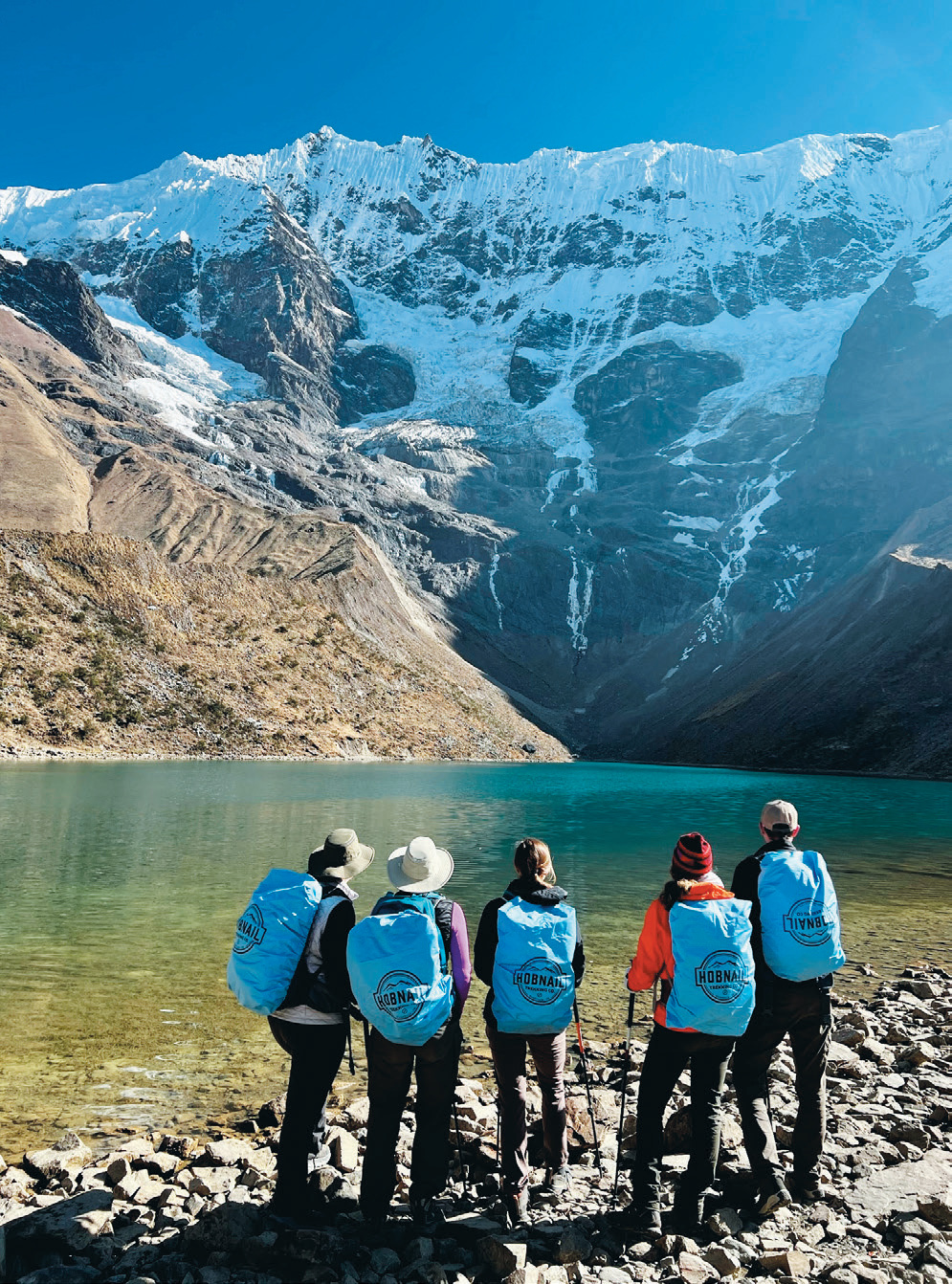 "When we decided to start the company, we did research," Johnson says. "What we found is that there were only a few companies in America that did this, and they were all headquartered on the West Coast like REI. The Southeast U.S. doesn't have a strong culture of adventure travel. We thought, 'There have to be a lot of people in the Southeast who dream of doing epic things, but they don't know how to do it, just exactly the way that Holly and I didn't know how to do it."
So they shifted their focus to build a company based in Tennessee, "owned by a couple of normal people with Southern accents, and just try to slowly build a culture of international adventure travel here," Johnson says. They held meet-and-greet presentations at outdoors retailers across the Southeast. They stepped up to fill a void when REI exited the international adventure travel space. They made new partnerships to expand their offerings beyond Himalayan excursions — additional locations like Peru and Scotland opening Hobnail Trekking's services to more people who, perhaps, wanted to travel but not to Southeast Asia. And they joined the Adventure Travel Trade Association, an international trade group bringing together trekking companies across the globe to offer travel options that can meet a wide array of tastes.
"Today, we've developed partnerships all over the world," Johnson says, quickly listing off the top of his head some of the amazing destinations they've opened through their partnerships. "In addition to the Himalayas, we provide adventures in the Peruvian Andes and Chilean Patagonia in South America. In Europe, we offer the French, Italian, and Swiss Alps, and will soon add other locations in Italy and Spain. We have a partner in the Balkans based in Montenegro. We've also added Morocco, and that's amazing because not only is there a mountain trek, but there's also a Sahara Desert package. Over the next few months, we will add Spain and Tanzania."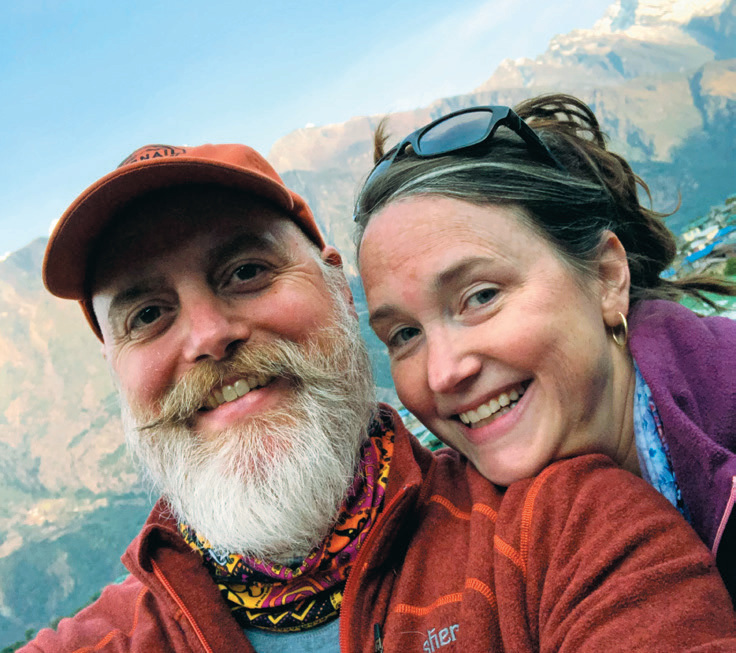 The Johnsons say they curate every trek they offer, striving to include historical and cultural elements and interaction with locals. That means travelers know they're in good hands with Hobnail Trekking's vetted partners at the destinations.
"Our website shows itineraries and prices, and Holly and I are the American-side contacts for those people who book through us," Johnson says. "We teach them how to train and what to pack. We answer their questions and put all their fears at bay. And then all they have to do is fly to the destination country, and our partners become the extension of Hobnail Trekking, taking over with boots-on-the-ground expertise. Our customers simply show up prepared, and all they have to do is hike, take pictures, enjoy themselves and, most of all, make memories."
A visit to hobnailtrekkingco.com yields a wealth of information — everything from pricing and itinerary information to frequently asked questions and customer testimonials. There are self-guided treks and helicopter-assisted trips to trim days of hiking from an excursion. And Johnson says that any prospective client is welcome to contact him or Holly to talk through options and get all the information they need.
"We get to know every single one of our trekkers personally," he says. "We want people to understand that they have advocates in us to make sure their experiences are exactly how they want them to be. Hobnail Trekking is unique in that there is nobody else in the Eastern United States who handles all of these destinations and who you could call and they sound like you. At the very least, I want people know that they can do something that is life-changing and epic. I want them say, "Wow, even I can go see Mount Everest with my own eyes and not put myself at risk of death."
"This started as a bucket list wish," Johnson continues. "It's developed into a company, and we now have personal relationships with people in almost every corner of the globe who have great work ethic, love their countries and want to share their part of the world with other people. It's a blessing that we never could have anticipated."
Learn more about the offerings from Hobnail Trekking Co. by visiting hobnailtrekkingco.com, where you can also find information to directly contact Mark and Holly Johnson. You can also call 855-HOB-NAIL.