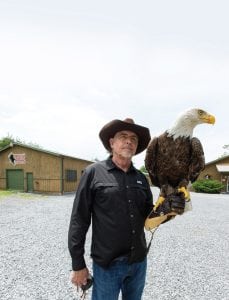 There are moments that make such an impact they can change the very course of our lives. Such a moment came for Al Cecere when he saw an Associated Press photo in The (Nashville) Tennessean in 1983 depicting two dozen bald eagles that had been shot by poachers in the Dakotas. The picture, along with finding out that our national bird was on the brink of extinction in the lower 48 states, set Cecere on an entirely new life path.
Cecere immediately started learning all he could about bald eagles and contacted Bob Hatcher with the Tennessee Wildlife Resources Agency who became a mentor and good friend as they worked together for the benefit of bald eagles. Cecere eventually left his job in the music industry and has spent the past three decades working tirelessly with volunteers such as Hatcher (prior to his passing in 2014) and staff members to protect and rebuild the population of bald eagles and other birds of prey.
Two years after seeing that AP photo, Cecere began work on creating the American Eagle Foundation (AEF) with volunteers collecting coins outside Wal-Mart stores in Nashville. Those early efforts have grown into an internationally recognized conservation organization with outreach efforts that expose millions of Americans to bald eagles each year. Today, the American Eagle Foundation is headquartered in Pigeon Forge and operates in partnership with the Dollywood Company. Visitors to Dollywood can see any of the four daily "Wings of America" shows from April through the first week in January. In an open-air theater, attendees are given up-close looks at several birds of prey, including eagles, hawks, falcons and owls.
The AEF also operates Eagle Mountain Sanctuary at Dollywood, home to the largest exhibit of nonreleasable bald eagles in the country. Nesting pairs are among the eagles in the 400,000-cubic-foot, wooded sanctuary.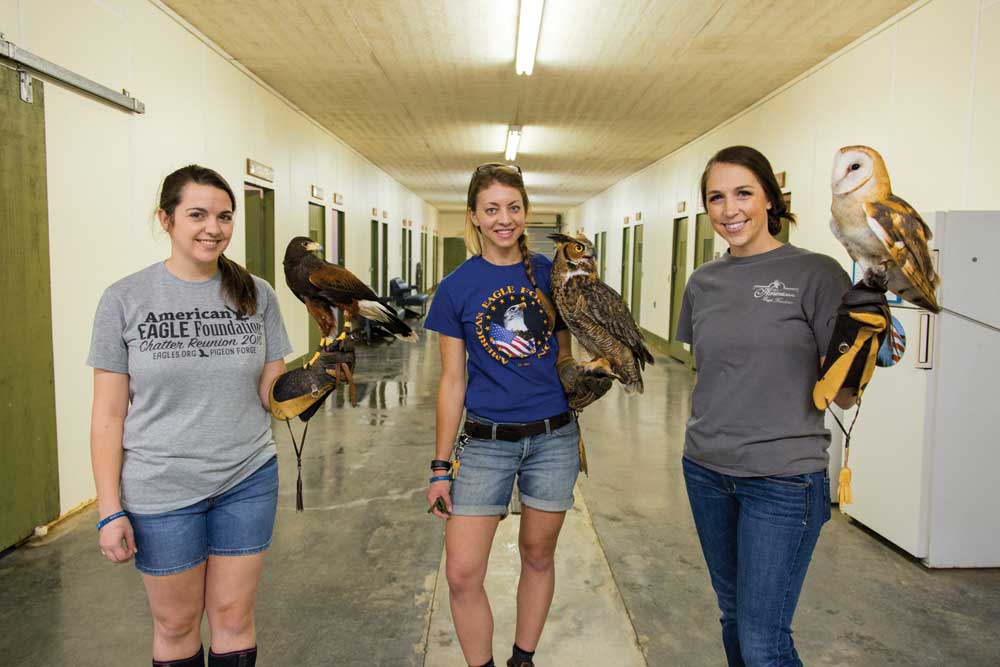 There's also a section that allows birds without mates to pair and an enclosure dedicated to birds that can no longer fly due to injuries and wing amputations. These exhibits can be viewed from April through the first week of January each year.
On a more limited basis, interested parties can make reservations to visit AEF's off-site headquarters, also in Pigeon Forge. It's here that the staff rehabilitates injured birds, incubates bald and golden eagle eggs for later release into the wild and takes care of the nonreleasable birds used for educational purposes such as school visits and flights of birds like world-famous bald eagle Challenger over big-time events such as NFL football games. It's also the administrative headquarters for tackling everything that goes into running such a busy organization.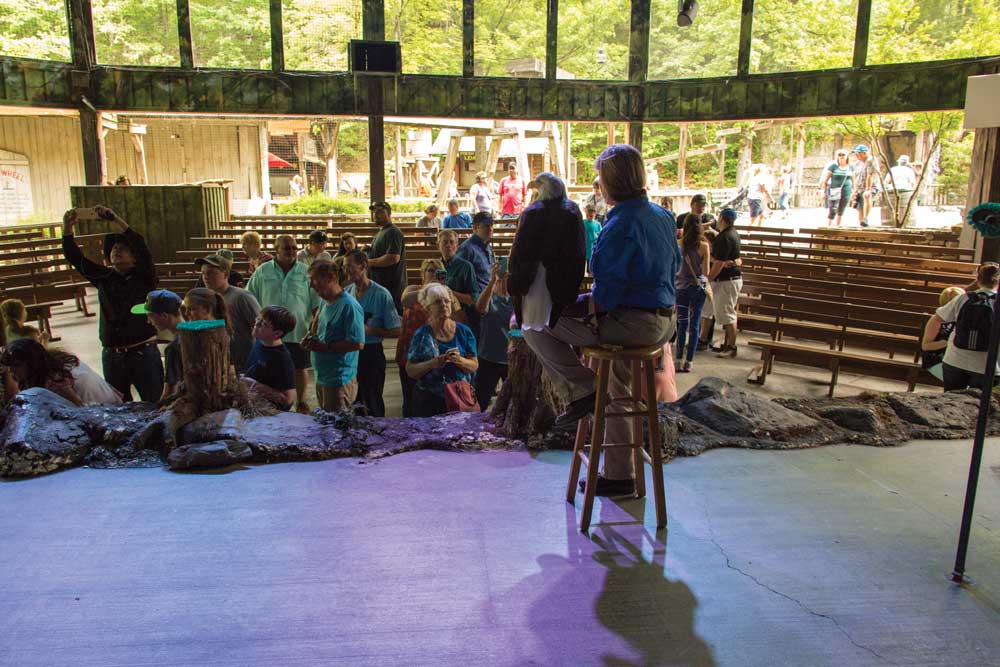 Sanctuary in Pigeon Forge. The Smoky Mountain cam a few miles from the sanctuary monitors where wild pair Lady Independence and Sir Hatcher have made their home and raised several eaglets since 2013. Another camera shows a wild nest that is a seasonal home to breeding pair Romeo and Juliet in northeast Florida. These efforts are not without costs, however, and Cecere says the AEF could use sponsors to help fund the continuation of this important outreach.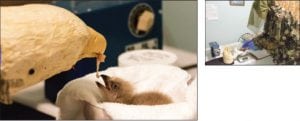 "I'd like to see that endowment program grow to help more projects," Cecere says.
The foundation has been a part of important efforts to bring the bald eagle back from the edge of extinction. Cecere says that in the late 1960s, there were about 400 nesting pairs left. Today, that number is estimated to have grown to more than 15,000 pairs. In fact, the AEF is the only organization in the United States still permitted by the U.S. Fish and Wildlife Service to conduct captive breeding and hacking, which is a way to encourage eagle nesting and population in selected areas by releasing fledgling eagles from artificial nesting towers. The AEF's efforts have led to the release of 150 young bald eagles and 12 golden eagles from a hack tower near Douglas Lake. Hacking is successful because eagles tend to return to the area where they were raised and fledged when they reach sexual maturity and choose a mate at age 4 or 5.
The bald eagle was removed from the Endangered Species List in 1995 and moved to the Threatened Species List, where it stayed until 2007 when it was removed from that list in the lower 48 states.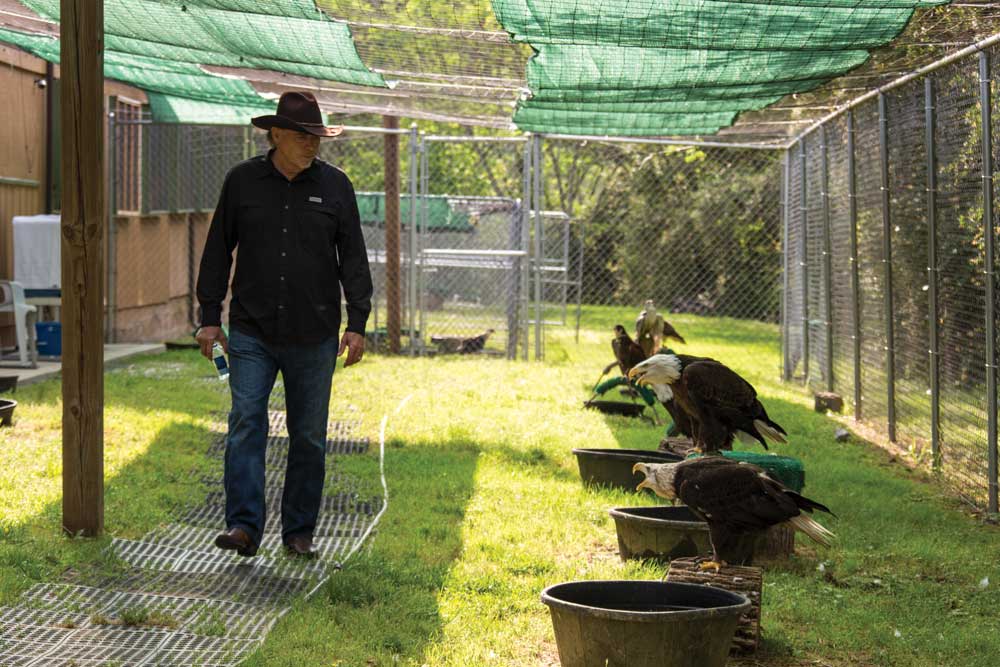 But even with the successes, Cecere says the work is never complete. Just recently, he saw yet another story about poaching of bald eagles in the Dakotas. So there is still outreach and education to be done, and American Eagle Day on Tuesday, June 20, is part of that effort.
"The purpose is to celebrate the American bald eagle and remind us of what we almost lost," Cecere says.

The AEF's website has a list of ways to celebrate American Eagle Day and do your part to help the foundation's conservation, restoration and education efforts. Learn more at www.eagles.org.
In fact, there is a wealth of information on the foundation's website, including the following for those wanting to learn more:
Educational resources, including teaching units, videos and information on laws about eagle protection, where to see eagles in the wild, eagle festivals and Native American religious ceremonies.
Information about the individual birds belonging to AEF, including Challenger, named after the fallen crew of the space shuttle tragedy (chances are you've seen Challenger fly over NFL and NCAA games, NASCAR races or on TV)
Ways you can take action such as hunting and fishing lead-free
How to help an orphaned or injured bird
How to volunteer
A store for eagle merchandise
How to become a member of the American Eagle Foundation or make a donation
How to donate something to the foundation from its wish list
Having given so much of his life to the preservation of one of the most recognizable American symbols, it's no surprise that Cecere has found his work very fulfilling.
"It's difficult for me to pinpoint one thing that has been the most rewarding," he says. "There are so many facets to what we do. We give eagles a second chance at life in the wild and build up the population. We also bring eagles to veterans' homes, the military and ballgames, exposing people to their national bird."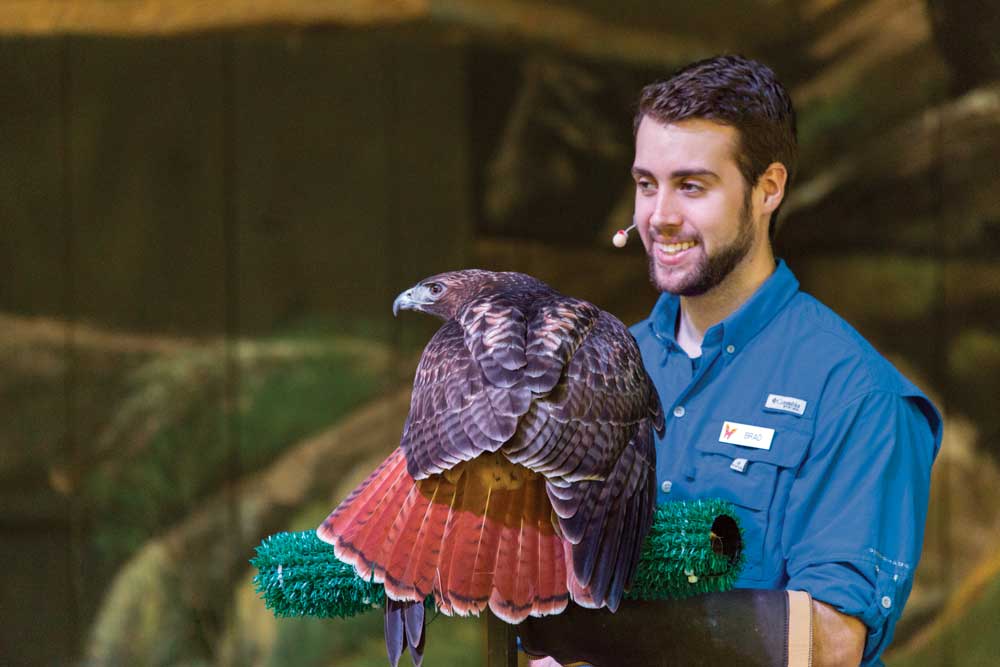 Considering the sense of pride Americans feel at the sight of a bald eagle and the fact that they are much more likely to see eagles in the wild now than they were only a few decades ago, the country owes thanks to Cecere, the volunteers and staff at the American Eagle Foundation and to the many volunteers, conservation agency staffers and other nonprofit organizations doing their best each day to keep an eagle eye on the raptor populations and make sure the majestic bald eagle and other birds of prey are with us long into the future.
---

Where to see eagles
On Saturday, June 17, the American Eagle Foundation will host the 2017 American Eagle Day Celebration at Dollywood. Call 865-429-0157 or visit eagles.org for information.
Reelfoot Lake State Park and Radnor Lake State Natural Area are two Tennessee state parks featuring aviaries and educational programs with nonreleasable American bald eagles and other birds of prey. Visit tnstateparks.com for more information and park programming schedules.