The popularity and acceptance of electric vehicles have steadily increased over the past several years. In 2020, an increase in the number of available charging stations led to a more than 21 percent jump in the amount of electricity used to charge EVs in the U.S., according to a report released by Platts Analytics Energy Outlooks.
But what is it like to actually own and drive an EV? What things do you have to do differently from when you drive a gas-powered vehicle? What benefits are provided by EV ownership? We spoke to a few electric co-op employees to get the full picture of owning an EV.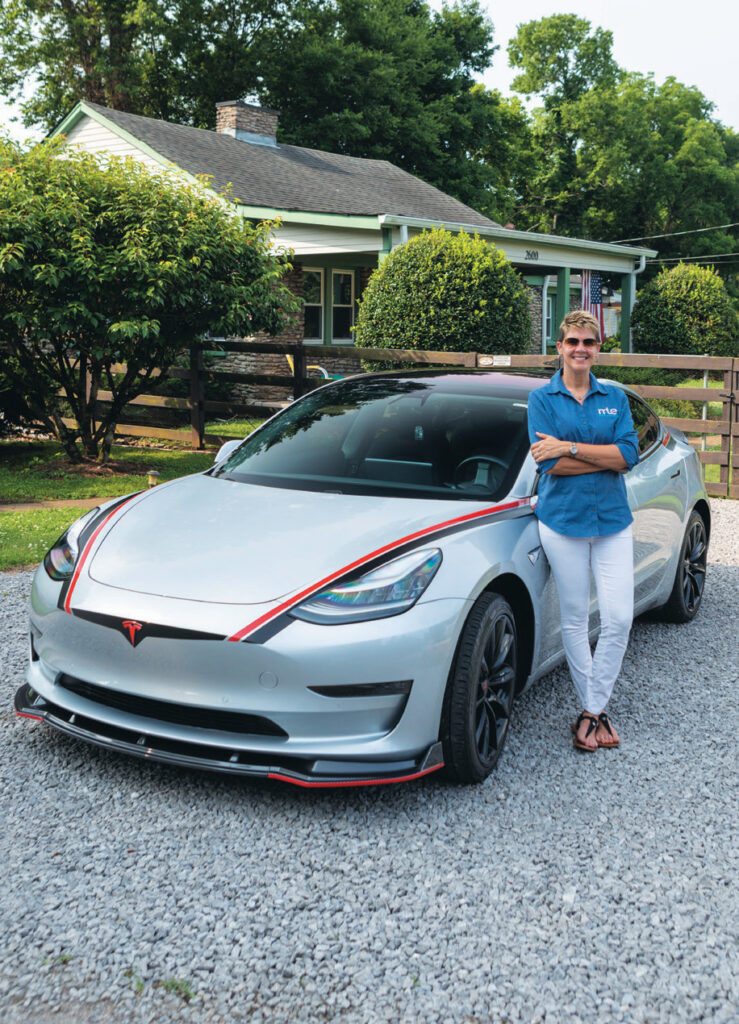 Associated costs and financial benefits
Like a traditional, gas-powered vehicle, you will have both purchase cost and ongoing operating costs. As with cars or trucks you've bought in the past, the cost of a new electric vehicle will depend, in part, on how many extras you order. Remember that higher upfront costs will be offset by savings in "fuel" and maintenance as well as tax credits. For many, the environmental benefits also help justify the higher upfront cost.
Shawn Futrell, systems control supervisor for Middle Tennessee Electric, bought a Tesla Model 3 in March, a purchase process that was completed entirely on his phone. The purchase price was $35,000, but Futrell says his family is saving $300-$400 a month from not having to purchase gas.
Instead of going to the gas station regularly, he charges the car about every three days in his home's garage.
"I think sooner rather than later all gas stations will have charging stations," he says. "You just have to be more conscious of where you are in your charge and what you have to do on a certain day."
Another benefit to having the Tesla EV? "It's so much fun to drive," says Futrell, "and my kids love riding in it."
Robert White, MTE vice president of community relations and member services, purchased a Mustang MACH-E. After a lot of research, which included about 40 YouTube videos, he paid $52,000 for the vehicle he felt would give him the easiest transition from the gasoline-powered vehicle he was used to. He will also receive a $7,500 tax credit on the purchase.
"Ford did a really good job with this vehicle," White says. "It's very stylish."
"I bought mine used because it was my first foray into the EV market, and I was not completely sold," says Christi Mooring, a quality assurance analyst with MTE, of her Tesla Model 3. "I wanted the full self-driving feature and the long-range battery but wasn't willing to pay the price for it new." She was able to purchase a year-old Model 3 for about $44,000.
"I absolutely love skipping the gas stations," says Mooring. "As a 72-mile round-trip commuter, gas stations were a necessity, but now I smile and wave."
When you're out and about, you may need to find public charging stations. You've probably seen these at restaurants, shopping areas, parks and other locations. You'll be charged by kilowatt-hour, but, fortunately, Tennessee is among the 10 cheapest states in the country for electricity costs.
Adjusting to the change
A term you might hear when considering an electric vehicle is "range anxiety," which is the worry about how far you can drive before your EV runs out of charge. White says he gets 215–220 miles out of a full charge, but remember that actual distance is impacted by driving conditions, speed, weather and terrain.
"Range anxiety is a real thing," says Glenn Hollandsworth, member revenue manager at MTE and Nissan Leaf S Plus owner. "Just like we're aware of how much fuel we have left in an internal-combustion engine vehicle, I'm aware of how much electricity is left in my battery for the Leaf."
White says one of the biggest adjustments is training yourself that you might need to plan time into your longer trips for charging stops of 30 minutes or so. But he says it's a great way to take the time to enjoy your surroundings.
Other benefits
Hollandsworth says that not having to worry about regular maintenance such as oil changes and rising gas prices are added benefits of having an EV. Like Futrell, he noted how fun his EV is to drive.
"The horsepower in most of them is remarkable compared to internal-combustion engine vehicles," he says. "We recently went on a trip out of state and took our Toyota 4Runner, and I remarked to my wife how I feel like it has no 'get up and go' after driving the Leaf most every day."
"It's a lifestyle choice that isn't for everyone," says Mooring, "but for the typical commuter, EVs are hard to beat."