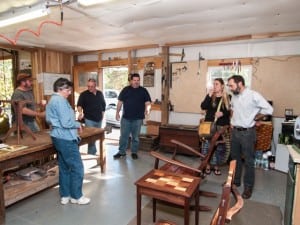 Tour the arts across the state with these popular studio crawls
In today's fast-paced, cost-conscious society, many have lost abilities that our ancestors had to make things with our hands. Pottery, woodworking, metalworking and many other areas of expertise have become the purview of specialized artists and a bit of a mystery to the rest of us. Sure, we can observe a piece of blown glass or a custom-built chair and admire its artistry, but how it came into being can be as foreign and mysterious as a language we don't understand.
But many artists across Tennessee are working to lessen that mystery by opening up their studios for tours that allow the rest of us to watch them as they work, as they take raw materials and make them into beautiful end products. They do this for love of sharing their work and to bring awareness to the rich abundance of artists and craftspeople from one tip of the state to the other — in the cities and along country byways alike.
West Tennessee
Rural Route
Since 2000, three artist studios in the rural parts of Shelby County have hosted a small tour called Rural Route. The tour takes visitors from Eads Pottery in the community of Eads to Stark Pottery near Arlington to the Deborah Fagan Carpenter Studio in the Lakeland area. Held the first full weekend in December each year, the tour was started "to impress upon people the quality of art and craft that was being done in the rural part of Shelby County," Carpenter says. "There is so much diversity in our work and also in the three studios."
Eads Pottery, where potter Ellen Boehm creates her largely functional pottery, also has a rich history because of its locale. The studio was once a post office, and the gallery served as the small town's general store.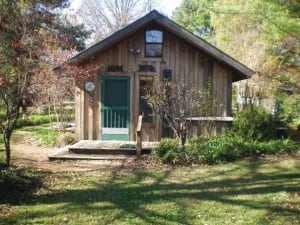 Agnes Stark at Stark Pottery makes primarily dinnerware, and during the tour, visitors can also visit an old dog-trot cabin on her property, which is also a tree farm.
Carpenter's studio is also her home, and her paintings hang throughout, allowing visitors to see how they might look in a home setting. During the tour, fellow artist Jimmy Crosthwait, who does mixed-media sculpture, shows with Carpenter.
"We have all the studios decorated for the holidays, and there's lots of wonderful holiday food," Carpenter says.
Stark echoes that it's a good time for those who trek among the three studios: "People love to come to our studios. We offer food and good art and fun company!"
This year's tour dates are Friday-Sunday, Dec. 4-6. For more information, visit starkpottery.com/gallery and www.faganart.com.
Elucido Glass
One artist who holds her own annual studio tour that isn't part of a group event is Germantown glass artist Lisa Butts of Elucido Glass. She will be showing visitors how she makes her stunning glass jewelry, including her popular statement necklaces, Thursday-Saturday, Nov. 12-14. Her tour was originally part of a group event with five or six other artists, but this year she'll be solo in offering tours.
"Patrons seem to really enjoy viewing the space where I create my work," Butts says. "I believe they leave with a better understanding of my art processes. They have a new appreciation for the time and skill it takes to create just one piece of jewelry from start to finish. Viewing my studio gives them another piece of the story they tie to their art purchases."
The Elucido Glass tour will be open Thursday evening from 5 to 8, Friday, 10 a.m. to 6 p.m., and Saturday, 10 a.m. to 4 p.m. For more information, visit www.elucidoglass.com or call 901-490-5075.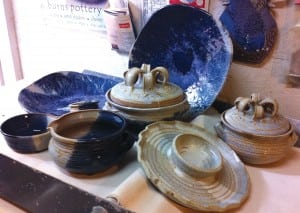 Middle Tennessee
Off the Beaten Path Tour
A great way to get out and enjoy the fall weather and colors is to take the Off the Beaten Path Tour Friday-Sunday, Oct. 23-25. The self-guided tour takes you along the backroads of DeKalb and Cannon counties and showcases 14 studios and 25 participating artists.
Begun 15 years ago by Louis and Christine Columbarini, the tour has grown to three days from the original two. The artists participating offer a wide array of art forms, including pottery, woodcarving, fiber arts, painting, glassblowing and mixed media. What better way to enjoy a fall weekend than a leisurely and scenic drive, watching artists demonstrate their craft and maybe even making a few purchases for yourself or as Christmas presents?
For more information, visit offthebeatenpathtour.com.
Sumner County Artists and Artisans Studio Tour
The Fifth Annual Sumner County Artists and Artisans Studio Tour, featuring 11 open studios and 27 artists/artisans, will take place from 10 a.m. to 5 p.m. Saturday, Nov. 7, and 1 to 5 p.m. Sunday, Nov. 8. As with many other such tours, there is no designated starting point; you can start at any studio and progress at your own pace.
For more information, see sumnercountystudiotour.com.
Art Studio Tour
In the midst of the Christmas shopping season is the 23rd Annual Art Studio Tour in Murfreesboro and Rutherford County. Sponsored by the Stones River Craft Association, the tour is Saturday and Sunday, Nov. 21 and 22, this year. It's always the weekend before Thanksgiving, so you can watch artists at work and do some shopping without the craziness that accompanies Black Friday. And you'll get high-quality, handcrafted items in the process.
Alan Daigre, president of the Stones River Craft Association and a furniture-maker who participates in the tour, says 400-600 people take the tour each year.
"The tour creates visibility and raises awareness for the artisans in our own community," Daigre says. "We're supporting what people love to do."
The tour is a free event filled with demonstrations that illustrate where and how the artists' works are made. Visit www.artstudiotour.org/about-us.html or www.facebook.com/boroartstudiotour for more information.
Cumberland Plateau
Holiday Studio Tour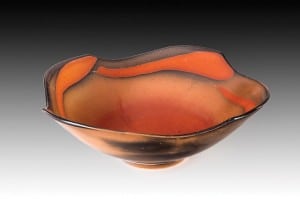 Another art studio event taking place in the midst of the holiday season is the appropriately named Holiday Studio Tour in Sewanee and Monteagle, now in its 20th year. Scheduled for Saturday and Sunday, Dec. 5 and 6, the tour will showcase the works of approximately 28 different artists in a wide variety of media from cast bronze to glass.
According to Ursula Vann, a potter who has taken part in many of the tours since the first one in the late 1990s, the Southeast Chapter of Tennessee Craft also rents a couple of venues to allow artists who don't have studios in the Sewanee area to demonstrate for tour visitors. One location is the American Legion Hall in downtown Sewanee, where this year seven artists will be exhibiting, including Vann.
Many of the tour stops will also be serving light refreshments so you can snack, watch an artist create and shop for that special gift — all under the same roof. You're sure to be able to find the perfect gift even for the person on your list who has everything.
Tour hours will be 10 a.m. to 5 p.m. on Saturday and 11 a.m. to 4 p.m. on Sunday.
In addition to visiting the studios, you'll want to make time to stop by the St. Andrew's Sewanee Gallery at the St. Andrew's Sewanee School, which will be hosting an exhibition of work by the tour participants, local Tennessee Craft chapter members and school faculty and staff.
Claire Reishman, a functional potter who has taken part in the tour since 2006, says the artists learn from the tour experience the same as those visiting the studios do.
"We as artists need to hear from customers — what they like and what they don't — so the Studio Tour is a wonderful time to interact with a diverse group of people who are all interested in the crafts," she says. "The studio tour is also a good way for people in our area and visitors to see what art is being produced locally and meet the artists who make the work. Middle Tennessee has a rich artistic history, and it's fun for me to be a part of that history through the Studio Tour."
ART Prowl
This annual event in Cookeville features more than 30 artists in studios, galleries and other locations along a largely walkable tour through the city's downtown and historic WestSide area.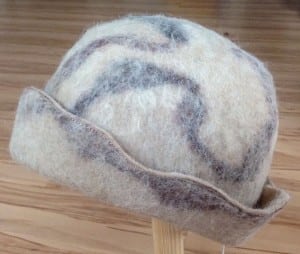 Marilee Hall, a clay artist, has been involved with the prowl both as a participant and as a former director of the event and now is serving as executive director of the ART Prowl's parent organization, Art Round Tennessee. Her studio is in the Cream City Building, which was once an ice cream factory.
"My experience with ART Prowl has been colorful and interesting," Hall says. "I feel like I have been part of a group that is really growing the art scene in Cookeville. We're dedicated to giving community members direct experience with art and serving our artists by providing economic and professional support. Personally, I have enjoyed showing my work and growing an interested group of collectors here and in surrounding areas. It is interesting when a community watches one's work grow and change over the years. Yet, even as my art changes, at its core there is a consistency, I hope, that people recognize as 'Marilee.'"
Hall sees a lot of positives for communities who host events such as the ART Prowl.
"Events like these are important because they educate visitors about the arts and encourage and support creative self-expression," she says. "Art stimulates people on deeper levels than everyday life. Artists as small-business people are good examples to others hoping to start businesses of their own. Artists are good for the community because they bring customers to town and instill pride in the community. Because the art of a community tells the story of that community."
In addition to being able to meet the artists and purchase their work, activities for kids and specials at local shops and eateries are part of the event. So mark your calendars for Friday and Saturday, Nov. 13 and 14. For more information, see artprowl.com.
East Tennessee
Dogwood Arts DeTour
Each April, Knoxville and other surrounding communities play host to the Dogwood Arts DeTour, which offers an opportunity for visitors to watch 50 artists at work, spread among 25 different studios. According to Katharine Torbett, marketing manager for Dogwood Arts, this year's tour drew more than 900 tourists and locals who got an intimate look at the talent of the participating artists.
In addition to the opportunity the tour gives the artists to showcase their work and make sales they might not otherwise, many of the artists enjoy taking part because they simply love to share the story behind their work.
"I like talking to people, teaching them something," says Gail DeLuca, a jewelry maker who owns White Fox Beads in Knoxville. "I really enjoy sharing with people a bit of insight into the process. There are so many facets."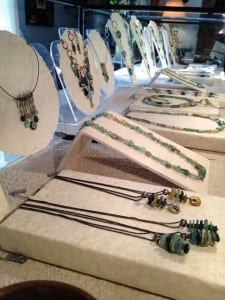 The next Dogwood Arts DeTour is scheduled for Saturday and Sunday, April 16 and 17, 2016. Visit www.dogwoodarts.com/dogwood-art-detour for more information
Great Smoky Mountains Arts and Crafts Community Loop Tour
One area where you don't have to wait for a special event to take tours of artists' studios is Gatlinburg. The Great Smoky Mountains Arts and Crafts Community is a collection of more than 100 studios where artists engage in making pottery, wood items, candles, paintings, blown glass, brooms, jewelry, woven pieces and more. It's the largest group of independent artisans in North America. The eight-mile loop that takes visitors to this wide variety of shops and art studios has been designated a Tennessee Heritage Arts and Crafts Trail.
On any given day, you'll see different artists at work as you meander from studio to studio. Most are open from 10 a.m. to 5 p.m., and you can even take the Gatlinburg trolley instead of driving yourself.
Next April, you can go one step further and take part in the creation process. Hands-on workshops will be offered Friday, April 8, through Sunday, April 10, as part of Hands-On Gatlinburg. You will have the opportunity to learn from an artist and keep whatever you make. Advance registration is required. Information about registration as well as the Great Smoky Mountains Arts and Crafts Community, including maps of the trail and the various stops, can be found at www.gatlinburgcrafts.com.
Artist Studios at Emporium Center
The artists at the Emporium Center for Arts and Culture in Knoxville have open studios every first Friday of the month during gallery receptions (5-9 p.m.). You can see the list of current artists, mainly painters and fiber artists, and links to their personal websites (if they have one) at www.theemporiumcenter.com/studios.html.
For more information
Find out more about Tennessee's craft artists and events by visiting www.tennesseecraft.org.