Tennessee's temperate late-fall climate beckons people to enjoy the great outdoors. The last of the autumn color, birding, hiking, fishing, boating and camping plus travel destinations and attractions with outside options give residents many choices to safely venture out.
"The western region of Tennessee is ideal for travel in November with a broad appeal to many ages," says Sonia Outlaw-Clark, director of Visit Brownsville TN. "Visit our West Tennessee Delta Heritage Center with its Tina Turner Museum and a tribute to 'Sleepy' John Estes, both with Brownsville connections. And for nature lovers, we're home to the Hatchie National Wildlife Refuge, O'Neal Lake and other attractions."
The extreme western part of Tennessee is right in the middle of the Mississippi Flyway where more than 325 species of birds and another 40 percent of all North American shorebirds and waterfowl pass through when migrating from Canada to the Gulf of Mexico.
"A visit to the Mississippi Flyway is a good choice for discoveries and a chance to explore nature, no matter what part of Tennessee's western border you visit," Outlaw-Clark says.
Birding along the Mississippi Flyway has broad appeal. Look for bald eagles, Bachman's sparrows, white pelicans, Mississippi sandhill cranes and various species of ducks and geese, plus grackles, hummingbirds, warblers, woodpeckers and orioles.
"Reelfoot Lake is a stopover for many migratory birds, and in the fall, we've been known to attract more than 150,000 ducks and geese," says Reelfoot Lake Tourism Council's Katrina Greer. "With 40 nesting resident bald eagles and 150 to 200 migratory bald eagles, you will see the official national bird at Reelfoot Lake. The bald eagle is breathtaking to see as it soars above the water."
Reelfoot Lake is the state's only natural lake. In 1811-12, a series of earthquakes, including one estimated at 8.4 magnitude, caused several shifts in the land into which waters from the Mississippi flowed to create the lake.
Bird-watchers of all ages pause to scan the landscape of Hatchie National Wildlife Refuge in West Tennessee, right in the middle of the Mississippi Flyway. Visitors can see bald eagles, pelicans, sandhill cranes and waterfowl along the migratory route that takes birds from Canada to the Gulf of Mexico.
Reelfoot is also known for its excellent fishing. With more than 50 species of fish, including largemouth bass, crappie, bluegill and catfish, Reelfoot Lake is recognized as one of the world's greatest natural fish hatcheries.
In southwest Tennessee, a trip to Hardin County's Pickwick Landing State Park yields opportunities for fishing, camping, boating, outdoor amenities and picturesque views.
"We have a saying here: In the middle of Pickwick Lake, there's a spot that's called 'TennAlaSippi,' and that's where these three states come together," says Beth Pippin, tourism director for the Hardin County Convention and Visitors Bureau. "November is still a good time to go boating, and Pickwick Landing rents pontoon boats, kayaks and canoes to make it easy to tour the lake."
The state park recently renovated its guest lodge, each of its 119 rooms with a view of the lake. With nearly 50 campsites, choose from RV and trailer sites, tent pads and primitive areas. Other amenities include a marina, golf course, disc golf, tennis courts and an onsite restaurant.
Hardin County is also home to Savannah, less than 15 minutes from the state park. Visitors can choose from many activities and places to shop and dine. Farmers markets take place Nov. 4 and Nov. 11. On Nov. 14, the town's Music on Main features free music. Also on Nov. 14, the county will recognize veterans at the Savannah Veterans' Park. Historic Shiloh National Military Park is just 12 miles south of downtown.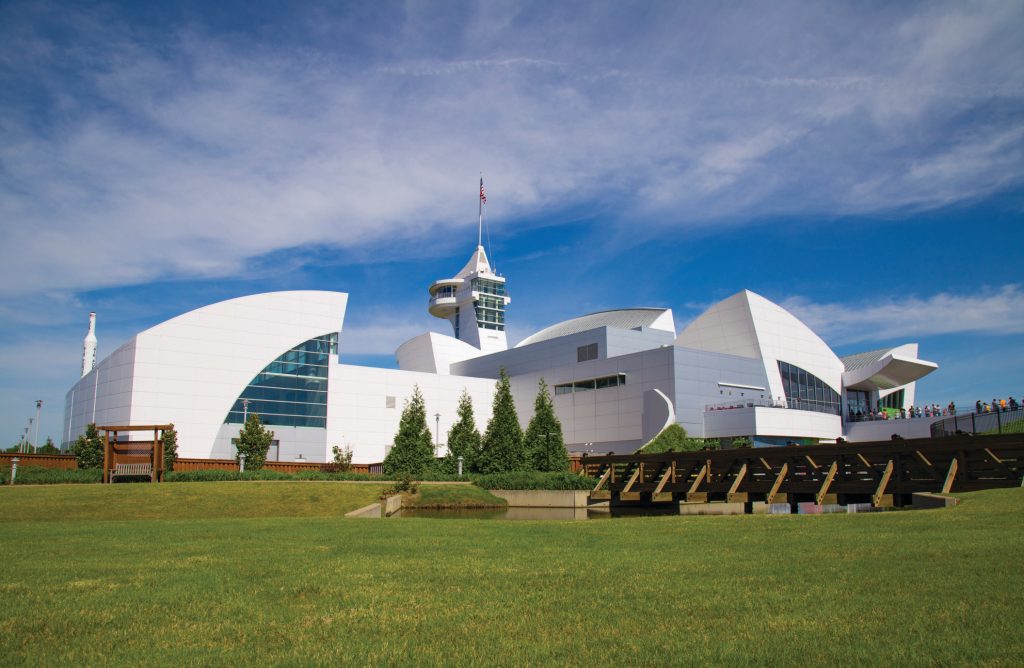 In Union City, Discovery Park of America is putting the finishing touches on its new "AgriCulture: Innovating for Our Survival" exhibit that will tell the story of farming innovation in the past, present and future in an entertaining and interactive way. It will open on Dec. 5.
"When the exhibit opens in early December, it will be the most interactive experience about agriculture and innovation in any museum or attraction in the world," says Scott Williams, president and chief executive officer of Discovery Park. "All of us at Discovery Park are passionate about telling the story about the future of agriculture in such a fun and accessible way that will appeal to all ages."
An educational experience for the whole family, Discovery Park is a 100,000-square-foot interactive, multisensory museum with a 4-D simulation of the 1800s earthquakes that created the landscape of the region plus a 20,000-gallon aquarium and displays focusing on science, technology, history, space and the military. The museum sits on 50 acres of inspiration with a man-made river flowing through the property. Outdoor exhibits include a mid-19th century frontier settlement, a 120-year-old church, three gardens and a nature-inspired playground.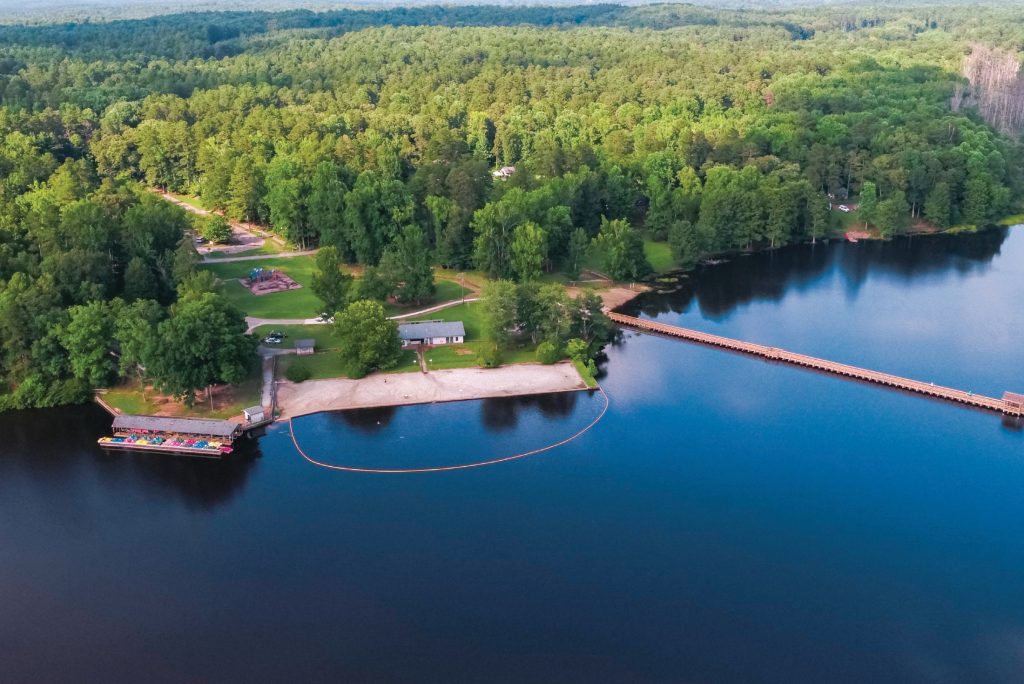 Chickasaw State Park in Chester County offers horse-back riding, hiking trails and other outdoor activities. Henderson's Gene Record Memorial Park has a state-of-the art dog park, a top-rated disc golf course and is home to the county's many youth sports teams.
The town was the location for the 1973 movie "Walking Tall." Although Sheriff Buford Pusser hailed from nearby McNairy County, visitors can see where many of the scenes were filmed: the Historic Chester County Courthouse, Sue Shelton White Park and Freed-Hardeman University's Old Main Hall.
Nature lovers can find ample outdoor venues to visit in and around Nashville. Rent a boat to tour the 42 miles of shoreline along 14,200-acre Percy Priest Lake or reserve a campsite. Go fishing, take a picnic or spend the day on the nature trails.
Also in Nashville, a visit to Cheekwood Estate & Gardens is a leisurely way to relax. The Storybook Trail appeals to children and adults; this new exhibition helps parents learn reading tips for youngsters. The trail takes visitors to the "TRAINS!" section, featuring a playhouse based on "The Little Engine That Could."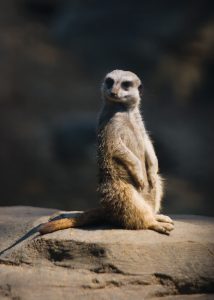 More than 6,500 animals call the Nashville Zoo home, including the endangered Sumatran tiger. In "Tiger Crossroads," a newly renovated habitat, these tigers are part of an international Sumatran Tigers Species Survival Plan to protect their native ranges and increase the population of these elegant cats. Participate in hands-on experiences such as "Critter Encounters" and "Kangaroo Kickabout" or ride the "Wilderness Express Train."
Travel from the mountains to the sea at the Tennessee Aquarium, located on the Chattanooga Riverfront. Visit an Appalachian Cove Forest with rainbow trout and North American river otters and explore a secret ocean reef populated with sharks, rays and colorful fish.
As you travel east, the Great Smoky Mountains National Park awaits. Visiting in November means there are still plenty of opportunities to enjoy camping, fishing and hiking while social distancing.
Cherohala Skyway, a 43-mile National Scenic Byway, winds its way between Robbinsville, North Carolina, and Tellico Plains and provides breathtaking views. Starting just over the Tennessee state line in Robbinsville, the road gradually descends west through the forest from more than 2,600 feet to a mere 876. Look for places to picnic, camp or take side roads to cascading waterfalls.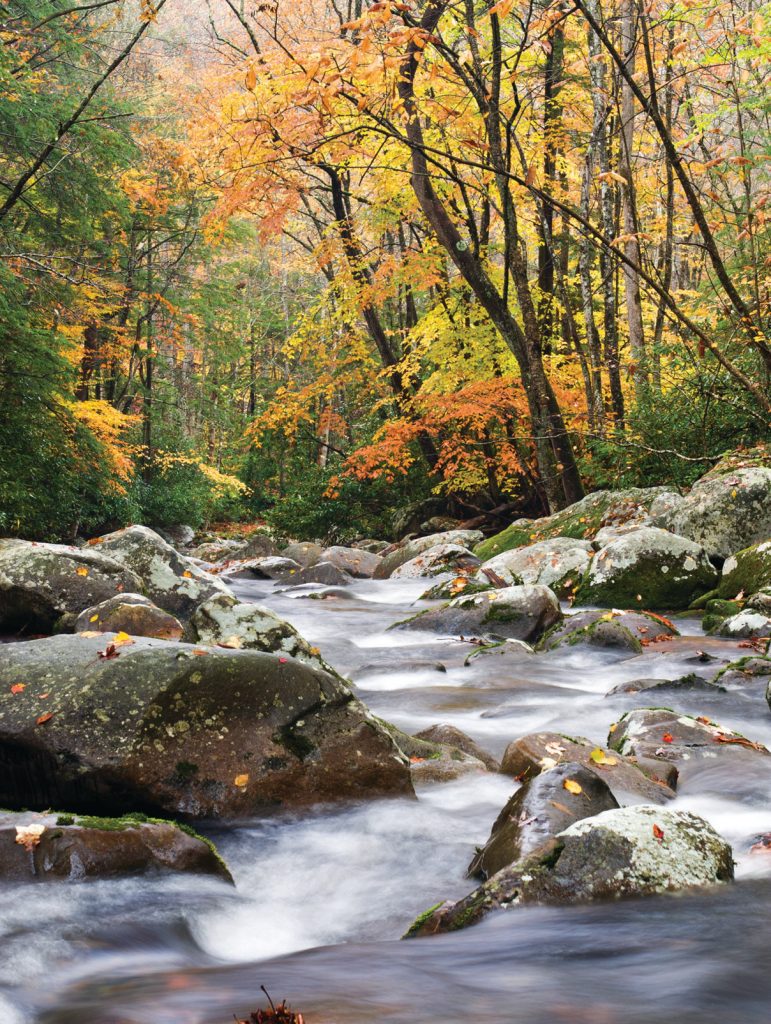 For a different view of the mountains, the chairlift ride at Gatlinburg's SkyLift Park gently floats visitors above the landscape. The park's Skybridge is one of the longest pedestrian suspension bridges in North America. Or ride to the top of the Gatlinburg Sky Needle, 400 feet above the ground.
Campbell County holds bragging rights as the area with the most state parks in the state. Located in northeast Tennessee, it sits between the Cumberland Plateau and Appalachian Ridge-and-Valley Range.
"Our location makes for amazing scenery and a perfect area for exploring many of the diverse features of Tennessee," says EL Morton, mayor of Campbell County. "We've got beautiful Norris Lake and two great resorts: McCloud Mountain and Deerfield Resort. And there are so many things to do here, you can just come and stay awhile."
North Cumberland Wildlife Management Area, also known as Royal Blue, has more than 600 miles of ATV trails as well as hunting and camping. An elk-viewing tower brings in photographers and people who want to see the recently reintroduced elk herd.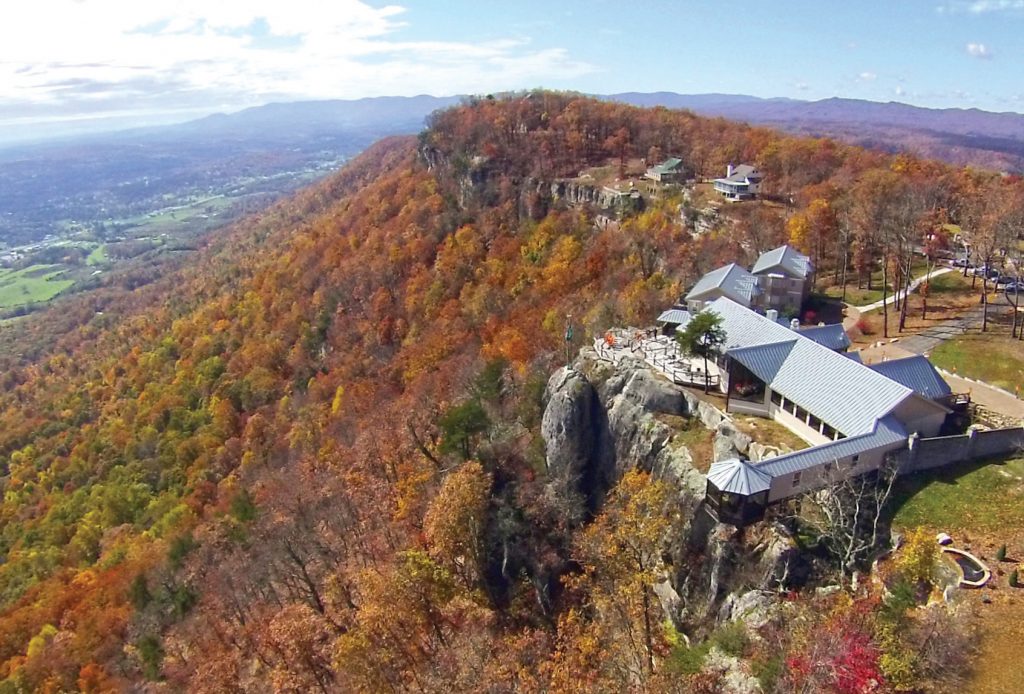 "For folks who are looking for light hikes and grand views, a visit to Chimney Rocks at Tennessee's McCloud Mountain is a must-do," Morton says. "There's no better place to look out over the grand expanse of Tennessee. The overlook is tucked away in the bend of the French Broad River, and a walk along the Chimney Rock Skybridge is best paired with an adventurous spirit. Chimney Rocks Skywalk can be found in LaFollette atop the Cumberland Plateau."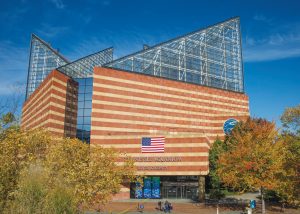 Taking a trip to an outdoor destination can be the first step to enjoying a getaway and being mindful of safety. Tourism destinations, attractions and state parks in Tennessee are practicing social distancing and other COVID-19 guidelines. The key is to check with the places you plan to visit in advance so you can ask any questions you may have.
The always popular Great Smoky Mountains National Park remains an outdoor escape in seasonal splendor.
Learn more online
Be sure to visit tnmagazine.org for more Tennessee travel ideas. You'll find features on interesting attractions and our Almanac of Events. Get more information on the places mentioned in this travel guide at these websites:
---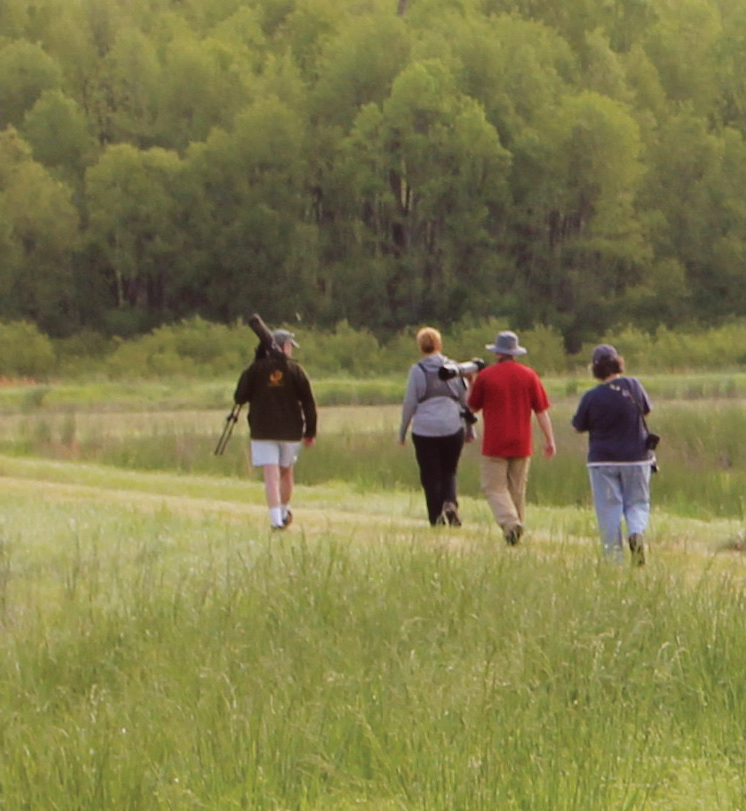 Tips to help you travel safely
Choosing outdoor or less-crowded destinations is one of the preferred ways to travel more safely this fall and winter. Many organizations, restaurants and attractions throughout the state have reopened their facilities with safety guidelines in place, including social distancing and recommendations or requirements to wear masks.
Hatchie National Wildlife Refuge.
Here are some suggestions to reduce the risks:
Plan an outdoor trip where you can control your social distancing and experience fresh air.
Choose nonpeak times to visit such as weekdays or mornings and early afternoons.
Keep your travel group small, limited to immediate family or a few close friends.
Realize that the world of travel is very different now and you may need to be more flexible or patient as you venture out.
Branch out from your normal routine and try new activities that focus on the outdoors such as birding, easy hikes or walking tours of nearby towns.
If lodging is involved, ask questions about cleaning and safety procedures.
Tennessee State Parks maintains a COVID-19 closures page that is updated regularly at tnstateparks.com/about/covid-19-closures.
Visit Tennessee, tnvacation.com, offers suggestions for scenic drives, trails and byways. It also lists virtual experiences that will whet your appetite for in-person visits at tnvacation.com/articles/virtual-experiences-you-can-have-tennessee.
To be certain, call ahead to find out about guidelines at your intended destinations. For more information about traveling safely and destination recommendations, visit tnvacation.com/travel-safe.