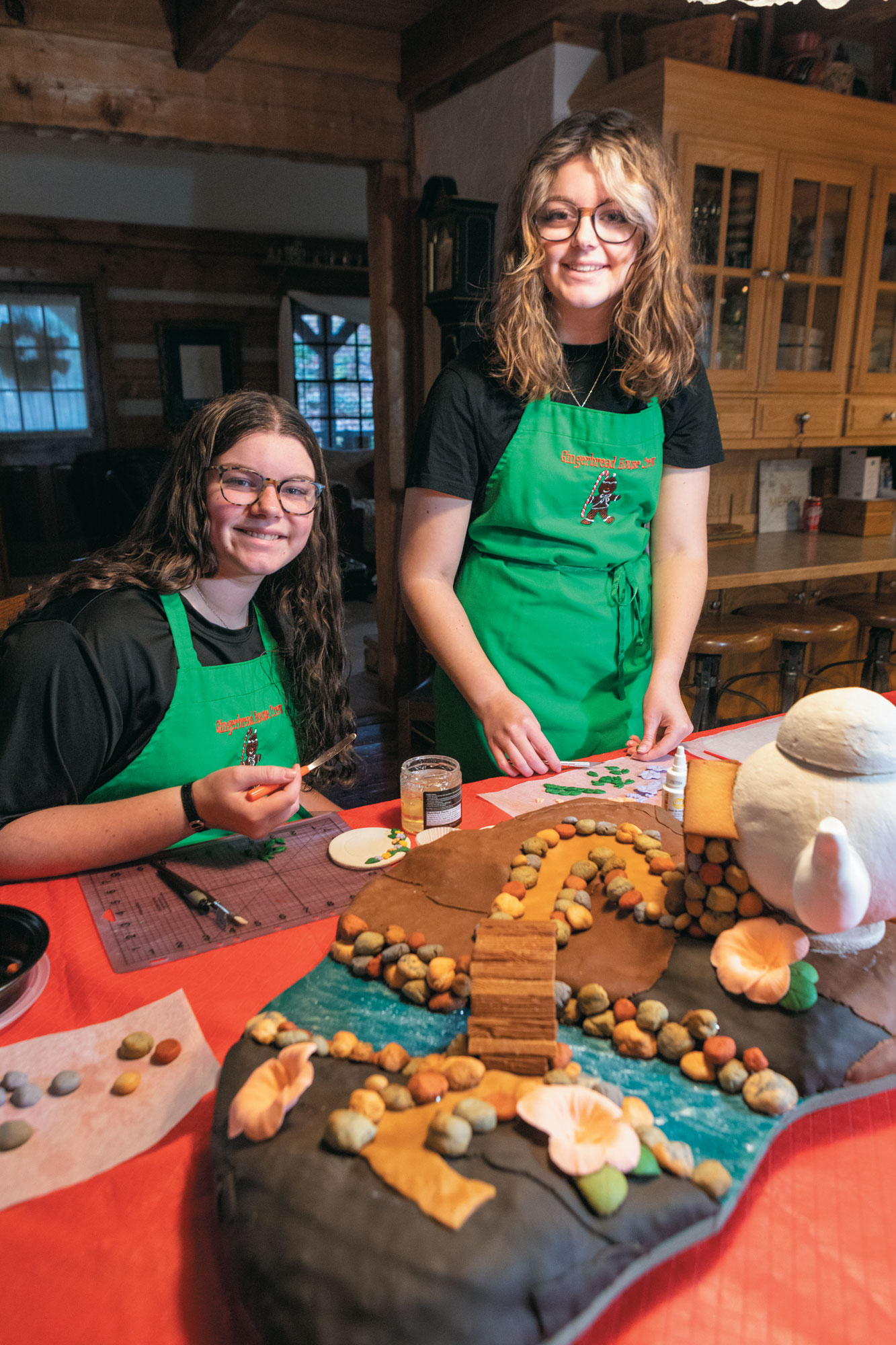 "A gingerbread house is made of cookies and royal icing; a gingerbread home is built of hard work and family." It doesn't have quite the same ring as Ralph Waldo Emerson's famous quote, but nevertheless, gingerbread houses have continued to be a steadfast holiday tradition in homes all over the world.
There is a whole different side to gingerbread houses that many don't consider as they build their store-bought at-home gingerbread house kits: the time and energy some skilled artists invest into making elaborate gingerbread creations from scratch that don't even feel right being called "gingerbread houses" mostly because, often, they aren't actually houses.
For 30 years, the National Gingerbread House Competition has brought together a wide variety of gingerbread sculptors of all different ages, and they compete in four categories: children (ages under 8), youth (ages 8 to 12), teen (age 13 to seniors in high school) and adult (ages 18 and up). The competition celebrates the artistry it takes to put together such wonderful gingerbread house creations. It is held in the Omni Grove Park Inn in Asheville, North Carolina, and has had quite a few entries over the years from some skilled Tennesseans who have joined the competition along with people from not only all over the U.S. but internationally as well.
One Tennessean who has been placing high in the most recent competitions is Emma Rhinehart, a 14-year-old high schooler from Columbia. She is entering the competition again this year to go up against the 75 to 80 other teen division competitors after her successes with her past three entries: placing third in her first year of competition in 2019 in the youth division, second in 2020 in the youth division and second again in 2021 in the teen division.
"I didn't really expect much out of it," Emma said on how she thought she might do in her first competition back in 2019. "I was kind of just doing it for fun, as something my nana always did. It was more of a fun thing to do with my sisters and my nana to work and see all of it come together. But after the first time, I was like, 'Oh, maybe I could place higher,' because they get better and better every year."
Emma estimates that she has been building gingerbread houses (outside of the competition) since she was 2 years old alongside her older two sisters, Sarah and Jenna.
"The girls started making gingerbread houses in house-form when they were really young, and it just snowballed into these big, grand creations," said Rachael Spafford Rhinehart, Emma's mother.
Emma said her nana, Merry Spafford, is her source of inspiration throughout this competition.
"I started doing something small my first year, and then my nana helped with the concept of making it bigger," Emma said, adding that Merry is the one who taught her and her sisters all about gingerbread houses.
Merry has entered the National Gingerbread House Competition 19 times over the years, placing as high as third in the adult category, which is not an easy feat since that division tends to have the most competition. There are between 100 and 150 entries in the adult division of this year's competition, according to Rachael.
Merry was a family and consumer science and visual arts teacher at Greenback Public School who started making gingerbread houses with her students 26 years ago as a class project. The creations were donated to the Fantasy of Trees, a fundraiser for the East Tennessee Children's Hospital in Knoxville. She learned about the National Gingerbread House Competition from a Knoxville chef she met at the Fantasy of Trees in 2003, and the next year, she entered with a teaching colleague for the first time.
"As a family, we began making and decorating small houses the day before Christmas to give as gifts," Merry said. "The girls were all very young when we started doing this, and most of their first attempts looked like a messy pile of sugar and candy."
All five of Merry's granddaughters have entered the competition, and all of them have won or placed multiple times. Emma's two older cousins, Amanda Spafford Stover and Emily Spafford, entered the competition for multiple years. Once Emily went to college to study nursing and Amanda went into the Navy, they chose to stop competing, so Merry asked Emma and her two sisters to start entering the competition in 2019. Emma's oldest sister, Sarah, has stopped competing since she is busy with college, so Jenna and Emma decided to enter the competition together this year. They build their gingerbread houses for the competition at Merry's house in Loudon.
"Making gingerbread is a way to use your imagination and creative skills all while having fun and making a huge mess in the kitchen," Merry said. "It is my favorite time to spend time with my granddaughters."
One thing many people might not realize is these gingerbread houses might not actually be houses.
"Outside of the competition, we usually just do houses, but usually a house is too simple for a competition," Emma said. "If you were to do a house, it would have to be very detailed, but usually they're not really houses."
People have entered many types of unique gingerbread creations for the competition such as stables, reindeer or carousels, to name a few. Emma said right after they make their gingerbread creations for one year's competition, they start looking for ideas on Pinterest to inspire their own concepts for the next year.
"There's always a picture or idea of how it started," Emma said.
But inspiration can strike anywhere, not just from the internet. Emma said she got her idea for her "Merry Minion" gingerbread house competition entry in 2020 from a minion blow-up decoration in Walmart's holiday section.
"Last year's entry, when my nana was teaching while she was at a school, the librarian she worked with asked if she would ever do a piece with books like a library or something, so we kinda tied that into mine, 'Santa Study,'" Emma said.
Merry added that she makes a foam board model of her gingerbread house in February or March after deciding on the idea to make sure everything will fit together and be structurally sound, and she starts working on her competition entry in June.
Emma and her siblings have usually built their gingerbread houses over the entirety of their fall break at Merry's house, but this year, they switched it up and built it every weekend in November leading up to the competition.
The gingerbread houses have a 2-foot cube maximum size requirement, meaning they cannot exceed 2 feet lengthwise, widthwise or heightwise. They also have to be 70 percent gingerbread and 100 percent edible … although, what can be considered "edible" might surprise people who don't know much about this level of gingerbread artistry.
"We've used dried spaghetti in some of them, so it's the most out-of-the-ordinary food items that you would ever think to put on a gingerbread house," Emma said. "It's not always sweet, so it could be crackers or anything."
"On my gingerbread 'Santa Study' from last year, my windows are actually the gelatin sheet things that are the casing of hot dogs," Emma said.
This year, they hit an additional obstacle when an allergy test showed that Emma was allergic to cinnamon, leading to Merry making cinnamon-less dough for this year's competition.
"We kind of always thought it was the cat at her house until I got allergy tested and it turned out it was cinnamon," Emma said. "We were like, 'Oh, that makes sense why I was always red and had headaches at her house.' There's cinnamon embedded in every crease of that house!"
Emma said she usually doesn't talk about her participation in the National Gingerbread House Competition unless someone brings it up to her.
"When they ask about it, they usually go straight to, 'Oh, it's like a kit house from Walmart' or something," Emma said. "They don't really understand that it's all from scratch, and it's really big, not graham cracker-sized."
Emma said people sometimes ask how the gingerbread houses stay up and assume inedible additions help make the creations sturdy.
"They'll ask if I have a wooden post in the middle of it or if I use super glue or Elmer's glue. Nope, it's all edible," Emma said.
The judging is just as meticulous as the concept and building processes. The judges are very well-known and are usually pastry chefs, even some from Food Network like Carla Hall, who judged in 2021.
"While they judge the pieces, obviously no one's in the room. They have food drills, and they'll sometimes drill into your piece to see if it's gingerbread," Emma said. "For my Minion piece, they didn't know what the Minions were made out of, so they drilled into one to make sure."
Emma said that at the ceremony after the judging, they'll call the top 10 entries for each age division first and then narrow it down to the top three.
"Standing there looking at all the top 10, you just wonder what's going to happen because there's so many good, detailed pieces, and it just comes down to what the judges think," Emma said. "It was definitely surprising when I got third my first year."
The National Gingerbread House Competition always hits the weekend before Thanksgiving, which adds another layer to "family" and "togetherness" for Emma's family.
"It is fun to go back each year as a family and spend that time together, building the projects. But we also take the weekend and stay and experience Asheville at the same time," Rachael said.
"It brings a lot of our family together since it's around Thanksgiving when we're doing it all, with lots of laughing," Emma said. "It definitely is a tradition."
The 30th Annual National Gingerbread House Competition took place on Nov. 21 this year. Merry Spafford entered the adult division, and her granddaughters, Emma and Jenna Rhinehart, entered the teen division together.
The Omni Grove Park Inn will announce one competition finalist per day starting on Dec. 1, leading up to the grand prize winner, who is announced on Dec. 12, National Gingerbread House Day. Visit the inn's Instagram feed, @omnigrovepark, or Facebook page at facebook.com/omnigroveparkinn, to see the 2022 competition results. There is also a public viewing of the competition's gingerbread houses at the inn from Nov. 28 to Jan. 2.