Northside Clocks owner and third-generation horologist Howell Rust keeps the 50-year family legacy ticking away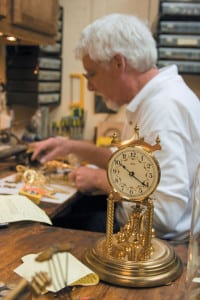 The second you step inside Northside Clocks in Manchester, you're welcomed by a clicking chorus of hundreds of clocks sounding their telltale ticks. Varieties abound: Joining the familiar grandfather and cuckoo clocks are store clocks, schoolhouse clocks, kitchen clocks and mantel clocks. Brand-new models occupy a front corner, and in the other window are rows of antique clocks that have been meticulously, lovingly restored by store owner Howell Rust.
Chances are you'll find the 53-year-old in the back of the building, through a set of swinging saloon-style doors, in the workshop. After all, where else would you expect to find an horologist — a clock-maker and repairman?
Born and raised in Manchester, Rust learned his specialized trade from his father, Henry, and his grandfather, Howard, the Manchester mainstay's founder.
It all started in 1954. Howard Rust sold insurance door-to-door. One customer, unable to pay his premium, offered a clock as payment.
"My grandfather came home, and guess what my grandmother did? She gave him a lot of grief about it!" Rust jokes. "So he decided, 'Hey, I've got to fix this clock and get my money back. We need that $3.'"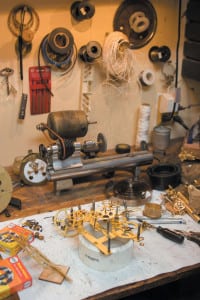 With no formal training, Rust's grandfather repaired the cash-strapped customer's clock and returned it — after collecting the man's $3 premium as well as a $3 repair fee. Thus began Howard's supplemental job. In the coming years, in addition to collecting premiums, he would ask policyholders if they had any old clocks that needed repair. And as his expertise expanded, so did his "shopping list."
"My grandmother said, 'Wait a minute. If they'll give you clocks, maybe they'll give you something else.' So he started asking, 'Hey, do you have anything in the old barn you want to get rid of? He'd leave out in the morning in the station wagon and come back in the evening with dressers and chests of drawers and stuff like that all tied to the top."
After about a year of collecting, the Rusts opened an antiques store. Howard quit his insurance job, and in 1964 Northside Clocks was born as Northside Antiques. Nearly 50 years later, the store specializes in clocks, and Howell Rust, like his father and grandfather before him, is repairing temperamental timepieces, returning them to their functional, beautiful glory.
"The clocks are a passion of mine," Rust says as he begins to explain how he became an horologist. An associate engineer for Stanley Tools, Rust decided he was ready to learn about clocks when his children were young and "you can always use the extra money." After some convincing, his grandfather began teaching Rust the trade on a style of clock the elder horologist despised.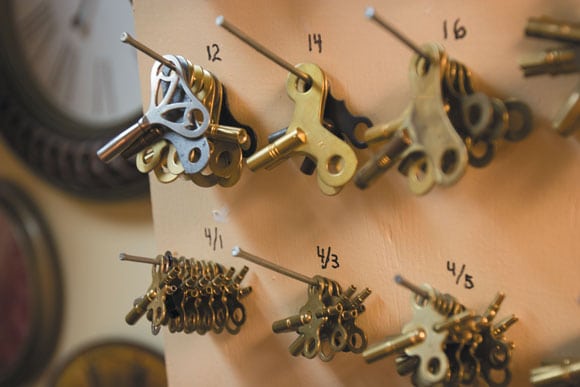 "He hated cuckoo clocks," Rust says. "He would go to auctions and buy them so no one else could. He had a big box that he'd throw the cuckoo clocks in."
Rust's grandfather took a cuckoo clock from his "collection," disassembled the movement and told Rust to come back when he had it working.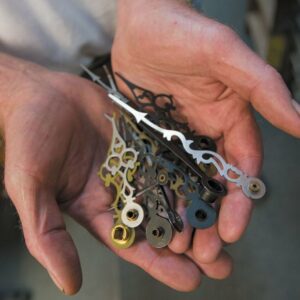 "It took me a couple of months," he says. "Finally, I got it back together, and he told me, 'Nope. That's not right.' He tore it apart, put it back in a sack and shook it up. I said, 'Wait a minute. What did I do wrong?' He said, 'Figure it out.'
"So that's what I did the first five years. But what I didn't know was that there was nobody else in Tennessee repairing cuckoo clocks at that time. And cuckoo clocks are the hardest to learn. But once you learn the cuckoo clock, then you're better prepared for other clocks. And, if you tear one up, it's really cheap to replace the movement."
Rust then began making house calls, working for Stanley during the day and repairing grandfather clocks at night and on Saturdays. When his Stanley job relocated to Mexico, Rust became a full-time "clock man" in 1995.
"I work about 60 hours a week," he says. "But the thing is, this is my hobby. So when I leave here and go home, a lot of times you'll find me in my garage working on clocks."
Rust likens his skill set to that of a heart surgeon. And though clock repair is no life-and-death procedure, it has its own challenges.
"All hearts are made exactly the same," says Rust. "But every clock is different. Even if you have two that are identical, they'll have different problems."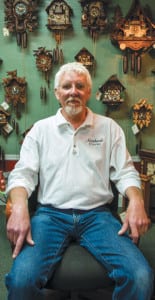 Rust says he repairs 60-70 clocks each month, and typical turnaround time is six to eight weeks. He has a loyal clientele — customers who come to the Manchester store from all over the state. And because it's not feasible for most people to bring in their grandfather clocks or have them shipped to their trusty repairman, Rust makes house calls — about 250 each year — across the country, though most of his customers live in Middle Tennessee, southern Kentucky and the northern parts of Alabama and Georgia.
"Doing house calls alone, going to people's homes and working on their grandfather clocks, I usually put about 30,000-36,000 miles a year on my truck," Rust says. "And I have every year for the last 30 years. My last truck, I bought it in 2002. When we traded it off in 2010, it had 280,000 miles on it."
The excitement in Rust's voice as he discusses his hobby-job is as audible as the hundreds of chimes that sound inside Northside Clocks every hour. He says some customers have asked him how he keeps his sanity amid the constantly ticking cacophony of his storefront and workshop. But he says the clocks bring his store to life … your first clock will do the same for your home.
"After a day or two, it just becomes part of the house," he says in describing the sound. "And when your home gets nice and quiet, it's soothing.
"Whether your choice is new or old, you get it in your house, and it gives your home a heartbeat."