Ms. Davenport,
Recently, I came into possession of what is called a "Watchmaker's Desk." I have also heard it called a jeweler's cabinet, but I believe this to be misnamed.

The watchmaker's desk is a specialty desk designed for a watch repairman but is also used by them to repair clocks, jewelry and other such items. It is designed with a metal lathe, vice, special lights, a number of flat drawers used to hold a wide variety of small tools, a "catch-drawer" used to catch any part the watch-repairman may drop and a roll-top desk cover.
Many thanks,
Rick, Richmond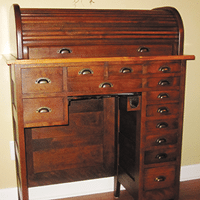 Rick,
Thank you for sharing your specialized work desk. Although you didn't ask, others will want to know its value. Standard equipment for jewelers in the 20th century, similar desks without lathe and tools and in rough condition now sell at auction for $100 to $275. Your desk, however, appears to have been restored and is sporting a complete range of precision jeweler's tools. Individually, the small tools might sell for $10 to $20. If you wanted to sell the restored desk only, with lamp and lathe, I'd offer it at $700 and be willing to negotiate as needed.
Jeweler's desks of oak made before 1900 with more Victorian decoration can sell for more than $2,000.
Connie Sue,
I love this chair, especially the feel when sitting in it! It came from my husband's great-aunt's house in the Chattanooga or Pikeville area. His mom (she is 70) remembers being rocked and sung to in it. I'll be a grandmother soon and want to get it restored. I'd love to know anything about it.
Thank you,
Jennifer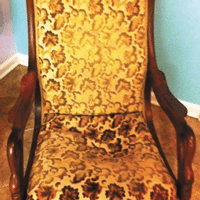 Jennifer,
I love this chair, too. It's a walnut gooseneck rocker made around 1900. The name comes from the gooseneck-shaped arms. I'm glad you're having it restored. In its present condition (and I hope you aren't attached to that upholstery), it would struggle to sell for $150. Restored with a fashionable fabric, it could tickle $350. Congratulations on your upcoming grandmother-dom.
Connie Sue,
I've had this wooden box purse for around 20 years. The designer was Enid Collins of Texas. The purse was given to Lady Bird Johnson in 1960, and later she donated it to a church for auction. The letter explaining this is included along with her signed card and the envelope that the letter was in (not pictured). I would so much appreciate anything you could tell me about it along with its value.
Thank you,
Robbie, Ripley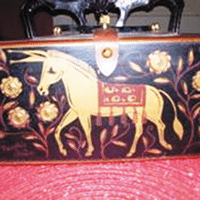 Robbie,
Lady Bird Johnson (1912-2007) crossed my mind recently while driving the Tennessee Interstates. There was a patch of colorful wildflowers in bloom that may have been remnants of her Beautify America planting program. She was a generous woman as evidenced by this donated purse. Altogether the letter, card, envelope and purse might sell for around $250.
The box purse alone, made by Enid Collins of Medina, Texas, is worth around $75. Milliner-turned-purse-maker, Collins made bucket- and box-shaped purses from 1959 to 1970. Carried by the more flamboyant among us in the 1960s, they have laid dormant in closets for decades, only to be discovered by a new generation of bag ladies. Heavily decorated and bejeweled bags sell for more — into the hundreds of dollars. Turquoise-embellished examples seem to be the most popular. Enid Collins purses are bought as objects of art as much as to carry our keys and coins.