Tennessee farms let families choose the perfect Christmas tree
It's perhaps the most recognizable symbol of the season: the Christmas tree. A household isn't completely ready for Christmastime until the family has gathered to trim their tree — either artificial or natural — with glittering ornaments, twinkling lights and colorful tinsel.
For many folks, though, the only "true" Christmas tree is a natural one. For these Tennessee families, the holiday season kicks off with a trip to a local Christmas tree farm to pick the perfect specimen to adorn their home.
One favorite destination is Country Cove Christmas Tree Farm in Murfreesboro. Owned by Joe and Jan Steiner, the 35-acre farm caters to families looking for the "experience" of choosing their perfect Christmas tree and welcoming the holiday season.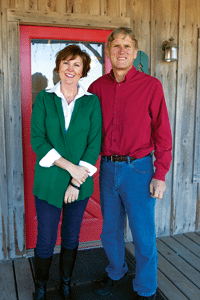 "It's just the atmosphere," says Joe in explaining the attraction people feel to a Christmas tree farm visit. "It's very much a family event."
In fact, before they took ownership of the tree-selling business, it was a family event for the Steiners to visit Country Cove as customers. Steiner, then and still a General Mills plant product engineer, grew up on his family's Illinois farm and decided to make a return to his agricultural roots.
"We used to get our trees from here," explains Joe. "Mr. Clayton, the original owner, told me, 'I'd like to find someone to take over.' So I surprised him by saying, 'I'd be interested.'"
And five years ago, the patrons became proprietors.
Country Cove is more than a tree lot. While there are pre-cut trees available, it's a choose-and-cut farm. Families make their selections and can then harvest their own trees.
This year, visitors can choose and cut from three species: white pine (limited supply available), Leyland cypress and Carolina sapphire. The varieties have different characteristics — including color, scent, needle length — so visitors can choose the type that best fits their family needs. For instance, Carolina sapphire trees are bluish in color and give off a fragrance of oranges. Leyland cypress, though, are dark green and have little or no fragrance, making them good for allergy-sufferers. White pines, with their long, flexible, green needles, are also good for those with allergies because the trees give off little or no pollen.
Depending on species, trees up to 6 feet tall cost around $40, while those over 10 feet are about $80.
Expanding its diverse offerings of tree types, Country Cove also offers a selection of pre-cut trees supplied by partner nurseries in North Carolina and Pennsylvania. Fraser, Concolor and Douglas firs range in price from $57 for 6-foot Concolors to $215 for 12-foot Frasers.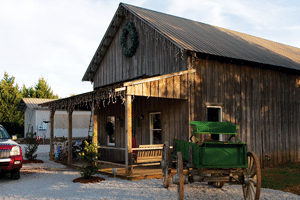 There's more to the experience than just picking out your tree, though. Fun holiday activities at Country Cove include hayrides and complimentary hot cocoa and hot apple cider. And Jan has made a full-time job of stocking and managing the farm's Christmas Shop, which offers all types of ornaments and other festive decorating supplies.
While you're enjoying the activities and choosing your tree, you can also have Country Cove's dedicated and talented Wreath Shop staff custom-design and create a wreath, swag, candle ring or garland strand for your home. Choose your greenery and ribbon, and the crafters whip up your fresh, handmade keepsake while you enjoy the other aspects of the tree farm experience.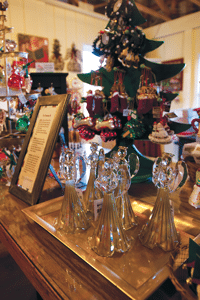 Jan says that many of their new customers are also new parents. "They decide to come after they've had a baby — to start a family tradition," she says, smiling. "It's a neat experience for us because we started coming here when our kids were little. That was our family tradition, so we understand starting a little tradition with their families, too. It's really kind of cool."
Customers seem to agree. Joe estimates that 75 percent of their customers return to Country Cove year after year. Knowing that, he and Jan work year-round to make sure those holiday visits in November and December are special for repeat visitors as well as those first-time memory-makers.
"This is an event," he says. "We sell an experience. Even if you come out and buy a pre-cut tree, you get to go to the gift shop, you see the 35-acre farm on the hayride.
"When people come out here, they enjoy the experience. And they come back. That's a main reason we do this: our loyal customers."
---
Picking the perfect tree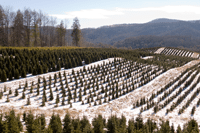 To get the most out of your locally grown tree, you need to know what you want and how to take care of it. Whether you cut your own or choose pre-cut, Pick Tennessee Products offers important safety and care tips for your beautiful, natural tree:
If you choose a cut tree, its needles should be resilient. Between your thumb and forefinger, grasp a branch about six inches from the tip. Pull your hand toward you, allowing the branch to slip through your fingers. The needles should adhere to the branch, not fall off in your hand. Lift a cut tree a few inches off the ground and bring it down abruptly on its stump. Outside green needles should not fall off in substantial numbers, though interior brown needles shed naturally every year. The cut tree should be very fragrant and have a rich color.
When you get home, make a fresh cut across the base of the trunk or have your tree farmer do that for you before you leave the farm. You might even want to take your tree stand with you so the farmer can fit your tree onto your stand. Always use a water-holding stand, water the tree as soon as possible and keep the cut covered in water. If the base of the tree dries out, a seal will form, and you will need to make a new cut.
Natural trees should be kept cool and safe, away from fireplaces, heaters and televisions. Always unplug lights when you are away from home or before you go to bed, and be sure your light cords are in good working order.
Locate nearby Christmas tree farms by visiting the Pick Tennessee Products website at www.picktnproducts.org. The directory listings will include the kinds of trees grown, location, phone numbers and other products and activities that might be available at a given farm.
---
Make the cut
Country Cove Christmas Tree Farm is located at 1189 Cut Off Road in Murfreesboro. The farm is open Thursdays through Sundays until Sunday, Dec. 23. For hours and more information, visit its website, countrycovetreees.com, or call 615-895-0838.
To find a Christmas tree farm near you, visit the Tennessee Christmas Tree Growers Association website at www.tennesseechristmastrees.org. Or consult your go-to source for all things Tennessee agriculture, Pick Tennessee Products, at picktnproducts.org.