Letters to the Editor
I continue to enjoy the magazine still after 18 years of being a part of MTEMC!
Couple things:
Can you provide a page for letters to the editor? Would be fun to hear from readers!
Please continue to run stories by historian Bill Carey. Fascinating insight into Tennessee history!
Thanks for the quality magazine,
— David Huebner, Middle Tennessee Electric
Editor's Response:
Thank you for your email, David. We run Letters to the Editor periodically as space allows. We also love Bill's articles and are glad you do as well.
---
History Lesson
The story about Roddie Edmonds was so wonderful! I'm from Knoxville originally so I'm extremely proud that Master Sgt. Edmonds has been recognized as Righteous Among the Nations at the Yad Vashem museum in Jerusalem and that Knoxville has erected a historic marker in the downtown area. I have been to the Yad Vashem museum, and it is a memory I will cherish forever. What a wonderful tribute to a man of great courage!
— Diane Weatherford Middle Tennessee Electric
---
Magazine Subscription
I would like to receive The Tennessee Magazine. We moved, and I was never able to move my subscription
— Kerri Gregory Cumberland EMC
Editor's Response:
The Tennessee Magazine is distributed through Tennessee's electric cooperatives. The publication schedule varies by co-op as to whether members receive it monthly, bimonthly or quarterly.
If you are a member of an electric cooperative and are not receiving the magazine, please check with your local cooperative office to get back on the list.
If you are not a member of an electric cooperative in Tennessee, you can purchase a subscription. Please see the subscription form on page 19 or on our website, tnmagazine.org.
---
Fruit Cake
An issue from last year (perhaps October or November) presented a fruitcake recipe in the "50 Years Ago" feature. It was a favorite family recipe that I had been trying find for some time, so I saved the issue. But it has gone missing. Any chance you could run down this recipe for me? I would greatly appreciate it.
— Rodger Jowers Southwest Tennessee EMC
Editor's Response
I believe this is the recipe you are seeking: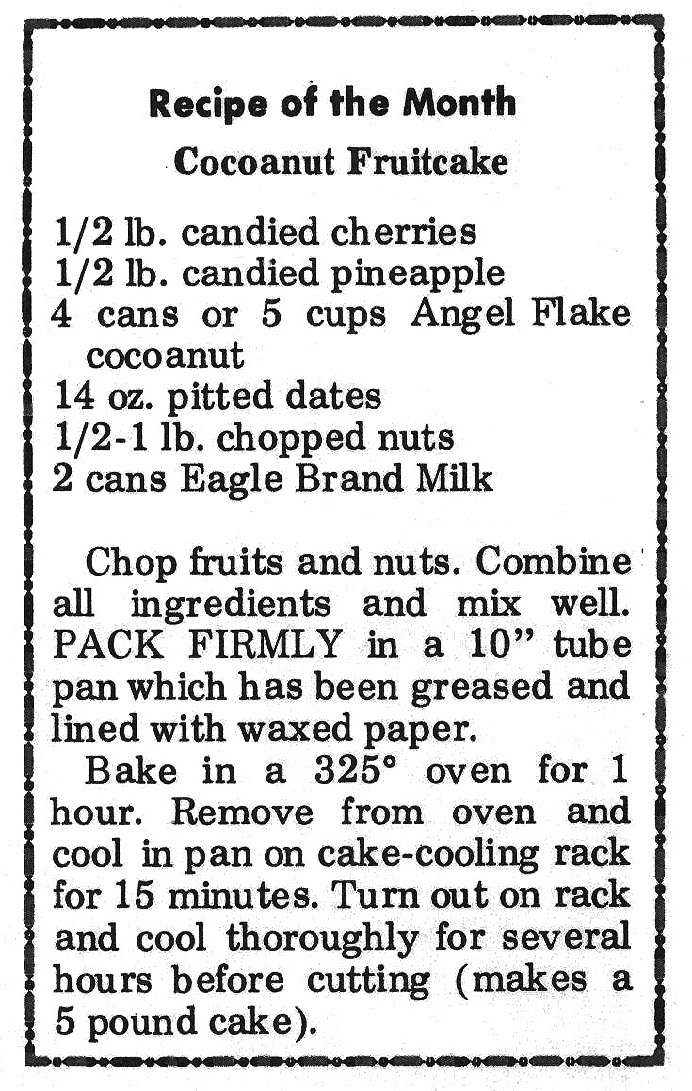 ---
The Tennessee Magazine contact information:
For questions or concerns about specific departments, please contact staff members listed below. To enter Almanac events or our contests, including Poetry and Shutterbug, please do so via our website at tnmagazine.org.