World famous
I saw an article by Tammy Algood in our local newspaper, The Daytona Beach News-Journal, about pimentos and especially pimento cheese, which reminded me of a funny thing I would like to share with her. I am originally from Georgia, and EVERYBODY makes pimento cheese spread for crackers and pimento cheese-stuffed celery as well as pimento cheese sandwiches. I have many snowbird friends from "up north," and they all rave about my pimento cheese and want the "recipe." So now, we call it my world famous pimento cheese! If possible, please see that Ms. Algood gets this note. Thank you!
Janis Toles
Port Orange, Florida
---
Looking forward to more magazines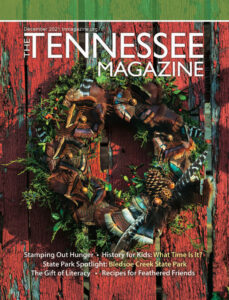 Hello, Ms. Conover,
We receive the magazine as members of Tri-State Electric Membership Corporation, and I read the December issue cover-to-cover. Kudos to you and your team for producing a first-rate publication that clearly works to be as inclusive of your market segments as possible. The emphasis on efforts being made to meet the needs of area residents who are food insecure, the range of articles that inform readers about the organizations that provide us with power, the snippets of regional history and culture, the how-to articles, the poetry and art showcase from young and older readers — I enjoyed it all.
Thank you. I look forward to reading the next issue!
Sincerely,
Janell Walden Agyeman
Cherokee County, North Carolina
---
Best of Tennessee
I would like to subscribe to your magazine if I could get the January 2022 issue that gives the 2021 Best of Tennessee list. Thank you.
Elaine Sturgill
Kingsport
Editor's response:
We would be happy to mail you a copy of the January edition. You can also find the Best of Tennessee winners and runners-up in each category on our website at tnmagazine.org.
---
New category for Best of Tennessee Hello,
I'd like to see an additional category for the annual "Best Of" list. Please add a category for healthy eating. City Silo in Memphis and The Dotted Lime in Columbia should have an opportunity to be recognized. Thank you!
Alana Blackstone
Memphis
Editor's response:
Thank you for the suggestion. We may incorporate that category in 2022.
---
Subscriptions
We have moved, but I would like to continue receiving the magazine. Can I pay for a subscription?
Melissa Dendy
Middle Tennessee Electric
Editor's response:
The Tennessee Magazine is distributed through Tennessee's electric cooperatives. The publication schedule varies by co-op as to whether members receive it monthly, bimonthly or quarterly.
If you are a member of an electric cooperative and are not receiving the magazine, please check with your local cooperative office to get back on the list. If you are not a member of an electric cooperative in Tennessee, you can purchase a subscription. Please visit our shop on the tnmagazine.org website.
---
Time zones
I always enjoy Bill Carey's Tennessee history lesson. I especially liked this month's story, "Time Zoning" (December 2021). I'm wondering when the rest of the world adopted time zones — but I guess that's not Tennessee history.
Holly Couch
Middle Tennessee Electric
Editor's response:
I'm guessing the answer is more complicated than Tennessee's adoption of time zones. You may find some of the answers on an informative post found with a quick Google search for "International Time Zones" on Wikipedia.