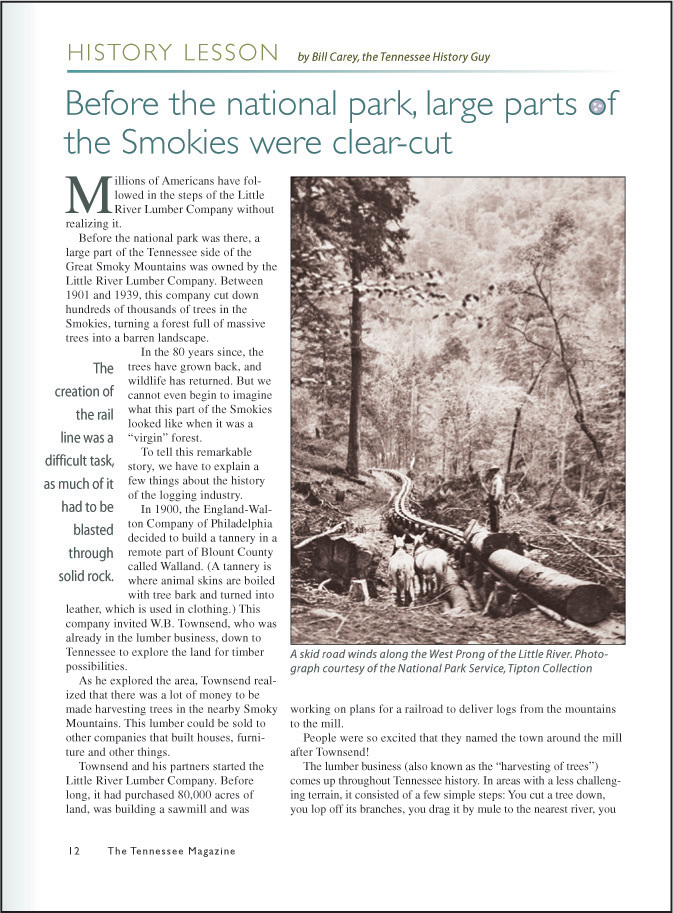 Logging in the Smokies
I have a question. We are volunteers for the Great Smoky Mountains National Park. We answer kids' requests for information concerning our park. We recently had a question that concerned how the logging industry devastated the area and found an article written by you at tnmagazine.org/before-the-national-park-large-parts-of-the-smokies-were-clear-cut. If we include the whole article showing that it was written by you and not us, are we allowed to print a copy of this to insert into the kids' packet? I did not do this on this request as I wanted verification from you first.
Thank you,
Scott Young, Gatlinburg
Editor's response:
Thank you for asking. Yes, you have permission. Our articles can be used for educational purposes with our written permission. Readers are also encouraged to check out tnmagazine.org. Our archives include numerous articles, photographs and recipes. Each can be shared via social media links or email.
---
Recipe archives
I am looking for a recipe that The Tennessee Magazine published. It is a Honey Bun Cake. Is there any way you can email me that recipe?
Thank you,
Janice O'Connor, Middle Tennessee Electric
Editor's response:
Thank you for your question. We have searched the archives and can't find a Honey Bun Cake recipe. Perhaps our readers might send in a few of their favorites for Honey Bun Cakes. We do have numerous other cake recipes in our archive at tnmagazine.org.
---
Subscriptions
I currently receive the magazine and love it. I also share the events with my daughter, who would love it if she could receive one of her own.
Please let me know if this is possible and approximately when she could start receiving it. Thank you for your prompt response.
Respectfully,
Suzanne Swire, Middle Tennessee Electric
Hi!
I moved in to a new address in White House, and I haven't received The Tennessee Magazine since the "forwarded mail" stopped. Can I start getting it again, please?
Jon Honeycutt, Cumberland EMC
Hello,
How can I get a hardcopy magazine? I live in Michigan, but we have family in Tennessee, and we will be traveling there in just two short months.
Thank you,
Michelle Land, Melvindale, Michigan
Hello,
Is this magazine publication no longer free to electric co-op members? I used to receive The Tennessee Magazine regularly but don't recall ever paying for a subscription. Every month I continue looking for one, yet they never arrive! I love the physical magazine and am not too keen on digital publications.
Please advise if a paid subscription is now required!
Thank you in advance,
Abby Tisdale, Upper Cumberland EMC
Editor's response:
The Tennessee Magazine is distributed through Tennessee's electric cooperatives. The publication schedule varies by co-op as to whether members receive it monthly, bimonthly or quarterly.
If you are a member of an electric cooperative and are not receiving the magazine, please check with your local cooperative office to get back on the mailing list. If you are not a member of an electric cooperative in Tennessee, you can purchase a subscription. Please visit our shop at tnmagazine.org.
---
Tennessee events
I need to find out how to submit information to you for May events. We have a festival in Winchester in Franklin County.
Brenda Long, Winchester
Editor's response:
You can submit your event on our website at tnmagazine.org/events/submit-event/add. To view our complete listing of Tennessee events, visit tnmagazine.org/events.