Guinness World Records update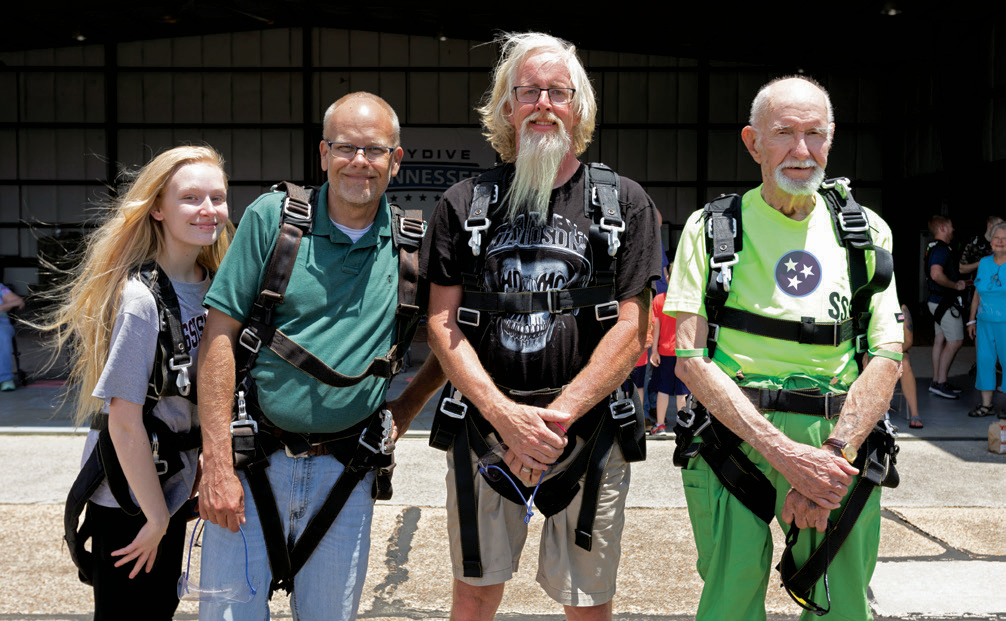 Four generations of the McNabb family tandem skydived together last June for Buddy McNabb's 90th birthday: great-granddaughter Hannah McNabb, her father and Buddy's grandson Brad, Buddy's son Randall and family patriarch Lucien "Buddy" McNabb.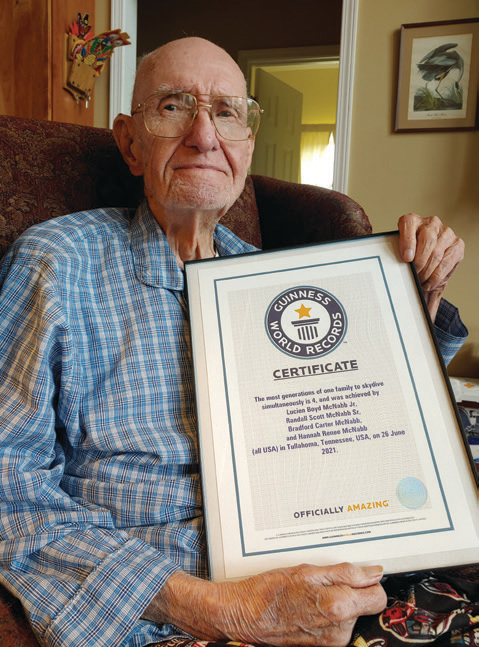 McNabb and his family were featured in The Tennessee Magazine in September for trying to attain a world record with this multigenerational free-fall skydive.
McNabb recently received the official certificate from Guinness World Records stating, "The most generations of one family to skydive simultaneously is 4," and naming the McNabbs who attained the recognition.
More of Buddy's story can be found in the autobiographical book he wrote titled "To Hell and Back In a Bottle." It can be found on Amazon, and all proceeds go to helping others in his community.
---
Recipe question
Hi, this message is for Tammy Algood. I read her article on heavy cream/half-and-half in my local newspaper and have a question that no one has yet answered. Can you explain what "fat-free half-and-half" means?
If there ever was an oxymoron, this is it. Hoping for a response. Thank you!
— Nelly Blackbourn
Food editor's response:
Hello, Nelly,
I appreciate the excellent question! Instead of originating from whole milk, the fat-free version starts with skim milk. Then loads of sweeteners are added for flavor — otherwise there would be none! So thanks to those sweeteners, it has calories, but none of those calories come from fat.
Quite honestly, it is a product I refuse to purchase! I hope this helps, and feel free to email me back if you have additional questions!
All my best,
— Tammy Algood
---
Antiques
How can I submit items to Connie Sue Davenport for comment in the "It's Just Stuff" segment of the magazine? I have a pie safe and an old clock I would appreciate her comments on. Thank you!
— Brenda Long, Winchester
Editor's response:
Mail your information and pictures to:
Connie Sue Davenport P.O. Box 343
White House, TN 37188
Or send them via email to [email protected].
---
Subscriptions
My wife and I recently moved to Cleveland, Tennessee, from Ohio. We received a magazine through our electric cooperative in Ohio, but our electricity provider (Cleveland Utilities) is not listed on your list. Am I still eligible to receive your magazine?
Editor's response:
The Tennessee Magazine is distributed through Tennessee's electric cooperatives. The publication schedule varies by co-op as to whether members receive it monthly, bimonthly or quarterly.
If you are a member of an electric cooperative and are not receiving the magazine, please check with your local cooperative office to get back on the mailing list. If you are not a member of an electric cooperative in Tennessee, you can purchase a subscription. Please visit our shop at tnmagazine.org.
---
Honeybun Cake recipe
I am sending this in response to a recent letter from one of your subscribers requesting a Honeybun Cake recipe. This is being submitted in memory of my mother, Syble Banks.
It has always been a favorite of my family. My mother was born in 1927, the oldest child in what became a large family of 11 children. Affectionately known to her family and friends as "Granny Banks," she began cooking at an early age, helping her mom and then continuing her cooking experience throughout her life. At family gatherings and church fellowships, her dishes were always sought out and soon disappeared.
Mother passed away in 2016 at the age of 88. As was the way of all of her generation, she made sure no one ever left her home hungry. Today we treasure her memory and are so thankful for all the wonderful recipes she left us to enjoy.
— Iva Hanback, Cypress Inn


Honeybun Cake
Ingredients
1 package yellow cake mix (with pudding)
½ cup sugar
⅔ cup oil
4 eggs
1 cup sour cream
½ cup brown sugar
2 teaspoons cinnamon
Topping
1 cup powdered sugar
4 tablespoons milk
Instructions
Mix cake mix, sugar, oil, eggs and sour cream. Beat on medium for 2 minutes. In a small bowl, mix brown sugar and cinnamon. Pour half of cake batter into a greased long baking dish. Sprinkle half of brown sugar mix over batter. Add the remaining batter and sprinkle with remaining sugar mixture. Stir lightly with a knife. Bake at 350 degrees for 35 minutes. Top with a mixture of powdered sugar and milk while hot.