Photo submission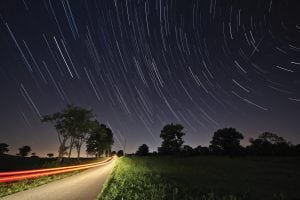 Robin,
I didn't know where to send a photo, but I'm a member of Middle Tennessee Electric and see so many member photo submissions in each issue of The Tennessee Magazine. I wanted to try my hand at submitting some. I don't know if you'd consider using this for "Point of View" or the cover or whatnot. Should you choose to use it for the "Point of View" article, let me know and I can type up the full story about what I do.
The attached photo is of the Perseid Meteor Shower that I photographed on a backroad close to my house near Mt. Juliet. Few people stay up to witness the magic of a meteor shower at its peak, so I try to capture it for them.
Thanks in advance!
Jodi Totten, Murfreesboro,
Middle Tennessee EMC
Editor's Note: We normally only use reader-submitted photos in conjunction with Shutterbug contests, but this one deserves a mention. Thanks for sharing your meteor shower image with us. Be sure to look for the next Shutterbug contest entry form in the June issue.
Events
I just finished reading about it being strawberry time in Tennessee. What I did not find was any mention at all of Humboldt's West Tennessee Strawberry Festival, which is always held the first week in May. This festival has been going on for as long as I can remember, and I am 60 years old. It is really a big deal for us folks in the middle of West Tennessee. I just think there should have been some short mention of something this important that ties into your article, especially since you are a Tennessee magazine for Tennesseans.
Thank you,
Roger Taylor, Trimble,
Forked Deer EC
Editor's Note: Thank you for your note. It brought me the opportunity to remind everyone of a few things concerning events:
We rely on event organizers to send us their information. Listings are free, so we can't guarantee placement in the magazine, but all events will be listed on our website, www.tnmagazine.org.
We try to publicize events during the month in which they are held. You will find Humboldt's famous festival listed on page 30 of this magazine.
You can find an online form to enter your event information at www.tnmagazine.org/events/    submit-event/add.
Poetry
I'm writing in regards to a poem written by Samantha Rosencrants in your April edition — "5 Senses." You forgot to write about the sixth sense: Reading something so wonderful! My, how much pleasure it brought! You've got a real talent, there. Keep it up!
Vickie Stokes, Appalachian EC
I was looking for the April poetry contest runners-up, but I could not find them. Is there a certain place I should be looking?
Charleyna East, Jackson,
Gibson EMC
Where can I find the poetry runner ups for the March issue?
Lydia Esmer, Franklin
Middle Tennessee EMC
Editor's Note: The winners and runners-up in the Poet's Playground contest can be found on our website at www.tnmagazine.org/tag/poets-playground.
Subscriptions
Can an individual subscribe to the magazine?
Rick Copeland, Leoma,
Middle Tennessee EMC
I'd like to get your magazine but don't want to create a PayPal account. Are there any other options? Thank you. We're thinking of retiring in Tennessee.
Teresa Mulligan
Fairfield, Pennsylvania
Appalachian EC
Editor's note: If you are not a member of a local electric cooperative, you can subscribe to The Tennessee Magazine. Rates are $15 per year or $30 for three years. You can mail a check or money order along with your name and address to:
The Tennessee Magazine
Subscriptions
P.O. Box 100912
Nashville, TN 37224
You also have the option of calling our office at 615-367-9284 and paying for a subscription using your MasterCard or Visa.
Finally, if you prefer to pay using PayPal, you can go to our website, www.tnmagazine.org, and order a subscription.
---
Keep the letters coming!
We enjoy your letters, emails and phone calls. Here is a quick reference: