Boost curb appeal to revitalize the ways you enjoy your home
You only have one chance to make a good first impression. That old saying is true for you and for your home, too. All too often, however, homeowners dwell on how a house looks and feels on the inside and neglect the outside. A new granite countertop may add sparkle to your kitchen, but maintaining your home's exterior appearance — its curb appeal — also is important to your enjoyment of the place where you spend most of your time and have invested much of your money.
According to Lorin Miller, president of Miller Custom Exteriors in Fredericksburg, Ohio, pride of ownership motivates many people to improve their home's curb appeal. "They want a house that immediately looks good when they're entertaining family and friends," says Miller. Other customers want to give their home a fresh, updated appearance. "People get tired of the way a house looks, but if they change the siding or install a cultured stone product, they'll get a totally different exterior," says Miller.
Located in the heart of Ohio's Amish Country, Miller Custom Exteriors has been in the home improvement business since 1978. While its renovation and remodeling projects are mostly in rural areas and small towns, the family-owned company also does jobs in suburban Cleveland and Columbus.
"We specialize in 'Wow!'" says Miller. "Our goal isn't just to cover up the outside of a house but to create something that stands out. We want to give a house character."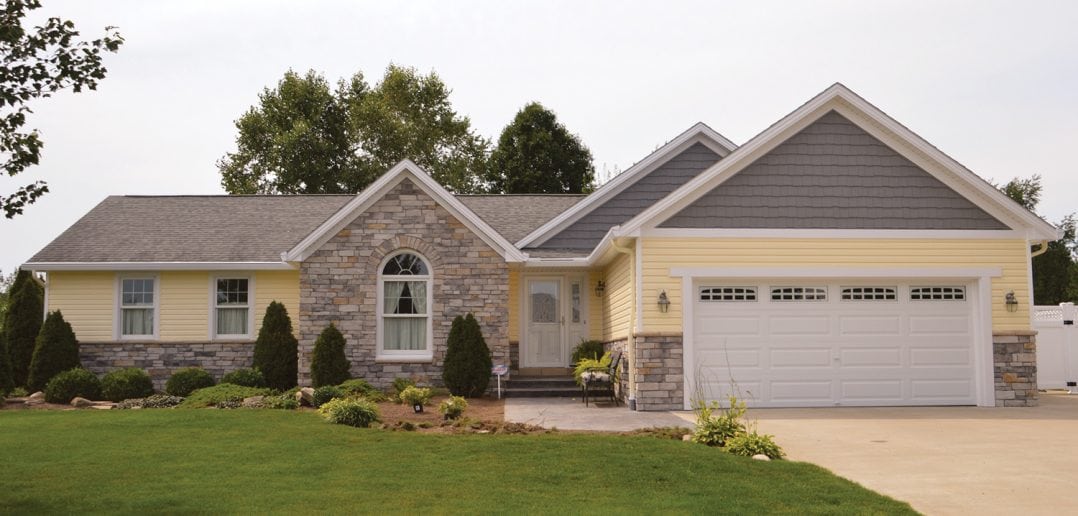 A few years ago, the work his company did on a Canton, Ohio, house earned a Contractor of the Year award from the National Association of the Remodeling Industry. The Victorian-era home's makeover involved new roofing, siding and windows. "We took the house back to its original appearance as much as possible but used modern materials," says Miller. "It's a good example of how combining the right colors and style creates curb appeal."
The Canton house is light gray with burgundy and charcoal gray architectural features, and Miller Custom Exteriors installed seamless steel siding on its walls and vinyl shakes in the gables. It used similar materials for a recent historic renovation that transformed a Medina, Ohio, home from bland to beautiful. The Queen Anne house now sports colors of russet red, classic blue, charcoal gray and almond.
"Color is an expedient way to add curb appeal," notes Miller. "The better siding products available today have no issues with darker colors fading, and there are lots of color choices for siding and trim pieces. We're no longer limited to neutrals like white, beige or clay."
But homeowners want more than a house with a pretty face. Sprucing up the outside also presents an opportunity to say goodbye to chores like caulking worn-out windows and painting old siding. "With so many limitations on everyone's time today, people don't want to spend their free time maintaining their home's exterior," says Miller.
Many of Miller's customers choose ABC Seamless siding, a galvanized steel product with a baked-on finish. "It's stronger and lasts longer than vinyl siding," says Miller. Since each length is custom-cut on the jobsite, seamless steel siding fits a house exactly and has no unsightly splices or gaps. In addition to its durability and good looks, steel siding is manufactured from recycled material and can be recycled. "It's 'green,'" says Miller, "and never goes into a landfill."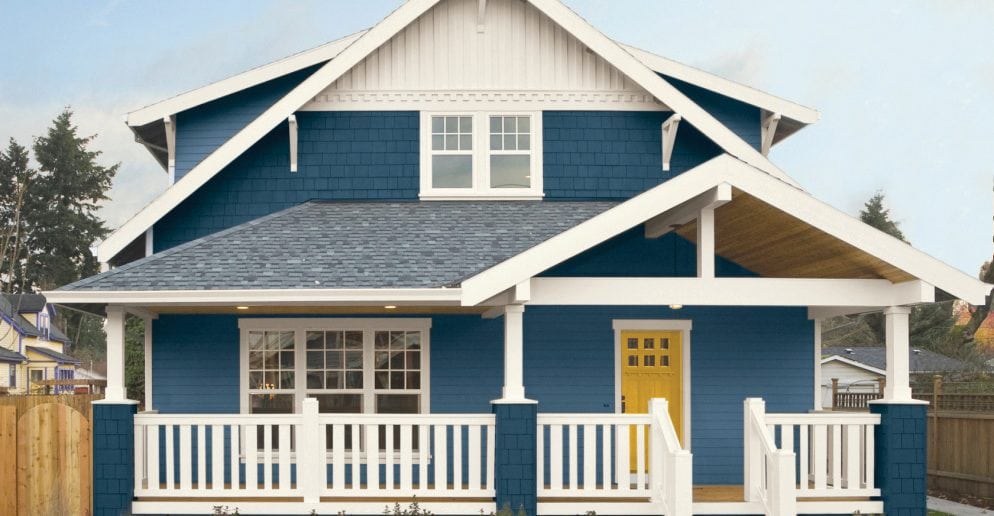 Because it's relatively inexpensive and available in numerous colors, finishes and profiles, vinyl siding has been America's No. 1 exterior cladding for decades. Its quality varies, however, and thin, cheap vinyl siding eventually undermines curb appeal by sagging or losing its luster. Miller prefers to use a thick vinyl siding that is sturdy, impact-resistant and made in extra-long lengths to minimize seams and splices. He also advises homeowners that proper installation is paramount to vinyl siding's looks and performance. "Installation is really important because if vinyl siding is put on right, it lays straight and flush and won't blow off," says Miller.
Since it consumes so much space, the roof can enhance or diminish a home. An attractive roof in good condition increases curb appeal, but stained or missing shingles are both an eyesore and a red flag for a house in poor repair. In fact, in the 2015 Remodeling Impact Report from the National Association of Realtors, new roofing ranks highest among exterior projects appealing to home buyers. A roof that keeps out the elements and keeps up appearances protects homeowners as well as their property investment.
Asphalt shingles are the nation's most common residential roofing material. They can last for years, are available at different price points and offer design options ranging from traditional three-tab shingles to dimensional shingles to shingles that mimic wood shakes and slate. Miller acknowledges that asphalt shingles remain a "very popular choice" for renovations, but his company also has installed hundreds of steel roofs on homes. Metal roofing costs roughly twice as much as asphalt, but, says Miller, "The real payback is how much longer it lasts down the road."
Excellent for anyone who plans to remain in a home long-term and wants to avoid future maintenance headaches, the steel roofing Miller uses has a hidden fastening system and is made in eye-catching patterns that look like pricier shakes and slate. "We installed new metal slate roofs on the Medina project as well as a smaller ranch-style house," says Miller. "They're perfect for homeowners wanting something impressive."
When replacing windows, selecting the frame, says Miller, "is mostly a matter of style." The Medina house's double-hung windows, for example, complement its architecture and have white vinyl frames, which don't require painting or staining and are more budget-friendly than wood or fiberglass. Vinyl manufacturers offer numerous exterior colors and even woodgrain finishes to match interior trim, but white predominates. "About 80 percent of people want white windows," says Miller. "Their thinking is that white goes with everything."
Trading drafty, dilapidated windows for modern, energy-efficient ones not only boosts curb appeal but also makes a house more comfortable and less expensive to heat or cool. In the Medina house, Miller installed double-pane windows consisting of two sheets of glass with insulating argon gas filling the space between them. "They're highly efficient windows with a low-e coating that further reduces energy loss," says Miller. If homeowners can afford the upgrade, he recommends triple-pane windows. "They're way more efficient and help with noise reduction, too," he stresses.
Miller also reminds each customer not to forget the front door. It is the first impression many will have as they walk into your home, so color and style are important. "The entry door is one of the most important aspects of curb appeal," he says. "It's the first thing people see, and everything about the door — color, design and even hardware — forms their opinion of a house."
Wood doors lend sophistication, but because they're costly and require routine care, many homeowners opt for steel or fiberglass. Generally, steel doors are less expensive and better for painting because of their smooth surface. Fiberglass doors — which can be made with woodgrain textures duplicating mahogany, cherry or oak — look great stained or painted.
Although steel and fiberglass doors are virtually maintenance-free and available in a multitude of styles and decorative glass designs, Miller cautions, "You get what you pay for." Doors with tight-fitting frames, energy-efficient foam cores and glass inserts have higher price tags, but they'll look nicer, function better and survive longer than bargain-basement products. "I've seen cheap steel doors that rusted out in less than five years," says Miller.
A dazzling front door is also an asset when it's time to sell your home. The National Association of Realtors (NAR) included new steel and fiberglass doors in its 2015 report on projects with maximum buyer appeal, and NAR President Tom Salomone concurs with Miller about the far-reaching benefits of an outstanding exterior.
"One thing that will never change is the importance of curb appeal because it serves as the first impression of a home," says Salomone. "If buyers don't think a home is attractive when driving by, chances are they won't ask a Realtor to see more."
A closer look: Paint
There's no doubt about it: Paint is one of the quickest and least-expensive ways to punch up your home's curb appeal. A fresh coat of paint transforms shutters from drab to fab, and if you want to give your house a totally new look, painting the outside a different color costs far less than removing and replacing siding or other exterior materials.
Since the Sherwin-Williams and Glidden companies are leading paint producers, we asked their experts about using paint to make your home the belle of the block. Here are six of their top tips:
"Make a statement when welcoming guests by painting your door a great new color, and choose a higher sheen for added impact. Glidden Trim, Door and Furniture features an extra high gloss with no drips or brush marks." — Misty Yeomans, Glidden
"Water-based exterior latex paints (such as HGTV HOME by Sherwin-Williams Ovation Exterior Latex Paint) are excellent choices when painting many exterior surfaces, including stucco, vinyl siding, wood and weathered aluminum. These paints have more durability in terms of better color retention and resistance to blistering, cracking or peeling." — Lisa Grdina, Sherwin-Williams
"Don't forget about your porch floor or ceiling — these are paintable surfaces, too, and make excellent areas to showcase a color. Accessorize with color by repurposing an old or found piece of furniture. Paint it a coordinating color to your home's color scheme. Repeat the colors from your home's color scheme two to three times throughout your décor for a professionally designed look." — Misty Yeomans, Glidden
"When selecting paint color for the exterior of your home, there are several important factors to consider. First, keep in mind the home's architectural style and era when selecting an exterior paint theme. A Victorian home painted in an olive tone will look jarring, while this color would complement a mid-century ranch home. Also, take into account your home's surroundings and the colorscapes of your neighbors' homes." — Rachel Skafidas, Sherwin-Williams
"(Glidden introduced) a new exterior color card in February 2016 at the Home Depot to make choosing exterior colors easy. The new card features nine gorgeous three-color exterior combinations and associated photography so you can see the color schemes in action. It features three combinations of colors per each of three home styles — Charming Classics, New Communities and Southern Styles." — Misty Yeomans, Glidden
"HGTV HOME by Sherwin-Williams' Color Visualizer on PaintOn.com allows consumers to virtually paint the rooms in their homes, including the exterior. Individuals can select from existing scenes or upload their own to see how the color can transform their homes." — Lisa Grdina, Sherwin-Williams.
A closer look: Roofing and siding
If you have any doubt about the impact roofing and siding have on your home's appearance, ask some kindergartners to draw a house. They always delineate the roof and exterior walls first, then complete the picture with doors, windows and a big smiling sun. That's a real lesson in the basics of rejuvenating a house. "Get the right combination of exterior products, and you'll turn an average-looking house into something stunning," says CertainTeed Corporation spokesperson Mike Loughery.
Headquartered in Pennsylvania, CertainTeed supplies building materials worldwide, but it began as an asphalt roofing manufacturer more than a century ago. "Roofing is still CertainTeed's biggest business and core expertise," says Loughery. The company built a reputation for excellent products and reasonable prices. "CertainTeed's founder coined its name from the slogan, 'Quality made certain, satisfaction guaranteed,'" says Loughery.
An American invention, single-layer "three-tab" asphalt shingles with felt bases have done an economical job of keeping out rain and snow since the early 1900s, but the debut in the 1980s of textured architectural shingles with fiberglass bases created demand for upgraded appearance and performance. "Twenty-five years ago, roofing was just about protection," Loughery notes. "Now it's about adding character and personality to a home."
CertainTeed has developed a wide variety of roofing products. "Our Landmark architectural shingles are the workhorse of the residential roofing industry," says Loughery. "They mimic wood shakes and slate at a fraction of the cost and maintenance." Other roofing collections include Patriot Shingles, which feature blended colors and natural-looking shadows, and Presidio, steel roofing that emulates clay tiles as well as shakes and slate.
Likewise, CertainTeed produces vinyl siding such as Monogram, which comes in some 40 colors and wood tones that afford plentiful curb-appeal possibilities. Launched just this year, Cedar Impressions Sawmill Shingles feature a spectrum of shades that replicate the various stages of aging wood. Also new is STONEfaçade, a cultured stone cladding that imitates natural stone. "It's molded from handpicked stones and installs easily because you don't need mortar," says Loughery.
Fiber cement siding presents another option for homeowners who want a realistic wood look without wood's maintenance issues. "The advantage of fiber cement is that it won't melt or burn and lasts forever," says Tom Anderson, sales and marketing coordinator for Allura, a Houston-based fiber cement siding manufacturer. "Insurance companies rate it like brick or stone, which means a better rate on your homeowner's policy."
A composite consisting primarily of cement, cellulose fibers and silica, fiber cement siding is a favorite in neighborhoods where covenants ban vinyl. "It has great strength and flexibility, and because its wood grain is embossed, the siding looks very natural," says Anderson. In addition to lap and vertical siding, Allura makes fiber cement shakes, shingles and architectural panels in numerous textures and colors. It also offers primed siding that can be custom-painted. "Allura's website shows all the palettes," says Anderson, "and we'll provide colored samples that people can hold up to their houses."
Allura also makes fiber cement roofing shingles that include historically accurate half-round and octagonal styles, but its latest product is decking that extends fiber cement's benefits to the front porch or backyard. "Allura's fiber cement decking won't rot, chip or fade," says Anderson. "If you want a fire pit in your deck, you can have it — because the planks don't burn."
Also burn-proof are the products made by North Dakota's ABC Seamless. The company pioneered seamless steel siding in the 1970s, and many homeowners consider it a permanent solution to the problem of failing siding and shingles. "When you buy ABC Seamless, it's like buying the Rolls-Royce of siding," says advertising director Dale Gilbraith. "We haven't found anything better."
Made of heavy-gauge steel with a finish that never needs repainting, the metal siding is cut to fit each house precisely and installed without random splicing. "People like the look of seamless siding because it's clean and straight," says Gilbraith. "There are no cracks to trap dirt, leak moisture or let in insects that can damage a home." Design options include horizontal siding, vertical board and batten or simulated log siding.
ABC Seamless also makes roofing with the same qualities and advantages as its siding. "It's screwed on and wind-tested up to 160 mph. That's equal to an EF-3 tornado," says Gilbraith. ABC Seamless roofing is available in horizontal as well as shake and slate styles, and the company's Color Tool lets homeowners coordinate their siding and roofing selections.
Although most manufacturers offer web-based visualization aids or mobile apps to assist homeowners with their exterior designs, Loughery encourages people to visit dealers' showrooms before finalizing their decisions. "See the products in person to check out the materials and colors," he says. Another tip: Never rely on how a building material looks online or indoors. Instead, take products outside to see them in natural light or do a drive-by to judge the curb appeal of a particular roofing or siding on an actual house. "Ultimately, select colors and styles that you like, that you're comfortable with and that give you a sense of pride in your house," says Loughery.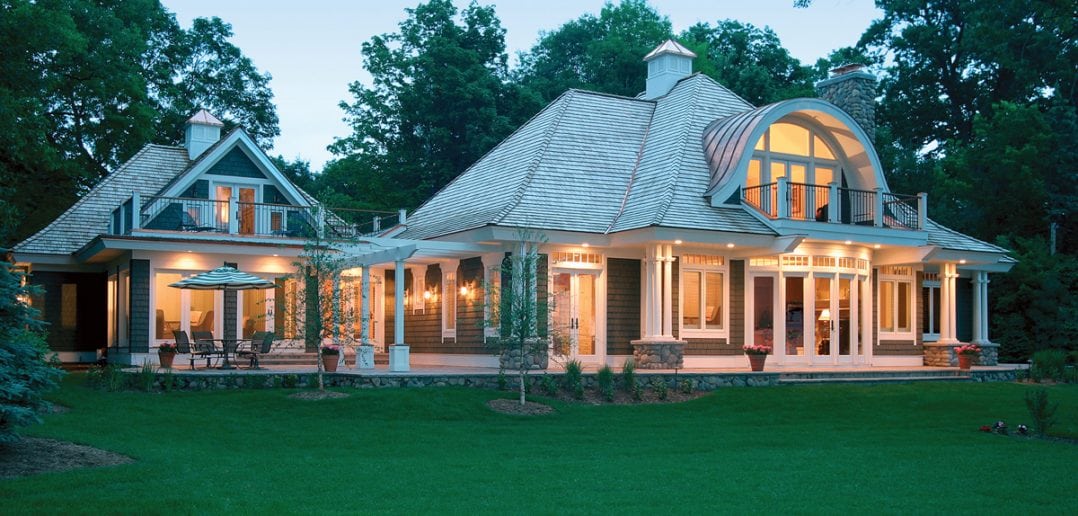 A closer look: Windows and doors
Windows do more than bring light into your home. They provide views of your neighborhood, connect the indoors with the outdoors, accent your home's architecture and contribute immeasurably to its curb appeal.
"Windows matter," says Brett Boyum, vice president of marketing for Marvin Windows and Doors. "They're a large and important part of the overall statement that a house makes."
Headquartered in Minnesota, Marvin is a family business whose window expertise dates back to 1939. Today the company is the world's largest premier manufacturer of made-to-order windows and patio-style doors, and its signature brand — Marvin Windows and Doors — is known for wood and clad wood products that can be completely customized. "Marvin Windows provides the ultimate flexibility," says Boyum. "If you can dream it, we can build it."
The company also includes two newer brands — Integrity from Marvin Windows and Doors, which features Ultrex fiberglass products, and Infinity from Marvin Replacement Windows, which uses Ultrex to simulate wood windows. Together, the three brands constitute a one-stop shop with an exceptional selection of windows and patio doors.
Marvin brand windows typically are installed in upscale new homes, but, adds Boyum, "They're also used as replacement windows in many midrange houses." Aside from being a good insulator, wood looks rich, and Marvin choices vary from standards like pine and cherry to more unusual black walnut and mahogany. Exterior aluminum cladding is also available in several colors and finishes. "It's extruded aluminum and the thickness of a quarter, so it really stands up to wear and tear," says Boyum.
The Integrity and Infinity windows' Ultrex is a patented, protruded fiberglass that neither expands nor contracts in extreme temperatures. "It resists cracking and denting and gives structural strength to a window," says Boyum. Along with durability, Ultrex windows in both lines come in light and dark fadeproof colors. If a homeowner needs to match siding or roofing, the windows also can be painted. In addition to aesthetics, Boyum reminds homeowners to consider performance because replacement windows should be energy-efficient and keep the house comfortable. "The materials in Marvin products meet or exceed most Energy Star requirements," he notes.
While Marvin has an online Inspiration Gallery and downloadable apps to help you find the perfect windows, Boyum recommends visiting a Marvin retailer to see the windows' superior construction and appreciate how smoothly they operate. "Homeowners shouldn't choose windows for the cheapest price but the best value," he says.
Joe Klink, corporate relations director at ProVia, agrees that value is an important consideration when selecting new windows and doors. "ProVia products are not inexpensive, but they're high-value because of their quality and features," says Klink. "You may pay more upfront, but you'll have less hassle later."
ProVia makes exterior doors, replacement windows, vinyl siding and manufactured stone at its plants in Mississippi and east-central Ohio, where, says Klink, "We employ lots of Amish workers." Operated by the Mullet family, ProVia began in 1977 in a garage in Sugarcreek, Ohio, and its building materials now are distributed nationwide. "ProVia's manufacturing process is set up for customization," says Klink. "If you walked through our Sugarcreek plant, you'd be hard-pressed to find two doors that look alike."
Besides steel and fiberglass entrance doors, ProVia makes aluminum storm doors and vinyl, steel and fiberglass patio doors. "ProVia's Legacy Steel entry door is our flagship product," says Klink. "It has heavy, 20-gauge steel and a mechanical interlock system for extra strength." The company's Signet fiberglass doors also are popular, thanks to embossed wood grain that seems remarkably like the real thing. "People will touch a Signet door and think it's wood," says Klink. "The fiberglass is that authentic-looking."
ProVia's website has helpful tools geared to homeowners' four main motivations for replacing exterior doors — beauty, durability, security and energy efficiency. "If beauty is their reason, people can go to the 'Design It' tab and upload a photo of their home to create a new door," says Klink. Anyone interested in durability or security can access features and specifications tabs, while the "Energy Star" tab actually calculates the thermal performance of ProVia's door and window components. "The website puts tons of information at your fingertips," says Klink.
ProVia's vinyl window products also deliver energy efficiency and eye-catching design options. "Window performance is all about the U-factor," says Klink. "The lower the number, the better." Measuring heat conduction, the U-factor indicates a window's overall energy efficiency, which can be affected by grids and even the kind of gas used in double-pane windows. "Krypton gas insulates better than argon," explains Klink.
From all-vinyl ecoLite windows to Aeris windows with vinyl exteriors and prefinished wood interiors, ProVia windows offer options such as internal grids, privacy glass and the company's exclusive Inspirations Art Glass. Hand-stained in ProVia's Baltic, Ohio, factory, Inspirations Art Glass allows people to personalize their homes' curb appeal with original designs, house numbers and even their names. "I don't know of another window company that does custom art glass in-house," says Klink.