Excellent manager's viewpoint
Thanks for the good and gentle thoughts this month ("A Kinder, Gentler 2019" by David Callis, January 2019). My wife and I needed to hear that message from the business community as we search for understanding in the present political climate.
We wish you wisdom and strength as you deal with the political environment that the voters of this great nation (and state) have given you.
Thanks again for your kind thoughts!
John Smallman
David,
While we don't know one another, I'm a member of Middle Tennessee Electric Membership Corporation and now an admirer of your writing. I thoroughly enjoyed reading your column in this month's magazine. It was well worth my time. Such a civil article with points that lift the eyes and thoughts of the reader. We live in a time of mudslinging and juvenile behaviors. I apprecate you challenging us to be better toward one another. I personally believe this has nothing to do with political or personal persuasions. It has everything to do with our character.
Again, thank you.
Chad Carter, Thompson's Station
---
'When Music Becomes Medicine'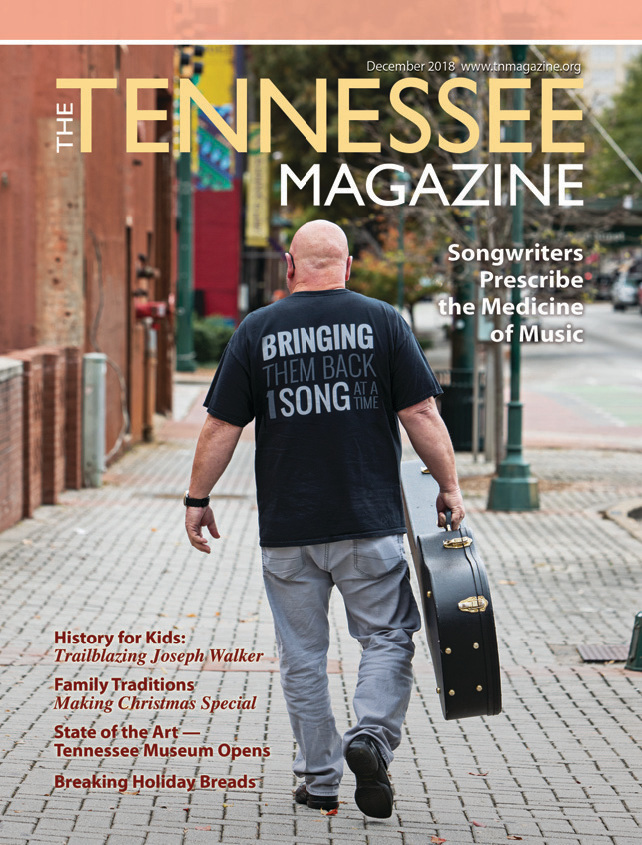 My son is a veteran, and he went through some rough times when he first got back home. He and I play bass and guitar, and I know how therapeutic it can be to just get that stuff out through music. It really does feel like opening a "relief valve" on a pressure cooker. We all need to keep an eye on these brave men and women who have served our country and returned changed having undergone some extremely difficult experiences.
Frank Huizar
Writer's Note:

Thank you, Frank, and thanks to your son for his service. May "pressure valves" always be there for him and others going through the important transition to peaceful life.
Ron Bell
---
Subscriptions
I am interested in a subscription to The Tennessee Magazine. What is the process?
Karen Waldrop, Jackson
Can I subscribe for my mother, an Indiana resident? Thank you.
Susan Dunlap

Editor's note:
The Tennessee Magazine is distributed through Tennessee's electric cooperatives. The publication schedule varies by co-op as to whether members receive it monthly, bimonthly or quarterly.
If you are a member of an electric cooperative and are not receiving the magazine, please check with your local cooperative office to get back on the list.
If you are not a member of an electric cooperative in Tennessee or would like to give The Tennessee Magazine as a gift, you can purchase a subscription to be sent anywhere in the U.S. Please see the subscription form on this page or on our website, tnmagazine.org.

.