Thistle Farms celebrates 20 years of giving women a new lease on life
The seed that would eventually bloom into a worldwide program that helps women who have been victims of trafficking, violence, prostitution and addiction was planted decades ago when the founder was, herself, a victim of child abuse. Becca Stevens was 5 years old at the time, and her experience led to her desire to provide a sanctuary for women, a loving community in which survivors could heal and plan the next steps for their lives. The result was Thistle Farms, a Nashville-based global program that employs nearly 2,000 women around the world.
"Thistle Farms began out of gratitude for all the mercy and healing I'd experienced after childhood trauma," Stevens says. "It began with the hope to see how, in the end, love is the most powerful force for change in the world."
Stevens was ordained as an Episcopal priest in 1991 and started working as a chaplain five years later. In 1997, she and some friends opened Magdalene, their first sanctuary for women survivors of trafficking, addiction and prostitution.
"After four years, we realized women had to be economically independent in order to gain control of their destinies," Stevens says. "We started what is known as a 'social enterprise' where the workforce itself is the mission of the business. We named it Thistle Farms and began manufacturing and selling all-natural candles and body balm.
"Thistle Farms grew from an initial team of five women to a global enterprise that employs more than 1,800 women survivors via trade around the world. This happened gradually over the years as communities reached out to us, seeking to start or expand their work with survivors. Through this social enterprise, Thistle Farms residents and graduates find their way back from a world that, through unjust systems and broken families, helped them make their way to the streets."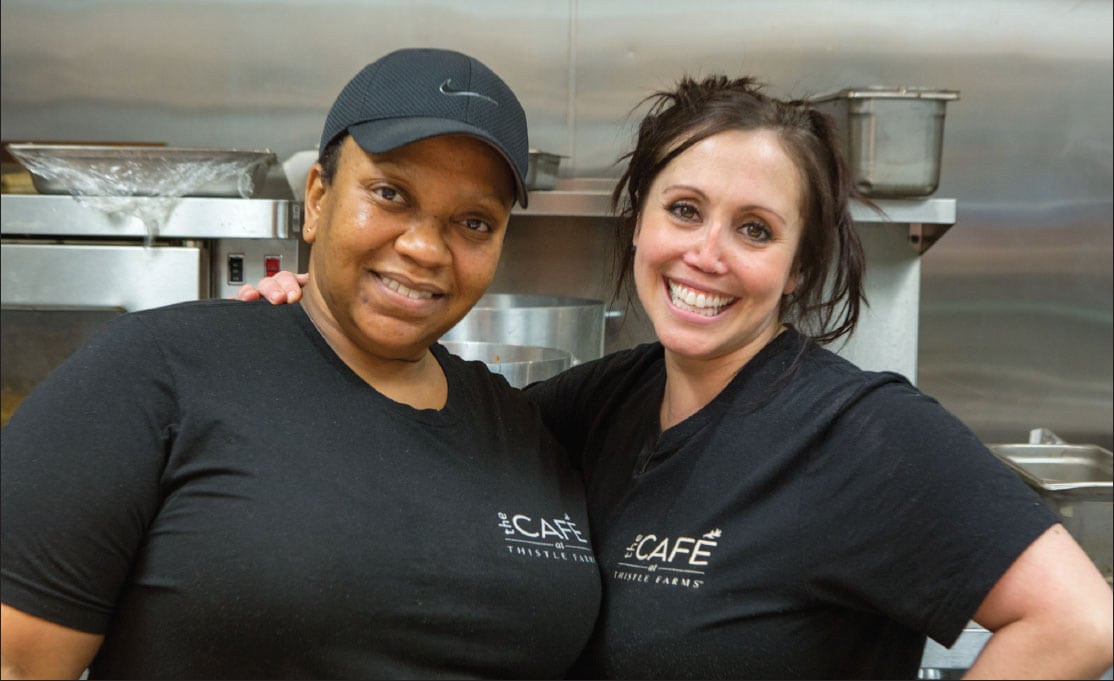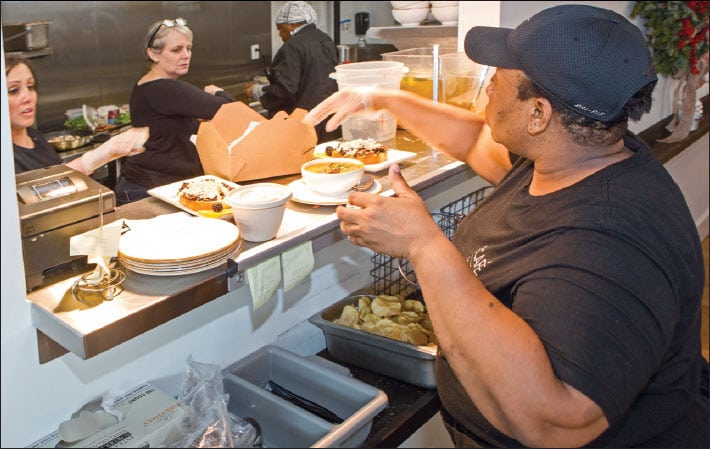 Thistle Farms, whose mission is to heal, empower and employ these women, works at local and national levels as well as globally. The residential Magdalene program in Nashville provides housing, therapy, medical care and education for two years. At present, the program serves 30 women plus eight more in the prison system. Another 300 women annually benefit from case management, employment and advocacy/referral services. Through a network of sister organizations, another 400 women across the country — in addition to the 1,800 in other countries — are provided needed services. Employment for women is a huge part of the Thistle Farms program. The women can build their futures on a foundation of economic independence as they produce a wide array of body, home and apparel products for sale. You can buy everything from body wash and candles to knitted shawls and hand-woven baskets from the Thistle Farms website, thistlefarms.org. There's even a section of gift baskets.
"All of the bath and body products are made by our graduates in Nashville," Stevens says. "Our home, textiles and decor items are handmade by women in our partnership communities through Thistle Farms Global."
One of the special products currently being produced is a direct result of the refugee crisis that so many women and their children are experiencing. Partnering with I AM YOU in Greece, refugees are weaving welcome mats using upcycled blankets as well as strips of cloth from life vests the refugees wore while fleeing from war-torn areas to Greece.
Perhaps the best way to truly understand the importance of what Thistle Farms has been doing for 20 years is to hear a story of not just numbers and scope but of how one woman and her daughter have actually benefitted.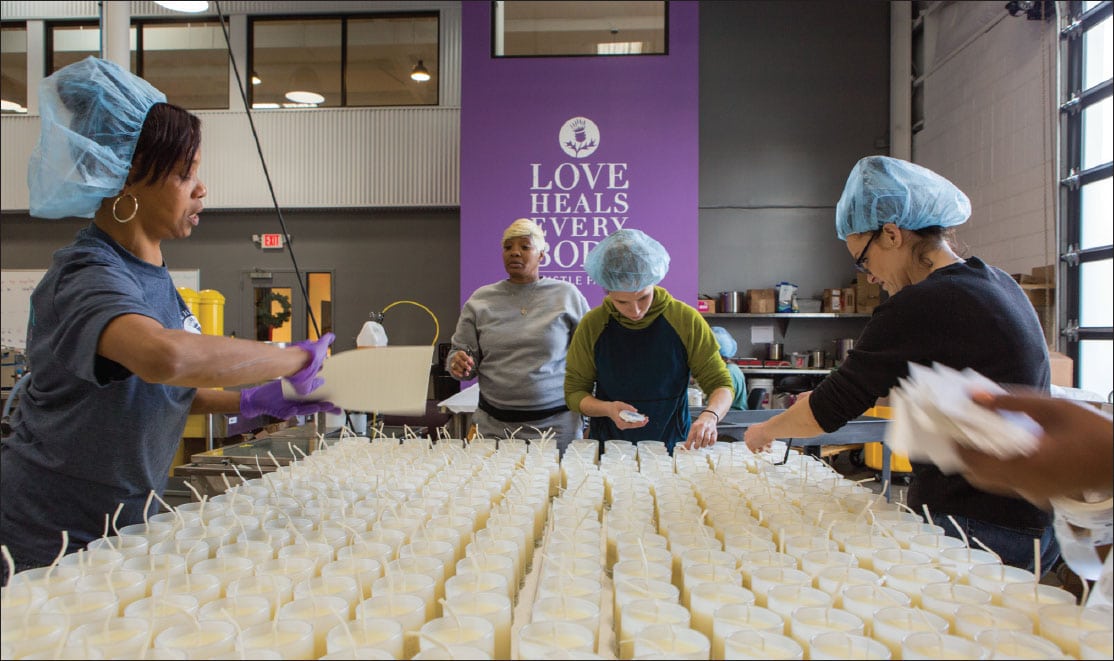 "I learned about how powerfully compassion translates into healing from one of the great survivor-leaders at Thistle Farms whose story unfolded over 15 years," Becca Stevens says. And she relates this story:
"Katrina came into the community after a childhood that was filled with love but also included an abusive stepfather. That abuse led her to the streets and into addiction and trafficking. When she came into the community, she had a beautiful daughter, Ebony, who would sometimes join her at community meetings. At one of those meetings, while we were working on financial stability, the facilitator passed out index cards and asked participants to draw their dreams on the cards. She told the participants that if they could draw their goals, they could work toward making them come true.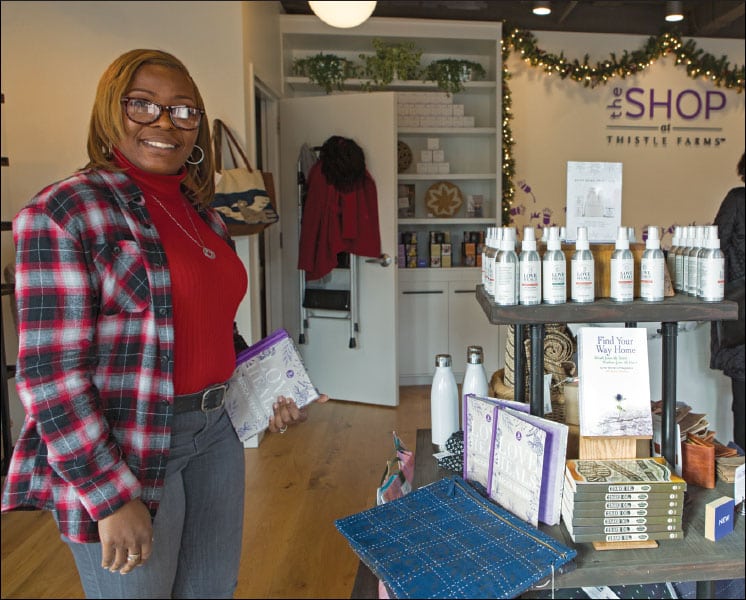 "Ebony whispered to her mom, 'Draw a house, Momma. Draw a house.' The next year, Katrina became the first national sales director for the Thistle Farms social enterprise, which she would help build into the largest of its kind in the United States. Two years later, she built a house for her daughter, who was in high school.
"She said receiving so much compassion from others gave her a deep longing to be compassionate, in return, to others. She has always invited people who needed a helping hand into her house and has continued to go back to the streets to help other women. She serves as a mentor to women new to recovery. After Katrina married, she and her husband adopted a 6-year-old boy.
"The compassion Katrina once received at her lowest point came back into the world in marvelous ways. When Ebony graduated from college, Katrina hired her to be our sales rep for the largest chain store that carries our products. In 2016, that large chain store invited Ebony to come to California to speak to its entire sales team. She said that even when she and her mom had nothing, people cared.
"Now she and her mom are working as part of a global effort to help one woman at a time, with compassion for all. When Ebony spoke, she spoke as a receiver of compassion. She reminded members of the sales team that they, too, could play a part in welcoming more and more women into a healing community.
"Ebony's sales pitch was story of brokenness and com passion coming full circle, and it sparked a deep reactio in her audience. The sales team tripled the number of stores that carried our products. They saw how they could help; they connected with compassion.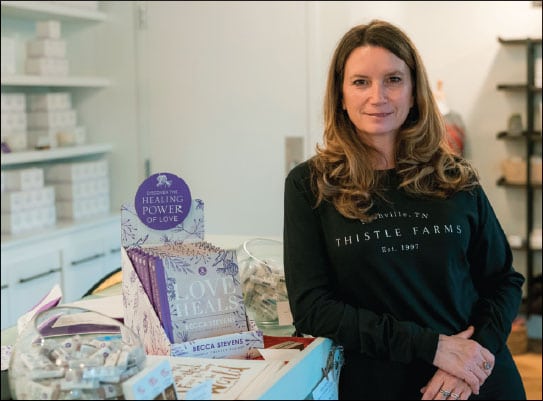 "And now the cycle continues. Ebony just got engaged and is in her first year of graduate school. It is beautiful to watch the lavish nature of healing that has huge economic implications for whole communities," Stevens says.
Thistle Farms offers a number of ways you can get involved with its programs, including volunteer days, periodic Brunch and Learn events, and tours and meditation sessions each Wednesday morning. If you live in Middle Tennessee, you can host a home party during which the residents of Thistle Farms work on their sales skills by showcasing many of the products made by the women.
Of course, Thistle Farms is also appreciative of tax-deductible donations or in-kind gifts that aren't tax-deductible. Information about the various ways to give can be found on the thistlefarms.org website. For those looking for a tasty way to help Thistle Farms, plan to have breakfast, lunch or afternoon tea at its newly renovated cafe on Charlotte Avenue in Nashville. The Café at Thistle Farms serves fresh, locally sourced foods and beverages from a number of area farms and producers. The cafe is open Monday through Saturday from 7 a.m. to 3 p.m.
Each of the above ways to help will allow Thistle Farms to continue giving women hope where there was none, a bright future to bring them out of the darkness. The program can continue to build on what is already a successful endeavor by any measure.
"As part of Thistle Farms, women survivors are bankers, manufacturing directors, baristas, directors, receptionists, candle-makers and paper-makers," Stevens says. "Many of the leaders are just coming into their own as business executives, salespeople and entrepreneurs. With love as our business model, we are still growing and healing some 20 years later."
As for the positive impact the unique Thistle Farms program has had on the lives of women, perhaps graduate Jennifer said it best in five words: "It's church, resurrection and redemption."
Having an impact
To find out more about Thistle Farms and the ways you can help the organization continue its mission, visit thistlefarms.org, where you'll also find links to follow Thistle Farms on social media. Visit thecafeatthistlefarms.org for information on dining or hosting an event at The Café at Thistle Farms.