Electric co-ops have a mission to improve everyday life for our members and the communities we serve. That mission wasn't completed when we first brought power to rural Tennessee in the 1930s. The mission today is unchanged — to understand the needs of our members and take action when we can to create new opportunities in our communities.
Co-ops provide safe, reliable and affordable electricity, but our efforts go far beyond energy.
Your electric co-op, no matter the size, is part of a large cooperative network that reaches across the state. We have a massive footprint, impacting the daily lives of some 2.5 million Tennesseans. The work performed by our co-ops strengthens our communities, helping rural and suburban Tennessee as we face new challenges and opportunities. Co-ops serve 71 percent of the state's landmass, providing electricity to 1 in 3 homes across the state. We have infrastructure in 84 of the state's 95 counties.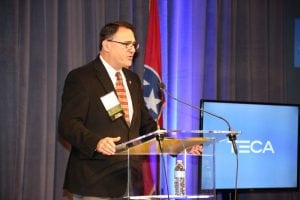 "Build Up" was the theme of the 76th annual meeting of the Tennessee Electric Cooperative Association held Sunday, Nov. 19, through Tuesday, Nov. 21, in Nashville. More than 350 electric cooperative leaders from across the state attended the event to explore the impact of co-ops and challenge one another to meet the needs of our communities.
Our goal — and the message of the meeting — is to build up our communities in any way we can. We recruit jobs and economic investment; we prepare the next generation of leaders; we give back through charitable donations, taxes and payroll; and we are on the leading edge of a movement that will bring high-speed internet to rural communities. Electric co-ops build up Tennessee — creating opportunities, impacting families and positioning communities to grow and prosper.
The challenge given to our cooperative leaders at the meeting was to think carefully about their co-ops and their co-op members. It takes careful planning to address the needs and expectations of co-op members. That focus is what drives our policies and the direction of each co-op.
While many challenges face rural Tennessee, there are also many opportunities for each co-op. It's an important role we play: improving everyday life for our members.
Together, rural electric co-ops can — and do — build up Tennessee.