Revitalized Commodore Hotel begins rebirth of downtown Linden
When Michael Dumont first saw downtown Linden in Perry County, the tough economic times were evident in the empty buildings, cracked sidewalks and leaning utility poles. But Dumont, who'd spent years as a builder, developer and preservationist in the Northeast, saw charm, history and lots of potential.
Searching for a simpler, slower pace of life for himself and wife Kathy, Dumont came to Tennessee to check out a different opportunity altogether but decided to look at a property in Perry County while in the area.
"I remember I called Kathy and said, 'I'm in paradise.'"
Paradise turned out to be a 400-acre farm where the Dumonts now raise sheep, chickens, horses and Australian shepherds. The farm came with an old farmhouse that needed a lot of work to make it livable. For the Dumonts, who had restored a lot of properties, including a sea captain's home from the 1750s, it was just another exciting challenge — one that proved to be only the beginning of a series of property acquisitions and restorations in the area.
Though becoming innkeepers hadn't been part of their plan, it became a big part of their lives when the Dumonts purchased what had once been the Staley Hotel on Linden's Main Street. The circa-1939 building, which sits kitty-cornered from the Perry County Courthouse, had been vacant for more than 20 years. After a lot of work, the new Commodore Hotel opened in the fall of 2007. Guests get to enjoy a slice of history in the hardwood floors, high ceilings, antique door hardware and exposed brick walls without sacrificing modern conveniences such as Wi-Fi connections and satellite TV and amenities such as handmade Linden Oil Soap.
The rebirth of the Staley building was far from the end of the Dumonts' contributions to the rebirth of the downtown area, however. They have also renovated the historic 1904 First National Bank Building, which now contains the hotel's largest guest room at 1,200 square feet; the 1930s-era Miss Berdie's Boarding House, which offers two floors of oversized guest rooms; and the former Mayberry's General Store.
"People get to go back in time," Kathy Dumont says of the Commodore Hotel experience. "We highlight that nostalgic feeling."
Altogether, the buildings that make up the hotel have 22 sleeping rooms. But guest rooms are only the beginning of what's available. The Commodore Café serves hotel guests and locals alike, offering fare from fried green tomato BLTs to prime rib. And the Speakeasy Bar just off the hotel's main lobby is the only full-service bar in a 40-mile radius and also offers live music.
"It comes alive on Friday night," Michael says. "It's kind of a magical place."
The Dumonts have now expanded their work to help the community in other ways, and it was a community that needed some attention.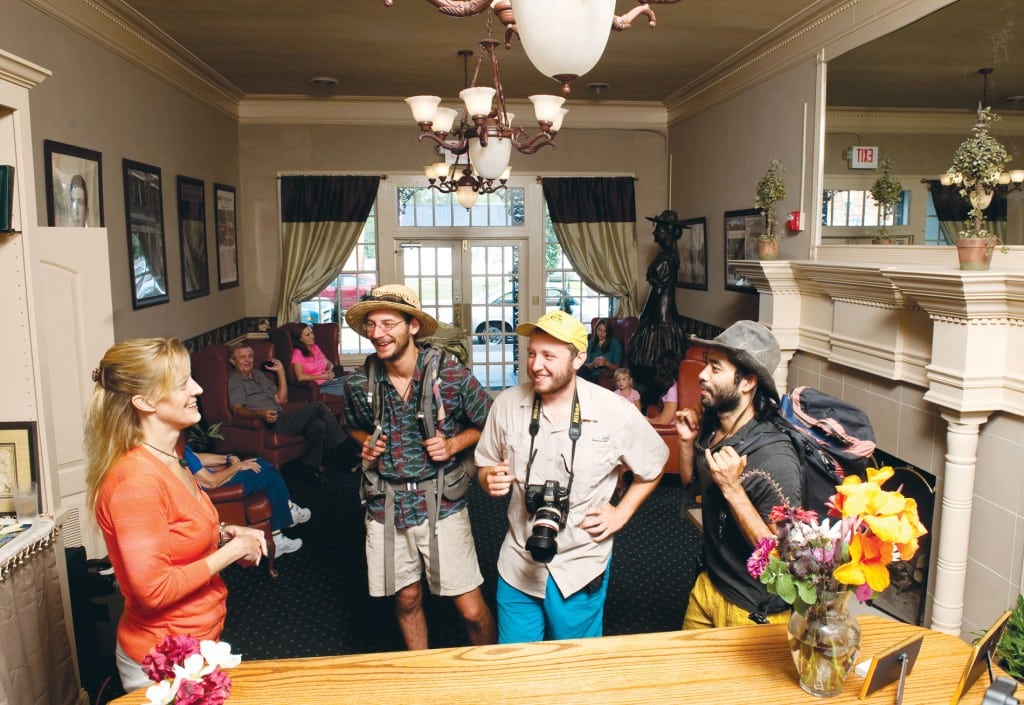 Less than two years after the Commodore opened, Perry County's jobless rate jumped to more than 25 percent. People needed something to lift their spirits. Michael Dumont provided that by acquiring a Tennessee Department of Transportation enhancement grant, which invested $2 million into Linden's downtown. The unsightly utility lines were taken underground, attractive streetlights added and new sidewalks installed as well as new benches and trash cans. Landscaping finished Main Street's facelift.
To further beautify the downtown, Michael helped launch a youth arts program in 2009. Three-dimensional artistic signs and public murals began to brighten the area. The murals featured local basketball championships, outdoor attractions of the nearby Buffalo River and the area's Civil War history. Business signs included a large fruit turnover package for Armstrong's Home Style Turnovers and a large paintbrush and palette for Buffalo River Artisans.
The Dumonts have breathed new life into a small town.
"We had 14 vacant storefronts when we started," Michael says.
Today, when you walk down Main Street, all but one of those storefronts are filled with businesses. And each March, the Blooming Arts Festival brings throngs of people to town. (See sidebar)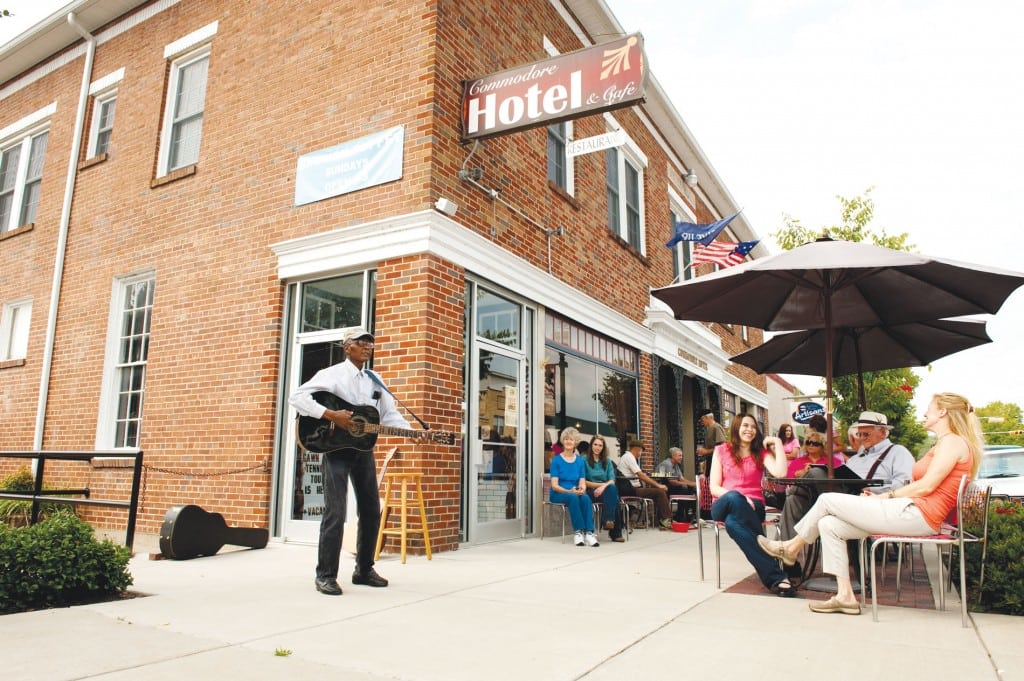 Local officials are thrilled with the boost the Commodore Hotel has given to their town.
"It's been a turbocharge for the community," says Will Nunley, executive director of the Perry County Chamber of Commerce. "It's laid the foundation for the successful future of the community."
Perry County Mayor Terry Richardson notes how the hotel has brought people to Linden to stay whereas before they might have stayed more than 20 miles away next to Interstate 40.
"It's helped tourism, helped our economy," Richardson says. "They (the Dumonts) are great to work with."
You'd think that after all they've done since relocating to the area, the Dumonts might be ready to slow down. But perhaps not surprisingly, that's not the case. They recently bought an old Victorian home in nearby Clifton built in 1909 by a local banker and merchant. Plans are to renovate the home and turn it into an inn, retreat and wedding center.
"I'm excited to see what they're going to do with it," says Nunley, who also launched local radio station WOPC.
Nunley's enthusiasm for what the Dumonts have done locally is evident when you talk to him. He calls what they've done in Linden "revolutionary" and more like a "think tank."
After learning how fully the Dumonts throw themselves into all that they do, it comes as no surprise when you sit down in the dining room of the Commodore Café and see the quote that's painted on the wall: "And in the end, it's not the years in your life that count. It's the life in your years."
---
Art in bloom
Each March for the past seven years, Linden's downtown has played host to about 150 artisans and craftspeople offering their wares during the Blooming Arts Festival. Vendor booths line Main Street, inviting locals and visitors alike to shop the day away. Attendees also enjoy live music, dancing, food booths and kids' events.
The eighth annual festival will be held March 25-26. Artists and crafters need to apply to be a part of the event.
For more information or to apply to be a vendor, visit www.bloomingartsfestival.org or call 931-589-6888 or 931-994-7844.
---
More about the Commodore
To view the rooms, list of amenities and more about the Commodore Hotel or to book your getaway, visit www.commodorehotellinden.com or call 931-589-3224. The hotel is located at 114 E. Main St. in Linden, right in the heart of downtown.