Everyone has an idea about what the phrase "smart home" means, but experts recently defined and identified the basic features and systems that make a home fit the phrase.
A dependable internet connection is an essential piece, necessary for the connections that make the features of the home interact with each other and with the homeowner to get the most from each feature, whether it's the doorbell camera, the thermostat or the sound system.
This availability of broadband internet is still an issue in many areas served by Tennessee's electric cooperatives. Because of that, some of the smart-home technologies people might be interested in have been slow to arrive in co-op coverage areas.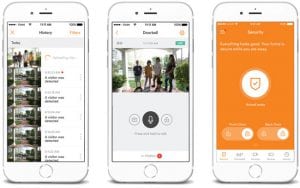 In the course of his work performing in-home energy audits for participants in the eScore program, Ken Coffey, energy inspector for Appalachian Electric Cooperative in New Market, says Nest thermostats are the only smart-home technology he's encountered. His rough estimate of the number is approximately two dozen — and that's in a service area of about 46,000 meters.
"You can't have a smart home if it can't connect to smart appliances," says David Siroty, vice president of North American Communications for Coldwell Banker Real Estate. He also says more and more people are interested in smart-home features in the homes they buy and in the renovation projects they undertake.
To come up with a definition of a smart home, Coldwell Banker Real Estate LLC in 2016 collaborated with CNET, a media website that produces news and reviews of consumer technology.
A commonly accepted definition of the term is important because it provides "a clear and unified designation to keep up with rapidly evolving technology in the home," Siroty says.
In a prepared release on May 10, 2016, Coldwell Banker and CNET outlined this definition:
Smart Home: A home that is equipped with network-connected products (that is "smart products," connected through Wi-Fi, Bluetooth or similar protocols) for controlling, automating and optimizing functions such as temperature, lighting, security, safety or entertainment, either remotely by a phone, tablet, computer or through a separate system within the home itself.
To be considered a smart home, the property must have a smart security feature that either controls access or monitors the property or a smart temperature feature, in addition to a reliable internet connection. The property also must have at least two additional features from this list:
Appliances (smart refrigerators and smart washers/dryers)
Entertainment (smart TVs and TV streaming services)
Heating/cooling (smart HVAC system, smart fans or vents)
Lighting (smart light bulbs and lighting systems)
Outdoors (smart plant sensors and watering systems)
Safety (smart fire/carbon monoxide detectors and nightlights)
Security (smart locks, smart alarm systems or cameras)
Temperature (smart thermostats)