The more I read stories about the early history of Middle Tennessee, the more I am struck by how much some of the early settlers suffered.
One of the most dramatic examples is Mary Neely. In fact, I am beginning to think that Mary Neely may be one of the most overlooked people not only in Tennessee's history but in the history of the American frontier in general.
Mary Neely was the fourth of William and Margaret Neely's 10 children. Her father was born in Ireland and migrated west to South Carolina, then East Tennessee and then Middle Tennessee at about the time of the Donelson Party migration. The Neely Party came down the French Broad and Tennessee rivers in canoes as far as the Muscle Shoals (in present-day northwest Alabama). They came the rest of the way along the Natchez Trace. Arriving in Middle Tennessee, they built a cabin in Mansker's settlement (present-day Goodlettsville.)
Before settlers came to Middle Tennessee, Dragging Canoe had warned that it would be a "dark and bloody land." During the 15 years of the settlement at French Lick, he and his warriors were true to his promise and attacked the settlers again and again. What I didn't realize until I learned Mary Neely's story is that the attacks weren't just coming from the south. There were also attacks coming from Shawnee warriors who lived north of Tennessee and were armed by the British during the American Revolution.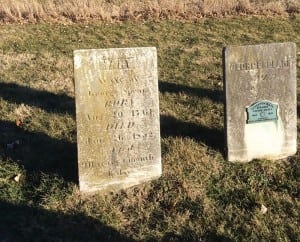 In August 1780, William and Mary Neely were away from the fort when they were attacked by Shawnee warriors. According to the story Mary told many times throughout her life, three warriors "sprang upon him and cleft his head open with their tomahawks." Seeing her father murdered, Mary fainted. "When consciousness returned, two Indians were dragging me to their canoe."
Neely's captors took her down the Cumberland River until they eventually met up with a larger group of Shawnee. She then watched a council meeting where it was decided that instead of murdering her, they would give her the choice of becoming the wife of the man who had murdered her father or a servant to the chief. "I chose the servant's place," she said.
Neely was forced to travel with the group of Shawnee on a journey that took them through present-day Kentucky and across Indiana. For the first several weeks, she prayed and hoped that others would be coming to save her. "All that long, weary march, when unperceived by the Indians, I would make marks on the trees to guide those who might pursue or would guide me if I should make my escape." Eventually, she realized that there was no way anyone would be coming to rescue her. She gave up hope of escape, and her captors began giving her more freedom.
"After we reached the vicinity of the Mammoth Cave in Kentucky, they became less watchful and allowed me to sleep unbound. I was a valuable servant. When I was captured, I had a few needles and did what sewing they required."
Later, on that same journey northward, Neely fell sick with smallpox, as did almost everyone else in the group of Shawnee. "I was broken out all over; my body swelled to such an extent that I had to stand on my hands and knees, which were the only spots not covered with sores. I was blind for four days and without clothing except a cotton garment and a blanket."
Later, in the spring, the group of travelers could not find food at times. "On one occasion, we were without food for 10 days, and all I had to eat was white oak bark. On the 10th day, they killed a bear. I cut about a pound of fat along the loins and devoured it raw."
Somehow, Mary Neely survived.
Weeks became months, then years. Finally, at some point, Neely and her Shawnee captors visited Fort Detroit. (During the American Revolution, the British used Fort Detroit as a place to give arms and gunpowder to American Indian tribes to encourage them to attack American settlements to the southeast.) A Frenchman spotted Neely among the Shawnee and helped her escape from them by giving them whiskey, then stealing her away at night. A long search for her ensued, and Neely had to hide in a cellar for several days. The Shawnee eventually gave up and left.
Mary Neely was now a prisoner of the British (the American Revolution was still taking place), and it took some time to ensure her freedom. Finally she began the long journey home — on foot. "Winter had set in, and I struggled on afoot in a country where liberated prisoners were continually passing through, and the people were unable to do much for us," she said. Mary eventually realized that making it all the way back to Tennessee was unrealistic. She found work as a domestic servant for a family named Spears.
It is now that the story becomes really amazing. You see, Mary Neely had a brother who was still looking for her. On his many travels through Kentucky and Virginia, he would continuously ask people if they had ever seen a woman who met his sister's description. "Finally he stopped on the Sabbath to feed his horse," Mary recalled. "My brother inquired of a farmer if he knew of anyone who had been a prisoner with Indians. He said there was a girl at old man Spears' who had come last winter.
"When he arrived at Mr. Spears' home, I had gone to church. Then I came in, I passed by him and threw my bonnet and shawl on the bed. He raised his head, and I sprang into his arms crying, 'My brother! My brother!'"
Mary Neely never returned to live in Middle Tennessee. She married a man who was a member of the Spears household. Outliving him, "Granny" Spears eventually became a well-known resident of Pike County, Illinois. People would come see her and consult with her about health-related matters since she had learned so much about natural methods while living among the Shawnee. People would also come just to talk to her and to hear her amazing story. Among them was a postmaster named Abraham Lincoln, who had many connections in that part of Illinois at that time. In fact, several accounts say that Lincoln was very fond of "Granny" Spears.
Mary Neely Spears died on Jan. 26, 1852. Today, a bend in the Tennessee River is named for her family, which suffered so much during the early days of the settlement of Middle Tennessee.
Want to read more? An author named P.M. Terrell has written a historical fictionalized account of Mary Neely Spears' life called "Songbirds are Free."