Woodlands Trace Byway
Woodlands Trace National Scenic Byway is the heart of Land Between the Lakes National Recreation Area. The 45-mile drive runs between Dover and Grand Rivers, Ky., with the recreation area's main visitors center on the byway in Golden Pond, Ky.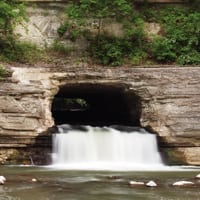 Old Tennessee Trail
The monument in Franklin's downtown square (stop 2) was erected in 1899 to honor Confederate soldiers in the Civil War. In nearby Leiper's Fork (10), you'll see picturesque rural countryside, quaint restaurants and maybe even a famous country music superstar. Mount Pleasant (60) is similar, with Association for the Preservation of Tennessee Antiquities-recognized private residences and charming shops and eateries around its town square. And Rippavilla Mansion (78), built in 1853, houses the Tennessee Museum of Early Farm Life in two salvaged barns on the grounds.
Nashville's Trace
In downtown Nashville, mere blocks away from the honky-tonks and barroom venues that lure aspiring musicians to Music City, stands the expansive, impressive Country Music Hall of Fame and Museum (stop 6), which offers multimedia displays honoring country music's most influential stars. And just a few miles down the road is the famous Loveless Cafe (14), serving up Southern fare like its signature biscuits. From there, you can take the super-scenic Natchez Trace south — discovering dozens of interesting communities, sites and attractions all the way to the Tennessee-Alabama line (43), where the Natchez Trace continues to Natchez, Miss.
Natchez Trace Parkway National Scenic Byway
Perhaps the most famous of Tennessee's National Scenic Byways, the Natchez Trace, which runs from Nashville to Natchez, Miss., is a popular sightseeing route. A national park, the Trace is preserved and protected from development, and there are many nearby attractions that make the trip even more enjoyable. For example, near Hohenwald, visit the Meriwether Lewis Memorial and Grave, a site that marks the approximate spot of the mysterious death of the half-namesake of the famed Lewis and Clark expedition to explore the Louisiana Purchase.
Screaming Eagle Trail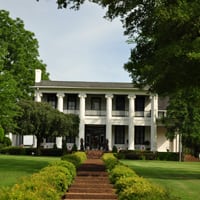 The Tennessee State Capitol (stop 8), which houses the governor's office as well as both chambers of the General Assembly, is located atop a tall hill in downtown Nashville, and below Capitol Hill is Bicentennial Capitol Mall State Park (9), opened to commemorate Tennessee's 200th birthday in 1996. Just west of Nashville, in Hurricane Mills, is Loretta Lynn's Ranch (29), an outdoors getaway that hosts trail rides and other activities as well as honoring the Coal Miner's Daughter. Just north of there, Fort Campbell, Ky., is an active military base whose Pratt Museum includes memorabilia of the famed Screaming Eagles and other displays.
Ring of Fire Trail
The "Mother Church of Country Music," Nashville's Ryman Auditorium (stop 2), began its life as the Union Gospel Tabernacle and hosted the Grand Ole Opry from 1943 to 1974, before the Opry moved to its current location. To the north, you'll find small town Adams (17), known as the site of the famous Bell Witch haunting. East from here is quaint Red Boiling Springs (45), which sprang up with hotels and boarding houses after word spread about healing properties of the nearby namesake boiling springs. And in Hendersonville, visit Hendersonville Memory Gardens (96) and pay your respects at the resting place for Johnny and June Carter Cash.
Promised Land Trail
Andrew Jackson's Hermitage mansion (stop 4) is just east of downtown Nashville and offers tours of the stately grounds. Farther east is Center Hill Lake (94), a sportsmen's paradise with opportunities for fishing, boating, swimming, camping, hiking and picnicking along its 415 miles of shoreline. Nearby Smithville (98) is a small town that swells to more than 100,000 people each July for the Fiddlers' Jamboree and Crafts Festival.
The Jack Trail
Stones River National Battlefield (stop 28) in Murfreesboro honors those who fought and died at the critical Civil War battle, one of the bloodiest of the conflict. George Dickell (91) in Tullahoma and Jack Daniel (156) in Lynchburg are perhaps the most famous distilleries in Tennessee, and Lincoln County's Kelso is home to Prichard's Distillery (158), which produces award-winning rum. Heading back toward Nashville, Wartrace (251) is an historic town in Bedford County that was vital in the development of the Tennessee walking horse breed and its National Celebration that's now held in Shelbyville every year.