Sequatchie County honors veterans with memorial park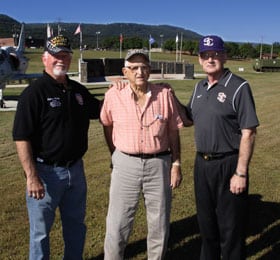 Tennessee has been known as the Volunteer State since the War of 1812, when thousands answered the governor's call to serve their county. Proud military service and the willingness to volunteer for the greater good are virtues countless Tennesseans still proudly exhibit.
In heritage-rich Dunlap, a hub in the Sequachee Valley Electric Cooperative service area, a determined group of veterans and grateful citizens decided that all Sequatchie County veterans deserved a monument where their sacrifice and service could be honored and residents could show their appreciation. So, in 2009, planning began on what was to become the Sequatchie County Veterans Memorial Park. Though they didn't have a specific plan those earliest days, organizers were driven by strong patriotic pride and energetically bolstered by a steadfastly supportive community.
"We wanted to pay tribute to all the veterans in this county who wore the uniform and served," says Sequatchie County Veterans Memorial Park Board President Tommy Hickey. "Kind of spinning off (Washington, D.C.'s Vietnam Veterans Memorial), we made our own design. What better way than to inscribe their names on a granite wall?  And everything just fell into place."
As residents learned of plans for the park, they gave money, equipment and construction materials. The school board provided land in front of Griffith Elementary and Sequatchie County Middle and High schools for the site, which coincidentally is where the area's first Veterans of Foreign Wars post was built in 1946. From the start of the prideful project, countless Sequatchie County residents donated their time and money.
"We didn't have any earthly idea that we'd bring in the donations we did," says Hickey. "There were — and still are — a lot of nonveterans, citizens, here in the county who donated a lot. They volunteer a lot and have equipment to help us, too.

"Establishing this memorial is something we thought was long overdue. It was a joint effort among the citizens and veterans."
Dedicated on Veterans Day 2011, the park today consists of not only the wall bearing the names the county's veterans but a meaningful display of military equipment used by the various branches of the armed services.
Perhaps the most eye-catching attraction is the A4 Skyhawk, a Vietnam War-era aircraft for dropping nuclear bombs. Also included are a Jeep and an M59 personnel carrier. But the centerpiece of the park on Highway 28 is the collection of granite slabs bearing some 1,600 names of Sequatchie County residents who have given of their time in service to our country — from the Revolutionary War to today's Global War on Terror. Veterans who are from or live in Sequatchie County can have their names inscribed on the wall of honor after providing proof of residency and honorable discharge.
"This is one of the most patriotic counties you'll run across in the state of Tennessee," Hickey says. "We have people call up and ask, 'What can we do?' Bringing their paper towels and their Windex, they come and literally clean the wall. They're just so helpful."
"It keeps us busy," he says, referring to the upkeep of the impressive memorial, "but it's well worth it."
Honor the Valley's Veterans
The Sequatchie County Veterans Memorial Park is located on Highway 28 in Dunlap, in front of Griffith Elementary School, Sequatchie County Middle School and Sequatchie County High School. The park is always open.
Sequatchie County's Veterans Day festivities will begin Monday, Nov. 11, with a program at 9:30 a.m. at the county courthouse in Dunlap. At 10, a parade will depart for the Veterans Memorial Park (about a 40-minute walk), where another program will begin around 11.
Donations are still being accepted for the memorial's upkeep, and future plans to include adding a UH-1 Huey or Cobra helicopter, for which the board is also searching. You can send tax-deductible donations to the Sequatchie County Veterans Memorial Park, P.O. Box 1565, Dunlap, TN 37327. Or call 423-949-9000 or Board President Tommy Hickey at 423-240-7767 for more information.