'Larry's Country Diner' is new frontier for veteran country artists
What do you do when radio stations stop playing your favorite singers and songwriters? Well, if you're Larry Black, you invite them on your television show.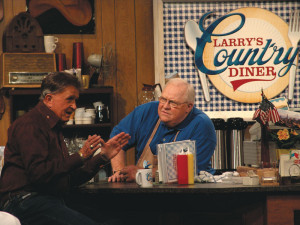 The unique "Larry's Country Diner" is one of the most popular shows of its kind and airs on RFD-TV, the Internet-based entertainment and news network that calls itself "rural America's most important network." Larry Black hosts classic country artists and showcases their hits while shedding some light on what they're up to now and who they really are behind the mask of stardom. And true to its name, you'll feel like "Larry's Country Diner" is all done at a familiar local eatery while your neighbors and friends watch from mismatched chairs and small, round tables.
"The diner atmosphere is just something we feel comfortable in," says Black. "It kind of feels like home."
The results are evident as guests and audiences alike are relaxed, the pace laid back and casual. One can say that the soul of the show is profoundly Southern without being at all exclusive. The set is filled with real objects from real diners across the country, much of it supplied by fans of the show. The food is catered but prepared on location in the studio's kitchen and usually consists of chicken tenders or hamburgers and various sides.
"We have a lot of the classic country artists on like Bill Anderson or Gene Watson," says Black, "but we just had Bill Medley from The Righteous Brothers on, and the crowd just loved him. He was great. And the pop music crossover band Exile was on a while back. They were amazing. Country music fans have much more sophisticated tastes than they're given credit for."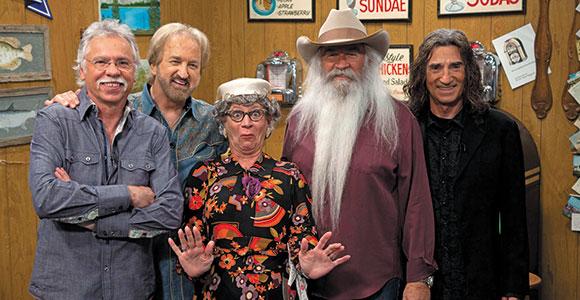 Besides the standard classic country artists like Ricky Skaggs, Mickey Gilley or bluegrass powerhouse Rhonda Vincent, "Larry's Country Diner" likes to showcase the "new traditionalists," young up-and-comers like Mo Pitney, Teea Goans and Buck Owens protogé Russ Varnell.
From his cell phone under the big skies of Montana where he was vacationing and Christmas shopping with his wife, effortless multitasker Larry Black talked about his days as a disc jockey, an actor in film and television and host of the show that has been his biggest success yet.
"I grew up in Alabama, but I've lived all over," says Black of his days as a nomadic radio personality hopping from job to job as his career developed. "I did rock radio for years. I did R&B, what they now call urban music, but it was just good old R&B at the time."
Black bounced around from station to station, taking his amiable personality and warm, friendly voice with him. During the '70s and '80s, Black's gospel music show was heard on 125 stations across the country.
"The Larry Black Show" was a favorite among Christians who enjoyed soul and R&B-based music blended with Black's positive messages of hope and faith. The show was broadcast from upstate New York, where Black and his family lived for many years. Black's career would take them to many other places until they finally landed in Nashville where he worked at WSM in the 1980s.
Acting would present itself as another facet of Black's storied career. "The acting thing kind of happened almost by accident. This business is very unpredictable. I did a few commercials, and one thing led to another. One day I realized I was doing things I could only have dreamed of."
A quick glance at Larry Black's IMDb.com page reveals a long list of credits from 1990s movies and television, alongside actors like Jake Gyllenhaal, Neil Patrick Harris, Lawrence Fishburn and Laura Dern, among countless others. Perhaps his most notable role was the camp director in the Jim Varney vehicle, "Ernest Goes to Camp." He would return in other Ernest movies and act in dozens of television and film projects before hosting "Larry's Country Diner."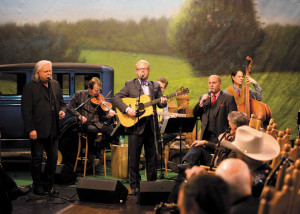 At 70 years old, Black is showing no signs of slowing down or resting on his creative laurels. Another season of "Larry's Country Diner" begins taping in February. Guests will include Ray Stevens, The Grascals, Bobby Osborne, comedian James Gregory and Tony Orlando, to name a few.
Filmed in the Nashville neighborhood of Bellevue, "Jerry's Country Diner" is supported by a small, personable cast, many of whom reside in the Middle Tennessee Electric Membership Corporation's service area. Broadcasting veteran Keith Bilbrey is Black's right hand man or sidekick, church lady Nadine is played masterfully by Mona Brown and legendary guitar player and Musician's Hall of Fame inductee Jimmy Capps dons a sheriff's uniform and accompanies all guests as if he just dropped by for dinner after a busy day at the courthouse. Black's own secretary Renae serves up burgers and sundaes to 40 or so guests who rest their elbows on gingham tablecloths and listen and laugh joyously after having waited more than a year for their tickets. We told you the show was popular.
"We looked into getting a larger studio for the show," says Black, "but that small gathering makes it feel like a neighborhood diner, and that's part of the charm. I don't want to lose that."
And when you watch the guests perform and see the audience respond with appreciation, it's obvious that it's perfect just the way it is.
"It's such a thrill to give these artists another run at it," says Black. "To give these great singers and songwriters another place to be heard when country radio has all but forgotten them, that's the reason I do this."
Get in line or get online
"Larry's Country Diner" can be seen on RFD-TV and FamilyNet. It is also now available on www.larryscountrydiner.com as Diner TV. For $9.99 a month, $99.99 per year or $199.99 for a lifetime, you can watch the shows as often as you like. Seasons 1-6 are currently available with seasons 7-8 coming soon. You can also purchase the first three seasons of "Larry's Country Diner" on DVD. Tickets for "Larry's Country Diner" can be purchased at www.larryscountrydiner.com/tickets. Check the website in June for reservations for the 2015 broadcast season. Interested parties are encouraged to call 615-673-2846 periodically as updates take place.
Cruise with Larry and crew
Larry Black and crew also host an annual cruise, which includes the cast and many of the performers from the show in partnership with another RFD-TV hit show, "Country's Family Reunion." For tickets and details, go to www.larryscountrydiner.com.