South Cumberland State Park Showcases Tennessee's Breathtaking Beauty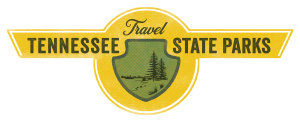 Tennessee is filled with trails that allow residents and visitors to get away from it all and commune with nature, soak up the loamy smells of the forest and hear the whisper of the wind in the trees. Some of the most amazing vistas and spots for letting one's worries fade away can be found along the Fiery Gizzard Trail in South Cumberland State Park. This 12.5-mile, one-way trail that connects Grundy Forest and Foster Falls is so chock full of a feast for the eyes that it was chosen as one of the top 25 trails in the country by Backpacker magazine.
And Fiery Gizzard is just one of the trails in this park that covers nearly 31,000 acres in Grundy, Franklin, Marion and Sequatchie counties with some of the best hiking and backcountry camping Tennessee has to offer. The Savage Gulf and Stone Door areas of the park alone offer 55 miles of hiking that will have you taking plenty of photos of waterfalls, cliffs and views that go on for miles.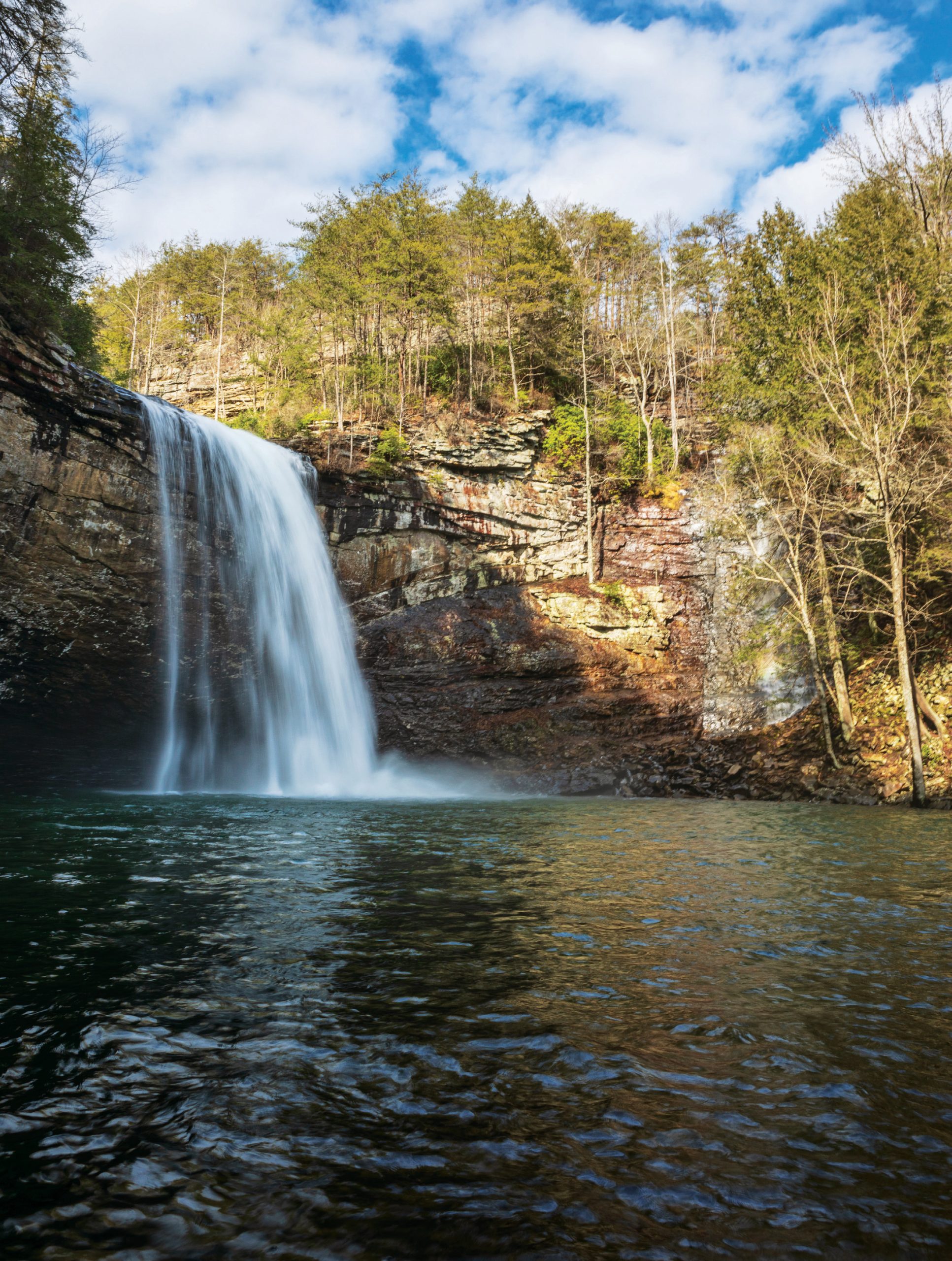 "This is a park worth seeing in all four seasons — and not just for a day," says Park Manager George Shinn. "To really see this park, it's worth planning a multi-day visit. Make sure you hike in Savage Gulf, Fiery Gizzard and Sherwood Forest, the three major areas of South Cumber-land, and I'll challenge you to pick a favorite — it's harder than you think!"
Shinn says the park draws people from literally around the world.
"It always amazes me when I look at the trailhead check-in logs. We've had climbers from France and Germany, hikers from Australia and Canada, campers from South America and Asia and visitors from all across the United States. We have upward of 700,000 visitors annually, many of them returning year after year. And yet, unlike many parks, you won't see a lot of people on your hike; we have 12 different trailheads, so our visitors are spread out."
Hiking
More than 90 miles of trails ranging in difficulty crisscross the park's acreage. Some are difficult and only appropriate for experienced hikers, but the park also has some easier hikes that showcase natural beauty. Near the visitors center, the Meadow Trail extends 1.3 miles round trip with views of wildflowers, a pond and wildlife. The Lone Rock Trail in the Grundy Lakes area is a mile longer, circling the lakes and also offering a taste of history when you visit the coke ovens where coal was converted to industrial coke for use in the smelting of iron ore.
The park's website lists in detail the various trails, including lengths, difficulty ratings and what you can expect to see along the way.
Caving
Some of the more strenuous hikes are those to and within Buggytop Cave, and it's recommended that you join ranger-led excursions. Trips inside the cave require extra preparation and gear such as helmets, headlamps and appropriate clothing and shoes. Information on the ranger-led trips to the cave is listed on the events calendar of the park's website.
Rock climbing
Permitted rock climbing is allowed at Denny Cove, Foster Falls and Stone Door. Stone Door is the only part of the Savage Gulf State Natural Area that allows rock climbing and rappelling.
Fishing
Four lakes ranging from 1 to 16 acres in size offer trout, bass and bream fishing from the bank and by using waders in the Grundy Lakes area. A 1 acre lake near the visitors center along the Meadow Trail contains similar species. Boats and fishing are not permitted on the section of the Collins River that lies within the state natural area boundary.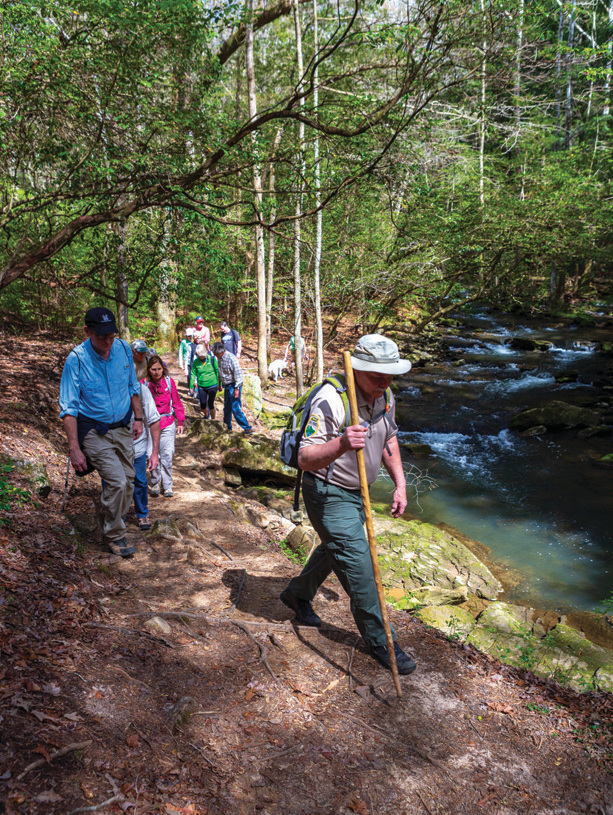 Birding
As one might expect with so much forested land, South Cumberland State Park is a great place to spot some of the 42 different bird species that have been identified here. The park provides a flier that lists tips for successful birding as well as the best locations for spotting yellow-rumped warblers, indigo buntings, egrets and a wide variety of other feathered residents and visitors.
Picnicking
Sometimes all you need is to eat a meal outdoors with a peaceful view. That is exactly what's available at the picnic tables scattered around the edges of the lakes at the park's Grundy Lakes area. Larger pavilions for groups can be found near the visitors center and at the trailhead for the Fiery Gizzard Trail.
Camping
The Foster Falls Campground has 26 rustic sites for tents or small trailers. A number of primitive campsites populate 12 backcountry campgrounds, and the Hobbs Cabin is a rustic cabin that can accommodate up to six people. Campers must hike in to these backcountry campsites.
Special programs
Park rangers lead an array of interpretive programs throughout the year with the heaviest concentration during the summer months. If you'd like to learn more about the park's flora, fauna, history, trails and other topics, be sure to check out the park's listing of upcoming events on its website.
"Two great places to plan a visit are on our park website at tnstateparks.com and our friends group website at friendsofsouthcumberland.org," Shinn says. "You also can follow us and the friends group on Facebook and Instagram — great ways to preview all the awesome things you can see and do in South Cumberland."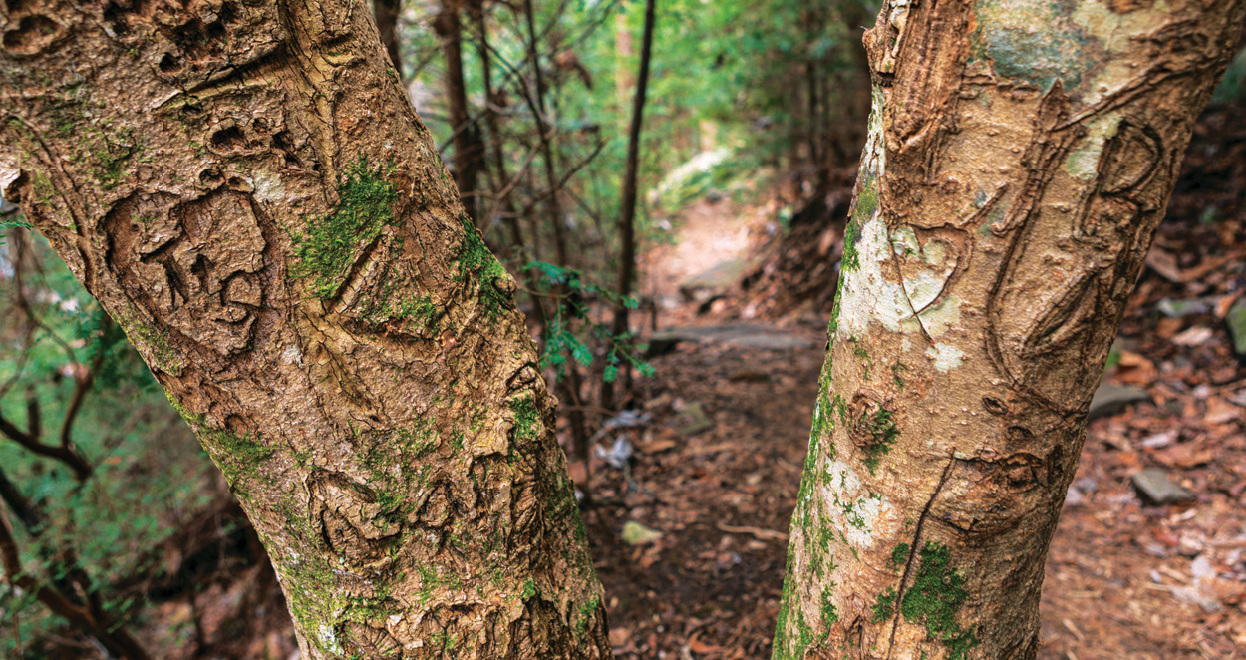 Helping hands
It takes a lot of people to successfully run a park of this size. Shinn is quick to praise his staff, many of whom have been recognized by the state for their hard work. In 2017, Assistant Park Manager Bill Knapp was named Ranger of the Year. Last year, ranger Jessie DeRight was awarded the Governor's Award of Excellence. Recently, retiring Maintenance Supervisor Carlton Parmley was recognized by the Tennessee Trails Association for his decades of service to the state, creating and improving hiking trails, not only at South Cumberland but also in other parks and natural areas.
"I'm also privileged to work with some of the most enthusiastic volunteers in the state: Friends of South Cumberland," Shinn says. "These people truly love this park and sacrifice time, money and sweat for its betterment. If you need an example, come visit during Trails and Trilliums, April 17–19. This event, now in its 17th year, is an entire three-day weekend of guided hikes, workshops and presentations. It is fully managed by the friends to educate and get people excited about our park."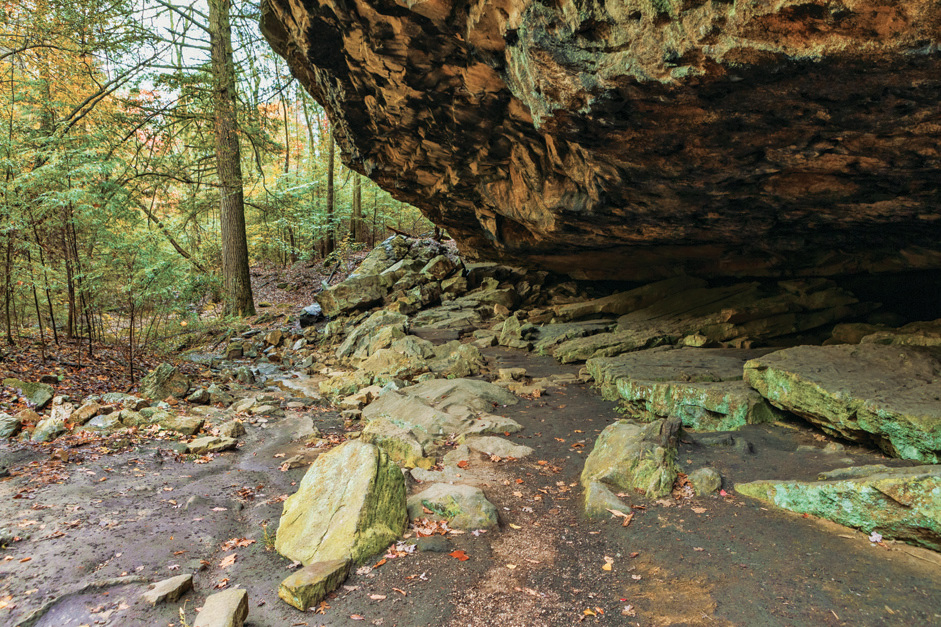 Plan ahead
"This is a wilderness park," Shinn says. "We average more than one ranger-assisted rescue per week. So, as a visitor, you want to learn about this park before you visit, and come prepared. But if you do, you will have an amazing and totally unique outdoor experience. Our park visitors always leave here inspired by the wild and unspoiled scenery, the compelling history and truly world-class recreational experiences
Find Out More

Visit the park's website at tnstateparks.com/parks/south-cumberland for more detailed information about any of the activities available throughout this jewel of the Tennessee State Parks system and how to make reservations for campsites and special programming. You also can download maps and a mobile app about Tennessee State Parks.