These friends have been writing to each other — with pen and paper — for 50 years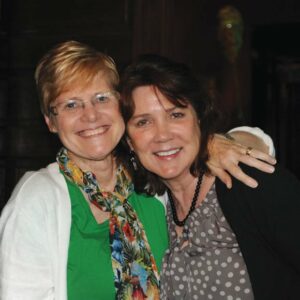 Good friends Nancy Canada and Dorothy Clark-Van Meter have never lived in the same state, did not attend any of the same schools and, in fact, have seen each other in person only five times. They have disparate occupations — librarian and plastic surgeon — that fit their vastly different temperaments: Nancy a self-proclaimed quiet homebody and Southwest Tennessee Electric Membership Corporation member from Henderson and Dorothy a travel-loving extrovert from Lexington, Ky.
Even so, they share sweet memories of their Southern childhoods, college experiences and careers. They rejoiced at news of each other's marriage, the birth of children and, now, Nancy's first grandchild.
Their connection? Nancy and Dorothy have been pen pals for 50 years.
On this rain-soaked Saturday afternoon in Nashville, they meet in person once again after a 16- or 17-year hiatus. Neither can remember exactly how long it's been, and it doesn't seem to matter. Time clearly doesn't wield the power with pen pals as it does in the rush of daily life.
After a long hug, the women settle in at a historic home-turned-restaurant, ignore the menus and begin catching up on all the momentous events — a marriage for Nancy's son — and little pleasures — trips made and books read — that have happened most recently.
The conversation swirls from topic to topic. "You cut your hair short," Dorothy remarks. "When did you do that?" Nancy laughs. It has been years. "I was in fifth grade," Nancy's daughter, Julia, interjects. "I was traumatized by it." Julia is now 31.
Children are a main topic. No surprise there. Each woman has a son and a daughter. In one of life's interesting twists, both daughters now live in Nashville, and both sons have chosen professions in theater. Motherhood alone provides much to share.
Nancy produces some old photos.
"Is that me?" Dorothy asks of a black-and-white picture of herself with Nancy and another long-lost girl standing between them on the porch of Nancy's childhood home. Nancy has also uncovered a photo of herself and Dorothy posing on a couch just before Dorothy married in 1987. There are more photos of cute little girls in pigtails who, in later pictures, transform into high school beauties with long hair and perfect complexions.
And then there is the picture of Nancy at age 7, her hair in pigtails, dressed in a sailor outfit, baby teeth still peeking out from an innocent smile.
Flash back 50 years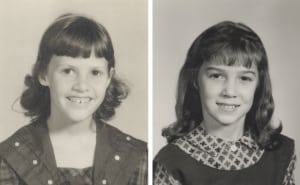 This is the picture of Nancy that helped launch their letter-writing and friendship.
It was the winter of 1963, and Nancy, 9, was chosen as the Pen Pal of the Week by "Captain Jerry" at the Commercial Appeal in Memphis. Each Sunday Captain Jerry's page in the regional newspaper featured a new pen pal, complete with a picture and a list of the child's interests. Those with similar interests were encouraged to correspond.
Nancy Meadows, as she was then, was from tiny Henderson and said she liked to read and roller-skate and ride her bicycle.
Dorothy Clark of Clarksdale, Miss., also age 9, wrote back at the urging of her mother, who was always looking for ways to occupy her precocious daughter. Dorothy was one of several dozen who responded. Most wrote only once. Some wrote for a few years, but Dorothy would be the only one who never stopped.
"I remember Dorothy's first letter," Nancy says. "She was telling me about her four sisters. She told me each of their names and what they were doing. Some were already in college. I was an only child, so I thought that was the coolest thing."
Like Nancy, Dorothy also loved to read, a passion that has transcended the years for both women. Books have been a topic in many letters and, more recently, emails.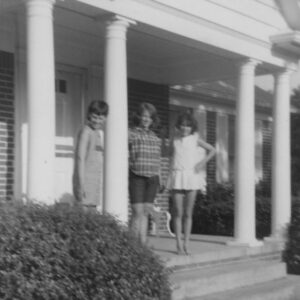 When they were children, though, most of their letters dealt with the day-to-day details of two little girls growing up in rural areas of the South where the pace of life was still snailishly slow.
"We just wrote about our daily lives," recalls Dorothy. "We talked about what we were doing, where we had been, school and friends. It was like today's emails and things you put on Facebook."
The difference, Dorothy says, was the personal nature of the correspondence, the one-on-one connection with another human being that is hard to achieve electronically.
The 1960s everyday life the girls wrote about was punctuated by significant national events such as desegregation, the first walk on the moon, the assassination of President John F. Kennedy and the war in far-off Vietnam that became all too real as classmates were drafted.
"There were all kinds of things going on in the world," Nancy recalls, "but we were just kids. Our focus was mainly on our small circle in the world — our families and school and friends."
After the girls had written for two years, Dorothy traveled to Tennessee for a weeklong visit.
"We had a party with some kids from my Sunday School class," Nancy recalls of their time together. "We roller-skated. My parents had a paved carport and driveway that was great for skating. We also liked to ride bikes, and I remember us riding bikes around town, although I don't recall where we got another bicycle. We went to Shiloh (National Military Park) and to Pickwick Landing (State Park). Dorothy invited me to come to Clarksdale, but I was shy. I didn't get around to it."
The letters continued. Dorothy estimates that the pair wrote twice a week for the first six years.
"I wouldn't be surprised if we had written 500 letters from age 10 to 25," Dorothy recalls. "I liked to write letters, and I loved getting letters. I had two sisters who were away at college, and I wrote to them. I also had an Eskimo pen pal for two years as part of a social studies unit on Alaska. I had a cousin in Atlanta who I wrote to. After school, my mother would pick me up, and we would stop at the post office for our mail. It was so exciting if I had a letter. I would rip into it. If I was lucky, I had several letters."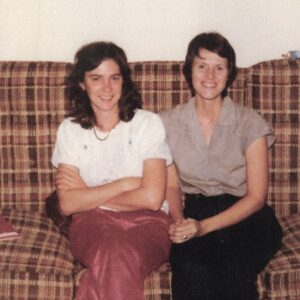 The letters between Dorothy and Nancy slowed a bit when the teenagers went to college, but they still wrote several times a month.
Nancy also got to see Dorothy once while they were in college, although not in person.
"Dorothy had gone to visit her sister and somehow wound up on the game show 'Jeopardy,'" Nancy says. "She let me know when the show was going to be broadcast so I could watch. I had not seen Dorothy since I was 11. When she walked out, I thought, 'She is kind of tall.' I hardly recognized her."
Before the young women saw each other again in person, Nancy was married with two children and Dorothy had completed medical school and was engaged. It was September of 1987 when Dorothy stopped for a visit with fiance Woody Van Meter.
Dorothy and Woody settled in Lexington, Ky., and soon had a daughter, Mary, and a son, Wood. Nancy's children, Julia and Jared, were active. The hectic juggling of motherhood, career and family slowed the letter-writing to mainly include a long letter at Christmas recounting the year's events.
"They weren't Christmas newsletters," Nancy says of the typed and photocopied brag sheets. "I am one of those people who still hand-writes letters to those I don't see on a regular basis."
In recent years, emails and phone calls have supplemented the letters. Nancy offers book suggestions, and there are always updates on children, all now grown.
Right back where they started
The thrill of receiving a handwritten letter remains just as exciting as ever.
"A letter is so personal," Nancy observes. "Kids now have so much information at their fingertips, and there is so much good about that. But there is nothing more exciting than pulling out a letter from the mailbox, and kids don't know this. Dorothy's handwriting is distinctive. I still get excited when I see it.
"It has been neat to have this connection. It is great to be able to pick right up where we left off. Even if it has been a year since we've talked, we have this incredible history and can still talk about what is going on in our lives."
"There is something about letter-writing," adds Dorothy. "It is between you and only one other person. You can express yourself better."
"Fifty years," Nancy sighs. "It sounds so unbelievably long when you say it."
"But you all still look good," daughter Julia jokes.
Advice for potential pen pals from Nancy and Dorothy:
Don't think letter-writing is dead. Email is great, but nothing compares to the time, heart and soul put into a letter.
It is important to take the time to handwrite a letter, particularly when somebody does something nice. The power of those letters was clear to Nancy when the CEO of a local company thanked her. "You are the only one who writes to thank me for our company's support," he said. "I wrote to teachers who went the second or third mile for my children," adds Nancy. "If your children have a good teacher, it's important to communicate with a handwritten note."
Start off by reading "Foreign Correspondence: A Pen Pal's Journey from Down Under to All Over" by Geraldine Brooks. It is the story of an Australian woman who had numerous international pen pals as a child. Her life intersects with theirs once again when, as an adult, Brooks decides to visit each of them in person.
Pen Pals
If you have a lifelong pen pal, share your story with us at www.facebook.com/TNmag or by writing to us at The Tennessee Magazine, Pen Pals, P.O. Box 100912, Nashville, TN 37072.