Planting a garden each year is a rite of spring for most gardeners, but it can be expensive and time-consuming. Imagine having fruits and vegetables that come back on their own each year.
That can happen in virtually every part of the United States, regardless of the climate, with perennial plants that produce food year after year.
Among those plants are asparagus, rhubarb, onions, kale and other leafy greens, artichokes, garlic, radicchio and horseradish, to name a few. And then there are the fruits such as strawberries, blueberries, raspberries and figs and, of course, fruit trees.
The idea of perennial food gardening is nothing new. But it is enjoying a revival as more and more gardeners have less and less time (and sometimes less money) and have become more aware of the environmental benefits of planting perennial crops.
To make perennial gardening even more appealing, gardeners are rediscovering less traditional but delicious and healthy crops such as bamboo shoots, chayote squash, sunchokes and cardoon. And new edible plants are being discovered regularly, so finding crops that work in any area or climate is becoming easier and easier.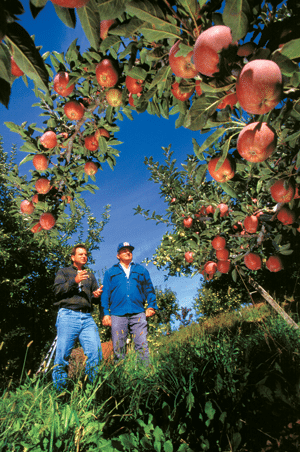 Using perennial crops is part of the permaculture system approach to gardening and farming, which uses techniques and practices that combine the best of wildlife gardening, edible landscaping and native-plant cultivation into one low-maintenance, self-contained and productive ecosystem.
Permaculture was developed and introduced in the 1970s by Australians Bill Mollison and David Holmgren. They and others since have promoted the idea of food production and agricultural systems that work with nature rather than trying to work around it.
Permaculture uses organic gardening, sustainable farming and forestry and other practices to create a growing and living environment that is interconnected. Gardeners can gradually turn their landscapes and gardens into ecosystems that provide food not only for people but also for the insects and animals in the environment. Many perennial food crops, especially fruit trees and shrubs, can also be beautiful additions to the landscape.
Learning more about perennial food crops is easy. A Web search or visit to the local library will offer lots of i
nformation. Check out the book "Perennial Vegetables: From Artichoke to Zuiki Taro, A Gardener's Guide to Over 100 Delicious, Easy-to-Grow Edibles" (Chelsea Green) or the websites perennialvegetables.org or perennial-vegetables.blogspot.com.
Want to learn more about permaculture? Classes may be available locally or online, so check those out as well.