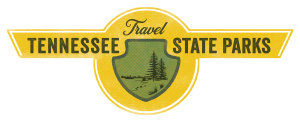 The hike to Virgin Falls, located between Sparta and Crossville, is not an easy one. In fact, it's around nine miles round trip and descends about 900 feet over sometimes rocky, uneven and slippery terrain. Those undertaking the hike should plan to spend five to nine hours for the entire excursion. But if you're able to make the hike, you'll be rewarded with a stunningly beautiful pocket of the natural world.
In fact, Virgin Falls lies in what is known as a pocket wilderness, a tract of land that the Bowater Pulp and Paper Corporation set aside for preservation in the early 1970s and was later acquired by the state of Tennessee. It's one of several such pocket wildernesses that are to be kept in their natural state with no development other than hiking trails and, in some cases, primitive backcountry campsites.
Part of the attraction of Virgin Falls is its uniqueness. The water emerges from a cave at the top, falls down the craggy bluff for 110 feet and then disappears into another cave.
Park Manager Stuart Carroll notes that Virgin Falls State Natural Area is actually composed of three distinct areas. Virgin Falls State Natural Area is now joined to Lost Creek State Natural Area, and the two areas combined are around 2,000 acres. Just north of these two areas is Dog Cove Historic Area, which is 1,000 acres and includes the circa 1900s Beecher Wallace Homestead.
"We are also developing a river access area on the Caney Fork at Mitchell Ford," Carroll says.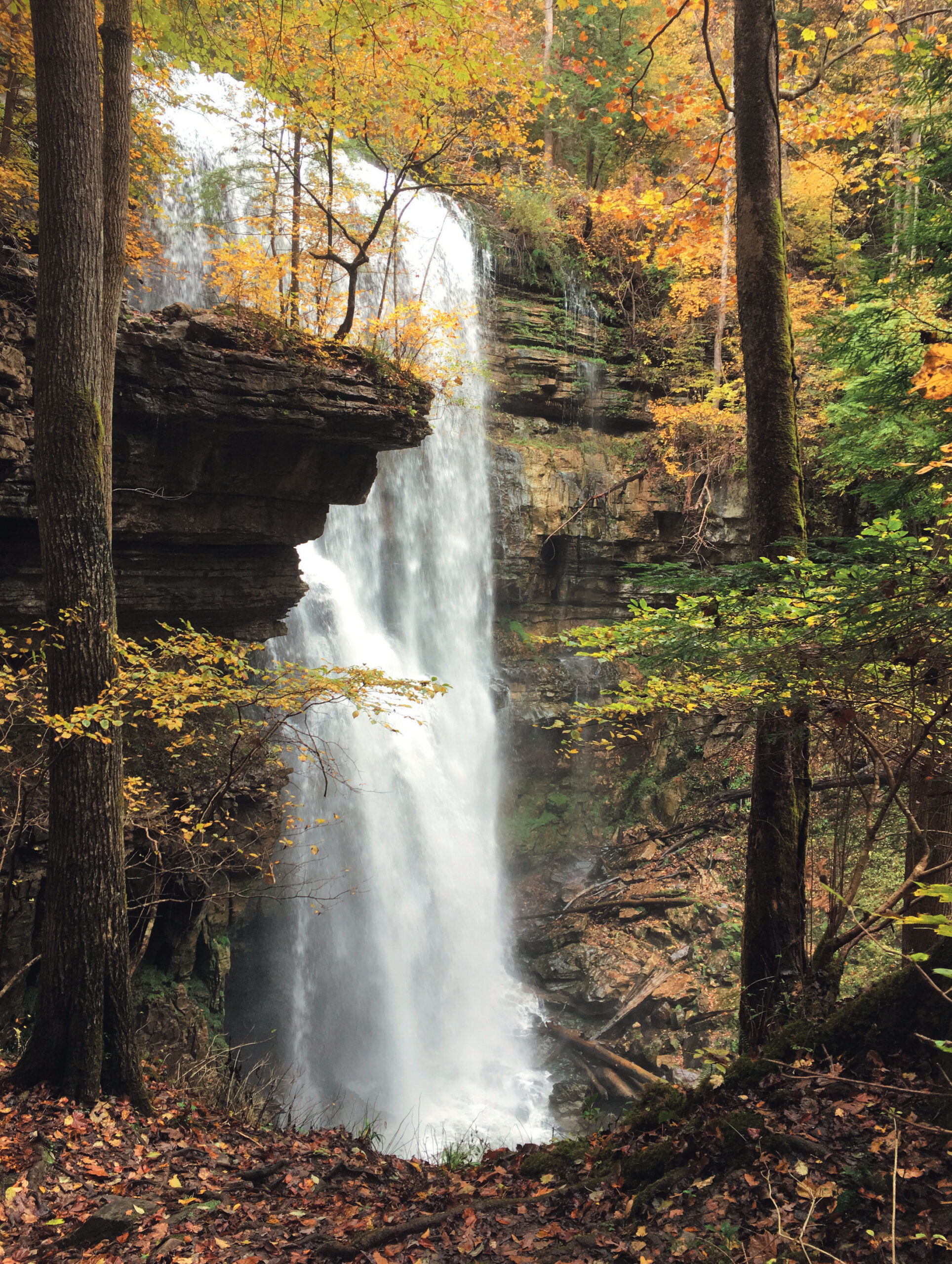 Biodiversity
In addition to simply being beautiful, Virgin Falls and other pocket wilderness areas are also rich in biodiversity and geological features such as the caves and sinkholes common in karst topography. Though there are many caves in the area, most are closed to recreational use. This is because of the presence of white-nose syndrome, which is deadly to the bat inhabitants of caves. This white fungus doesn't hurt humans, but we can easily spread it on our clothing and shoes. According to the Tennessee Bat Working Group, millions of bats have died from this disease, which causes them to expend too much energy while in winter hibernation. In some locations, up to 100 percent of the bats have died because of white-nose syndrome.
Much like the concern over declining bee populations, this decrease in bat numbers is also troubling. Bats eat a lot of insects, which not only helps cut down on annoyances such as mosquito bites but also provides farmers with $3.7 billion of free insect control each year, according to the White-Nose Syndrome Response Team, a group of biologists, researchers, land managers, naturalists and communicators who are working together to help protect bats from this disease.
Differences from state parks
State natural areas, as the name implies, are more focused on preserving Tennessee's natural wonders than with extensive recreational options. They are not developed with offerings such as lodges, golf courses, RV campgrounds, visitor centers, swimming pools and the like. Virgin Falls does have some backcountry campsites that can be reserved.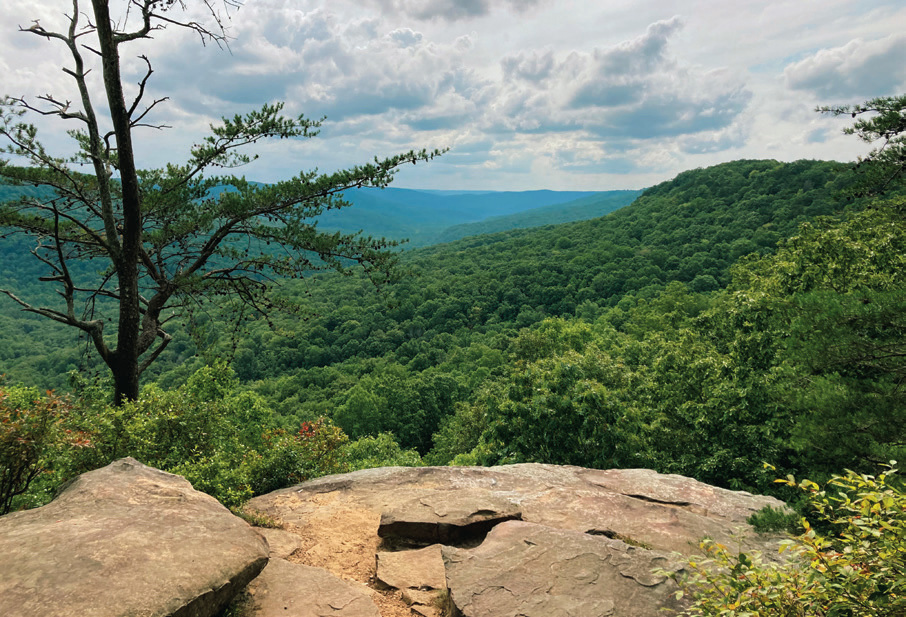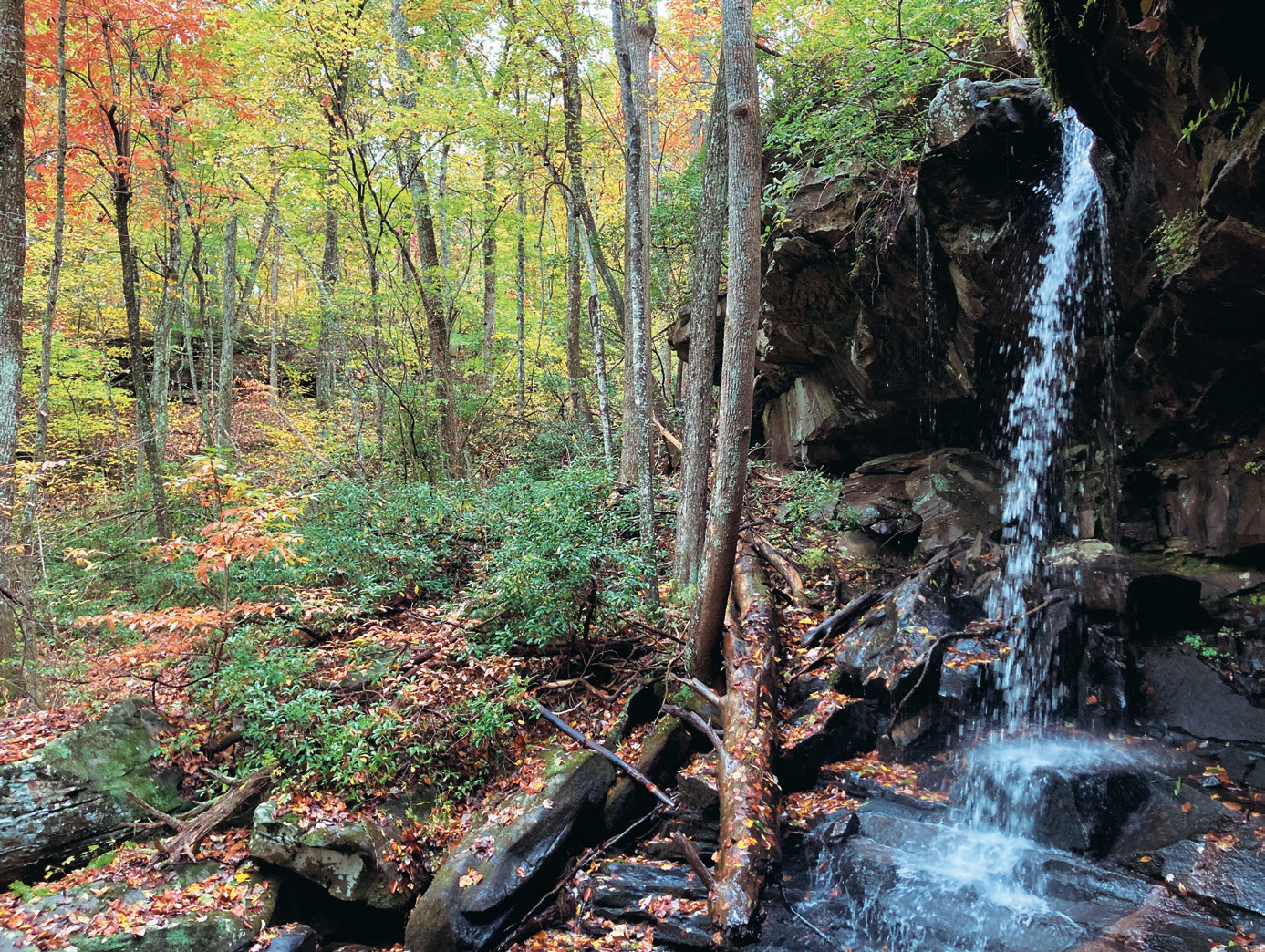 "Some natural areas do not even have trails, but many do," Carroll says. "When you come to a natural area, be ready to hike and sightsee. And remember: If you come to see us and want to go to a developed campground, cabin or hotel, you can stay over at Fall Creek Falls State Park and then make the drive over to Virgin Falls for the challenging hike."
With or without the amenities, Tennessee's natural areas and state parks saw record visitation during the last two years as people sought refuge outside as we dealt with COVID. Parks provided safe, outdoor recreation.
"As the pandemic has wound down and restaurants and malls reopened, we thought we would see a drop in visitation," Carroll says. "But so far, the crowds are still here, imbibing the tonic of nature."
Safety first
As mentioned, the hike to Virgin Falls is a strenuous one. It's important to be honest with yourself about your abilities. You don't want to get partway into a hike only to realize you can't manage the return and have to be rescued. If you are going to hike to the falls, it's advisable to start early in the day so you will have plenty of daylight during which to complete your excursion. Also let a friend or family member know of your plans, and take water, food and appropriate seasonal clothing. Particularly if it has rained recently, you will need to assess the situation at the cable crossing over Big Laurel Creek, about a mile and a half into the hike. Do not cross if the creek is flooding or if there is rain in the forecast that could cause flooding before you can make it back across.
Virgin Falls is definitely a beautiful spot to visit, but it's not worth risking your safety or life to do so. With proper planning, those who are physically able to undertake the hike to the falls will be rewarded with the opportunity to soak in the beauty and peace that only nature can provide.
Easier options
If you know the Virgin Falls hike isn't possible for you, Carroll says there are other options in the area where you can still observe the wonders of the Cumberland Plateau.
"While we plan on keeping the wilderness character at the core at Virgin Falls, we have worked hard to develop more access for visitors who might not be able to make the strenuous hike to Virgin Falls," he says. "Lost Creek Falls, the 'little sister' to Virgin Falls, is an easy drive and walk to its base. We worked with TWRA (Tennessee Wildlife Resources Agency) to open up the road out to Welch's Point, a panoramic view overlooking Scott's Gulf, which, again, is easy to get to. Recently, we opened up a 2.5-mile trail up at the Hardie Trailhead to Dog Cove, which is an easy drive, and the trail is moderate in difficulty. Stop by Dog Cove for some great history or the Mitchell Ford River Access to fish, kayak, picnic or even have a family reunion.
"Developing more access that includes people of varying physical abilities helps us further the Healthy Parks, Healthy Person program. Walking, hiking or paddling should help improve the health of the locals and visitors driving in."
The road to preservation
Carroll says that the preservation of these beautiful pockets of wilderness wouldn't have been possible without a lot of help from many different organizations and individuals. The efforts of the Open Spaces Institute were critical as were those of several individuals who shouldn't be forgotten. Among them are the James Rylander family, who donated the Lost Creek Area; the Hardie family, who held onto the Hardie Trailhead property for three years until the state could purchase it; the descendants of Beecher Wallace, who helped to set aside Dog Cove; the folks at Bowater, who built the first trails at Virgin Falls; and other individual donors and corporations that stepped forward to help set the area aside, make it accessible for the public and keep it protected in perpetuity.