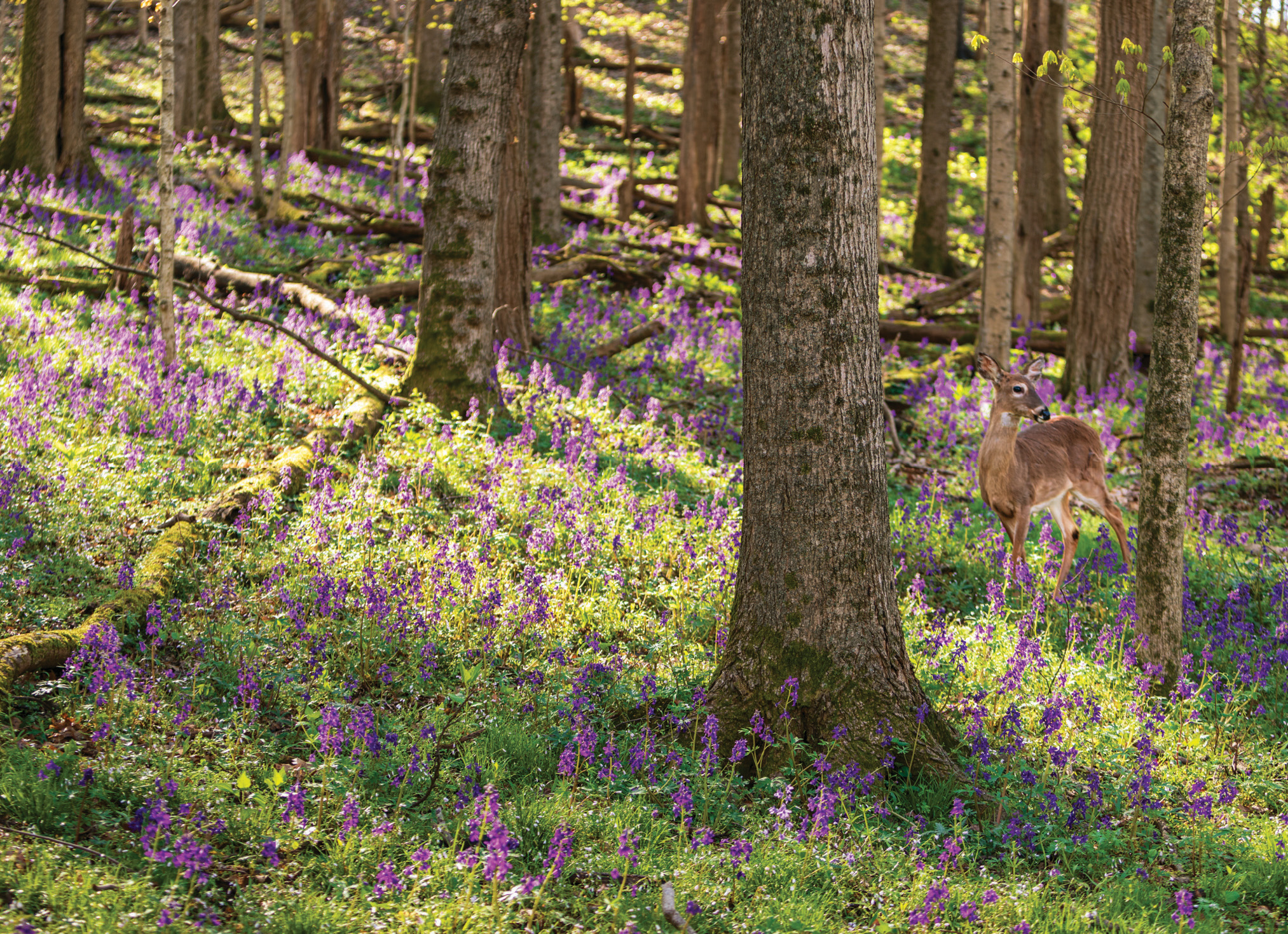 "White-Tailed Deer in Dwarf Larkspur" by Robin Conover Canon EOS 5D Mark IV EF 70-200 mm, 2.8 L lens at 70 mm ISO 100, fl5.6 at 1/100 second, Gitzo tripod
There is an inch of ice and sleet on the ground with a light snow falling as I begin to edit images for this column. I'm searching though what I shot last spring, using Adobe Bridge to rate images and do initial edits of my raw files.
Viewing the photographs from last March immediately takes me to the feeling of warmer spring days in my mind. Knowing these days are on the horizon helps me get through these last few weeks of winter.
I can hardly wait for the gray, cold days to grow longer and warmer. Days like the one captured above bring a smile to my face and a warmth to my heart. In the woods as the sun rises is one of my favorite places to be.
The warm sunlight awakens the forest landscape, bringing to life nature's sounds and colors. Frogs and birds begin to chirp and sing as the sunbeams coax delicate blooms to open.
It was just about an hour after sunrise that light began to break over the ridge at Radnor Lake State Park and Natural Area in Nashville. The streaks of light on the dwarf larkspur and shadows cast across this hillside caught my attention.
I was focused on the streaks and backlit blooms and tried to simplify the scene to make a good composition. After struggling for several minutes to find an interesting angle that would capture the scene and mood I was feeling, I noticed a white-tailed doe walking in from the side. I stayed still, hoping she would walk into the scene. She did, and for a few seconds, she was framed perfectly between two trees as she stopped and looked back.
She was still only long enough for three exposures before turning to dart up the hill. Her presence and pose added just the right element at just the right time for a memorable morning.