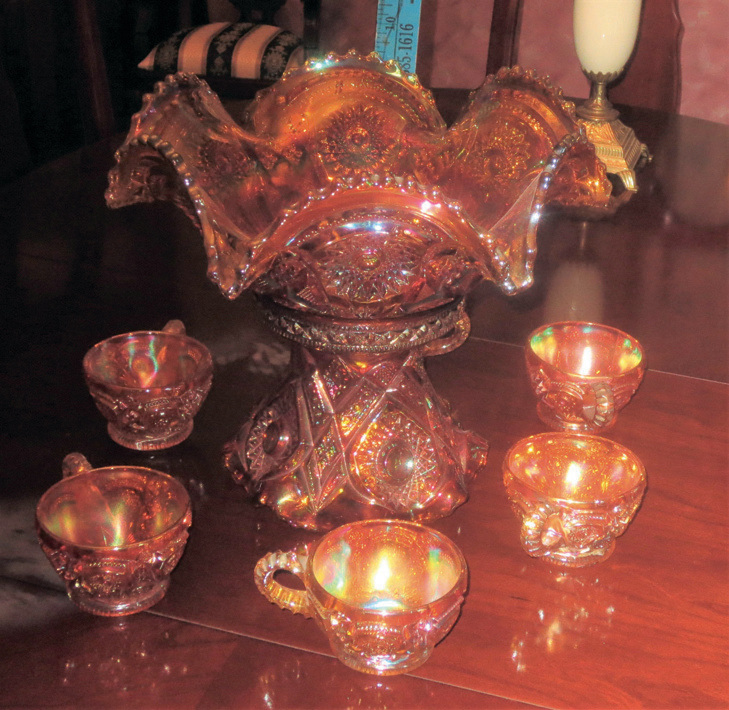 Dear Connie Sue,
I found this stemware while cleaning out my great-aunt's home. Can you tell me about these glasses? I have searched and been unable to find out anything.
Sandra, South Fulton
Dear Sandra,
The pair of pink to green iced tea glasses was made by Tiffin Glass Company in Ohio. The company mixed and matched patterns, colors and forms during its 100 years of production. This color is referred to as watermelon; the forms and patterns most often used are Optic, Franciscan or Festoon. All seem to agree that No. 15024-8 can be used to search for similar pieces.
Retail prices can reach $35 each, but pristine Watermelon tinted glassware sells for $10 each. If I were talking to a dealer or collector, I'd describe your glasses as "elegant glassware of the Depression era."
---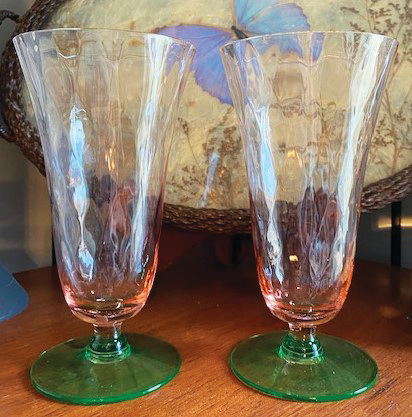 Dear Connie Sue,
I have attached pictures of a carnival glass punch bowl set that I would like to know more about. There are no flaws on either part of the bowl or on the six cups, and I can't find a mark on any of the pieces.
Gary, Franklin
Dear Gary,
This punch bowl on stand with six cups was probably the life of many parties around 1915. It was made by the Imperial Glass Company in Bellaire, Ohio. It is the Hobstar and Flowers pattern in marigold. Imperial produced glass from 1904 to 1984.
Similar sets in this pattern are available and sell for $100 to $350. They are not in great demand. Select colors and patterns of carnival glass can still bring high prices. Serious collectors join glass clubs, study and research to identify limited production pieces.
---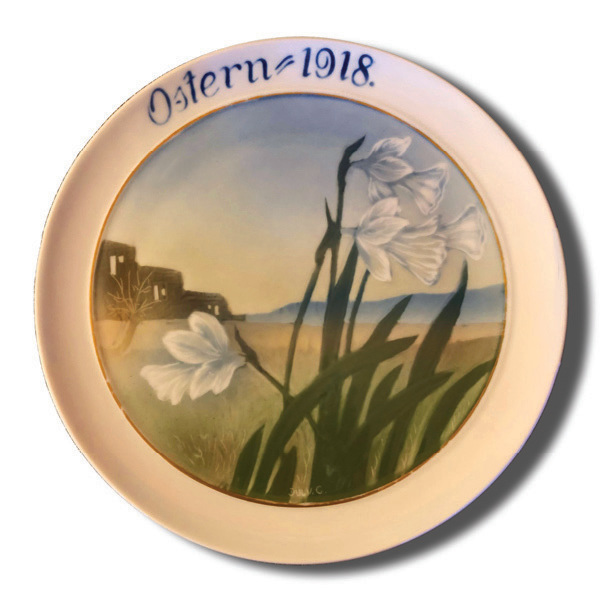 Dear Connie Sue,
This plate belonged to my mother who has since passed. From what I understand, it has been in the family a while. Is it rare? I've never had it looked at by an appraiser. Thank you.
Marly
Dear Marly,
You won't find Rosenthal Ostern (Easter) plates at every sale or in every antique mall, but you can buy one on-line most days. The shape of the crown and sword, Rosenthal mark and location of production — Selb, Bavaria — indicate the plate was, indeed, made in the early 1900s. Sellers are asking $250 to $400 for the plate. Buyers have recently paid around $50.
Rosenthal made fine porcelain and glass beginning in 1879 in Selb, Bavaria. The company endured two world wars in Europe, moved around a lot and ceased production in 1964. This is the time to buy Rosenthal's finery if you've dreamed of affordable prices.
---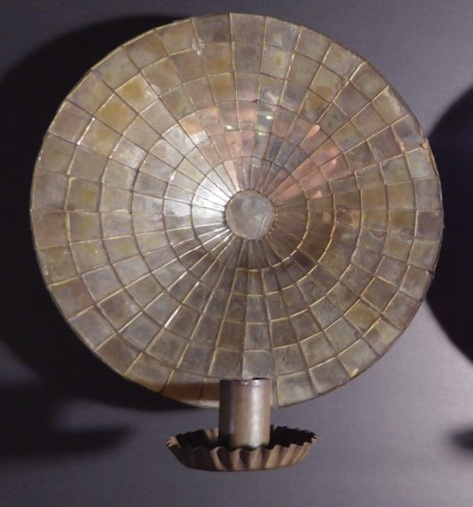 Dear Connie Sue,
My grandmother was a lady companion to Mrs. Winthrop of New York many years ago. She received these two mirrored candle sconces as a gift.
We enjoy your column in The Tennessee Magazine and would love to know more about these precious old sconces.
Annie
Dear Annie,
What a lovely gift and inheritance. Your sconces of reflective glass on tin were made in the early 1800s here in America. Light reflected off mirrored glass, mica, pyrite or polished metal greatly increased the light of a flickering candle. Buying candles was expensive, and making them was messy and time-consuming, so getting as much light as possible was the goal prior to the use of oil or gas for lighting.
Today, a pair of sconces like yours can sell for $350 to $1,000. I'm glad you like the column. Thanks for reading.