OUR FALL TRAVEL GUIDE
By Ashley Cabrera and Jan Compton
Photographs courtesy of Tennessee State Parks
There are many excellent walking, biking, hiking and riding trails in Tennessee, but if you are looking for a one-of-a-kind sporting experience, the Tennessee Golf Trail is the place to be! No matter where you are in Tennessee, you are no more than a few hours away from any of our State Parks system's nine golf courses that make up the Golf Trail. Each course is designated as a Certified Audubon Cooperative Sanctuary by Audubon International and has been recognized as a Groundwater Guardian Green site by the Groundwater Foundation.
"By being a part of the Tennessee Department of Environment and Conservation, the Tennessee Golf Trail and its nine Tennessee State Park golf courses not only feel the need to be part of the Audubon Society and the Groundwater Foundation but openly recruit others to join in our cause to promote environmental stewardship in the golf business," says Mike Nixon, director of golf operations at the Tennessee Department of Environment and Conservation.
"The core of the Audubon Society is to maintain the healthy functioning of our ecosystem," he says. "At the Tennessee Golf Trail, we strive to do our part to maintain a healthy balance in our own environmental system and be good stewards of our land. Our goal is to protect and sustain the land on and around our golf courses by protecting the water, wildlife and natural resources within our borders.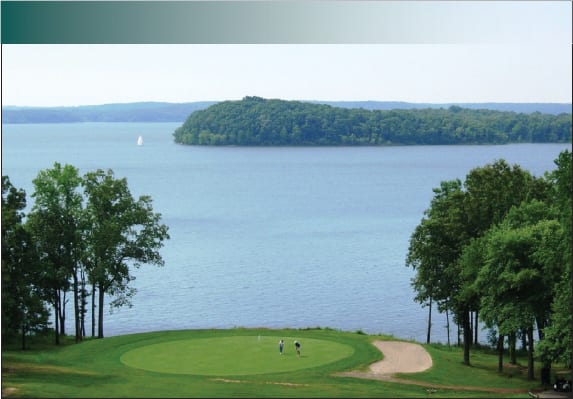 "The Groundwater Foundation is much the same function for us. As certified Guardian Groundwater Green Sites, we implement, measure and document groundwater practices relevant to our business. This includes water use, chemical use, pollution prevention, water quality and environmental stewardship.
"We voluntarily support Audubon and the Groundwater Foundation. We feel it is not only our duty but our pleasure to be associated with both groups, and we look forward to doing so in the future."
In addition to environmental accolades, three courses are part of the prestigious Jack Nicklaus-designed Bear Trace: Tims Ford, Cumberland Mountain and Harrison Bay.
Whichever course you decide to visit, each offers a different experience, showcasing its area's natural beauty. Season pass and stay-and-play options increase the opportunities to enjoy the Trail at maximum convenience and affordability levels.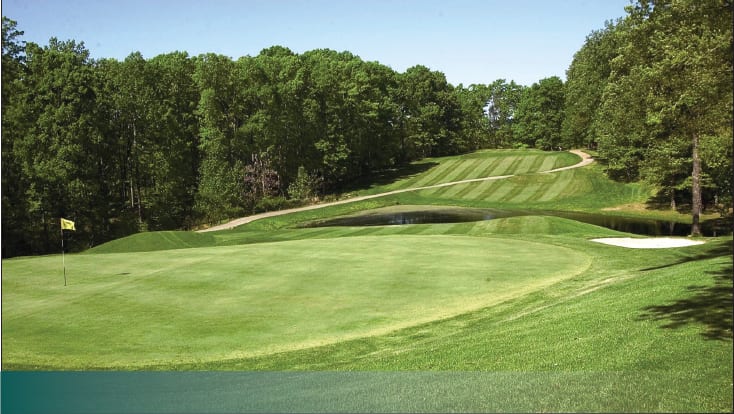 Let's take a mini-tour — starting in West Tennessee — for a quick glimpse of what these treasures have for golfers and non-golfers alike.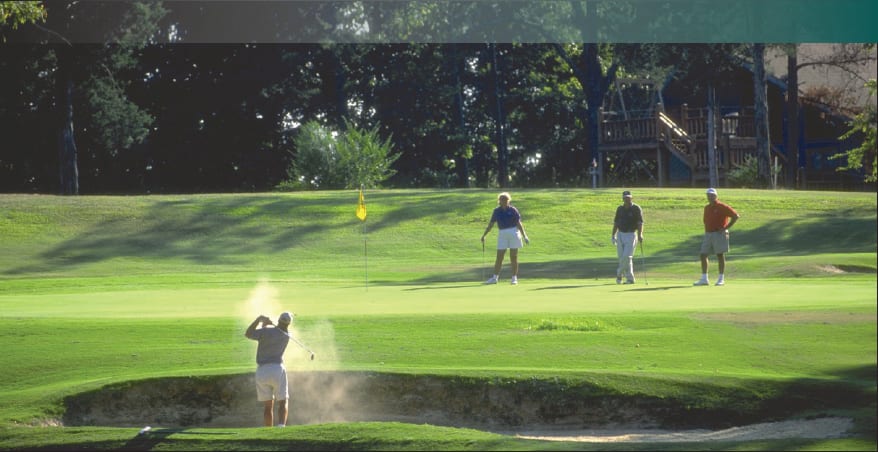 Pickwick Landing State Park
Starting in West Tennessee, Pickwick Landing State Park Golf Course is close to the borders of Mississippi and Alabama and Pickwick Dam. Players should focus on accuracy as this 18-hole course features tree-lined fairways and 21 bunkers throughout as added challenges. This course, very popular with travelers, is known for hosting the St. Jude Charity Golf Tournament as well as district and regional high school events throughout the year.
Park notes: Aside from golfing, Pickwick Landing State Park is a great place for fishing, boating and swimming as it sits on the banks of Pickwick Lake and the Tennessee River. Along the water are some two miles of public swimming beaches, including Circle Beach, Sandy Beach and Bruton Branch. The park is also home to the Catfish World Championship Fishing Tournament and the annual Sauger Fishing Tournament.
Paris Landing State Park
If you travel north along the Tennessee River for a couple of hours, you'll find the course at Paris Landing State Park in Buchanan on the western shore of Kentucky Lake. The 18-hole course is lined with trees, and several holes skirt the beautiful Kentucky Lake. The 12th hole features an elevated green that overlooks the lake, providing amazing scenery and could affect your concentration. The water also provides the backdrop on the fourth hole as you stand on the picturesque tee box of this challenging, downhill par 3. If you are looking for serenity, this tree-lined course is the one for you.
Park notes: Paris Landing State Park is located at mile marker 66.1 on Kentucky Lake and has a full-service marina. It is a great place to boat and fish for the lake's more than 100 species. The park also features an Olympic-size pool that has a wading pool for children. On land, you can enjoy hiking and camping. Along the way you will find deer, turkey, fox, coyote and even eagles in the winter.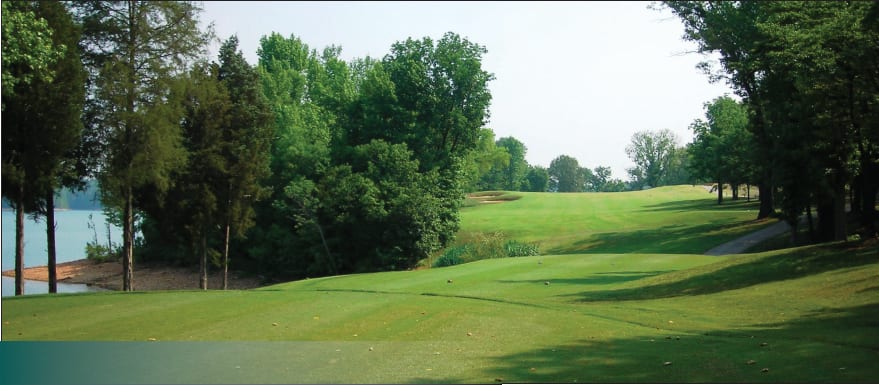 Montgomery Bell State Park
Montgomery Bell State Park in Burns is southeast of Paris Landing across the Tennessee River, requiring just a little over an hour traveling time. This 18-hole course features champion Bermuda greens, which provide an optimal putting surface, and beautiful 419 Bermuda fairways.
"The greens are faster than any other courses in the area," says the course's manager, Darrell Hartsfield. "The course has beautiful fairways and is less crowded. Sometimes it feels as if you're the only one playing."
The heavily wooded course features an abundance of wildlife, including deer, geese and turkey. Approximately 30 miles from Nashville, one of the fastest-growing cities in the nation, the course offers an oasis from the busy city life. It also hosts the Dogwood Classic every fall and attracts an array of golfers year-round.
Park notes: Montgomery Bell State Park, located just seven miles east of Dickson, boasts beautiful scenery welcomes many outdoor activities. There are nearly 20 miles of trails in the park for hiking, including a 10-mile overnight trek. The park also offers a 20-mile bike trail for regular and mountain bikes. Lake Acorn, Lake Woodhaven and Creech Hollow Lake are within the park, and each is great for year-round fishing for bream, catfish, crappie and bass. Boating is allowed on all three lakes, and Lake Acorn features a swim beach and watercraft — paddle boats, fishing boats, canoes and kayaks — in the summer. History buffs will appreciate that the park — named for a wealthy industrialist who established the first major iron furnace just west of the park — includes the vestiges of the Laurel Furnace, one of the state's earliest manufacturing sites. The park is also home of the birthplace of the Cumberland Presbyterian Church, founded in 1810 in the log cabin home of Rev. Samuel McAdow. A beautiful replica of the cabin-church is a centerpiece of the park.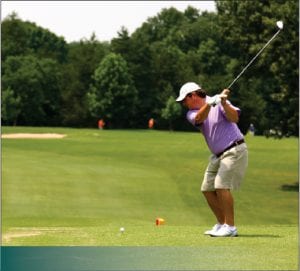 Henry Horton
To reach the next golf course, travel southeast for a little more than an hour to arrive at Henry Horton State Park near Chapel Hill. This 18-hole golf course has five sets of tees to accommodate golfers of every skill — from beginner to single-digit handicapper. The course has a parklandstyle routing and is known for its large greens and wooded areas. Golfers enjoy Henry Horton because it is challenging and long compared to nearby golf courses.
"We are known for our large greens as a parkland course," says Neil Collins, Henry Horton Golf Course manager. "The course is always well-conditioned, and we recently added contour to the greens for a better playing experience. Our signature hole is number 14, which is the longest and most challenging par 3 in Tennessee."
Park notes: Henry Horton State Park, named after a former Tennessee governor, is located on the shores of the Duck River, one of the most diverse ecosystems in the world. There are 76 campsites in the park along the Duck and four hiking trails. The park also has a professional multifield skeet and trap range with Crazy Quail and five stand available to individuals, groups and gun clubs. For inn and cabin guests, there is an Olympic-size swimming pool that is open seasonally and includes a wading pool for children. The park is less than an hour from Nashville and boasts a newly renovated park restaurant and challenging ropes course.
Tims Ford State Park
After a wonderful stay at Henry Horton State Park, start your morning traveling on Highway 64 east to reach Tims Ford State Park in Winchester, less than an hour away.
"Our course is a jewel in the rough," says Jared Melson, Tims Ford Golf Course manager. "Players enjoy the great conditioned greens and love to play on what is virtually an island."
Other than a small strip of land connecting the course to the rest of the state park, the course is surrounded by the beautiful Tims Ford Lake. The course features great 419 Bermuda fairways, and along the way you might even see a few deer. Tims Ford Lake, which is visible from most of the holes, comes into play on several of the 18 holes, adding a nice balance of challenge and playability.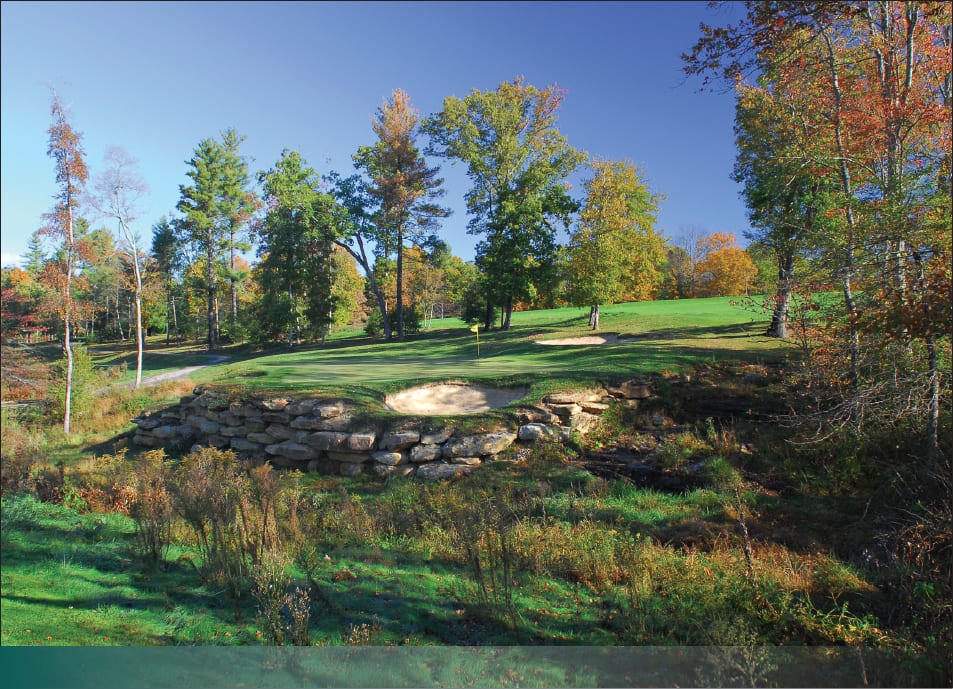 Park notes: Located on Tims Ford Lake, the state park manages eight public boat ramps around the lake and leases Lakeview Marina and Holiday Landing Resort and Marina. At Holiday Landing, guests will find five cabins, five motel rooms and a floating restaurant called the Bluegill Grill. The park is known for its beautiful natural surroundings and wildlife habitats. Visitors can relax in the campgrounds or along the lake and go fishing, skiing and boating, all while seeing white-tailed deer, wild turkey, songbirds and other animals.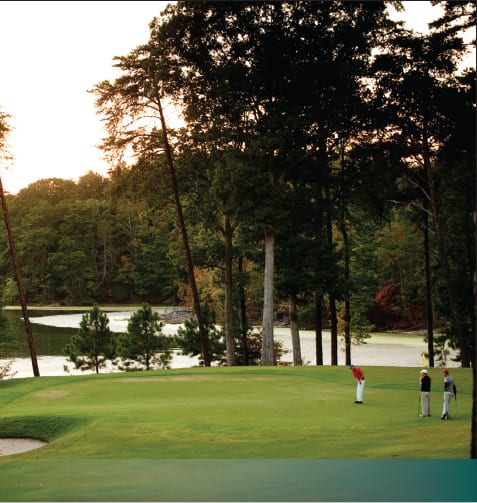 Harrison Bay State Park
If you head on over to Interstate 24 and continue traveling southeast, you will reach Harrison Bay State Park in less than two hours. The course at Harrison Bay is an ideal setting, surrounded by both water and woodland areas. The Bermuda fairways are lined with pine and hardwood trees, and although Chickamauga Lake touches 12 of the course's fairways, there's plenty of room for landing the ball without finding the water. Along the course, you will find an abundance of bluebirds and the two eagles — and sometimes eaglets — that reside at Harrison Bay. Bunkers surround the greens, but because this course is designed for playability, greens are left open in front. Be sure to play close attention, though, because these are some of the fastest greens in the state. It is an amazing sanctuary just 20 minutes from the city life and activity of Chattanooga.
Park notes: Harrison Bay, the first state park in Tennessee, is situated on 40 miles of Chickamauga Lake shoreline. With more than 35,000 acres with access to the lake, anyone can fish, either by boat, from the bank or on the Americans with Disabilities Act-accessible pier. Popular fish to be caught include bass, bluegill, shellcracker, crappie, catfish and gar.
Fall Creek Falls State Park
To continue your golfing journey, travel northeast on Highway 30 West for an hour and a half and arrive at Fall Creek Falls State Park near Spencer. The course here is a challenge with dog-legs to the left and right carved out of the densely forested woodlands of the Cumberland Plateau. Sand traps are abundant and protect all of the greens. Many people say this Joe Lee-designed gem is one of the best-kept secrets on the Tennessee Golf Trail.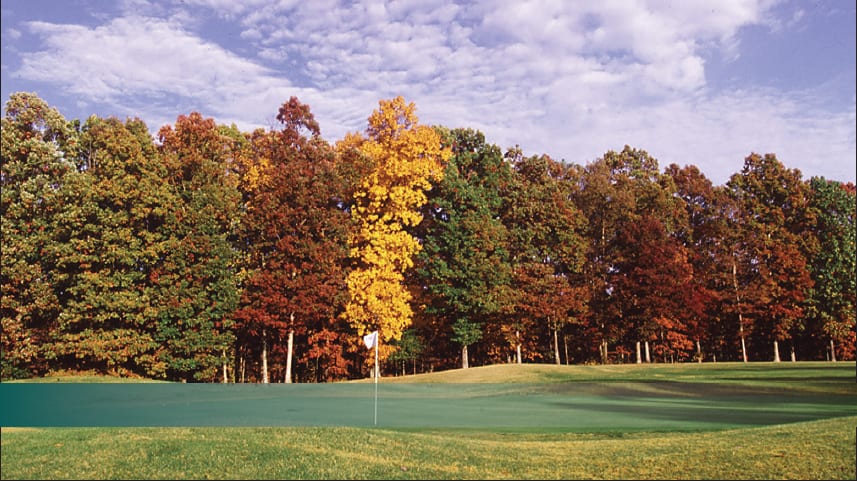 Park notes: Aside from its nationally recognized golf course, Fall Creek Falls State Park has so much natural beauty to offer. With more than 26,000 acres atop the Cumberland Plateau, the park is laced with cascades, gorges, waterfalls, streams and stands of virgin hardwood timber. At the center of the park, Fall Creek Falls — at 256 feet — is one of the tallest waterfalls in the eastern United States. The park has more than 34 miles of trails with two long-distance overnight trails for adventure-seekers. If you really want an adrenaline rush, the park offers an Arbortrek Treetop obstacle course with more than 75 suspended obstacles and ziplines of varying difficulties.
Cumberland Mountain State Park
To reach the next State Park Golf Course, just travel about 50 minutes northeast on Highway 101 North to Cumberland Mountain State Park in Crossville. This course is one of the most-sought-after Jack Nicklaus-designed Bear Trace courses in Tennessee and has been named one of the top courses in Tennessee by Golf Digest. The design of the course features elevation changes and natural features such as flowing brooks and clusters of mature pines. A few of the holes require layup shots and forethought. At 393 yards, the par 4 seventh hole incorporates the region's famous layered flagstone along the front of the green and is one of many picturesque holes at the Bear Trace at Cumberland Mountain.
Park notes: Cumberland Mountain State Park is located along Byrd Lake, well known for its largemouth bass, catfish, crappie and shellcracker fishing, and trout are stocked in the winter. The park also has an Olympic-size pool with two diving boards, a swim lane and a wading pool for children. The park makes a beautiful setting for hiking along its 14 miles of trails around the lake, along creeks and through the woods. The park also hosts weekly interpretive and recreational programs for all ages during the summer months and for organized groups year-round.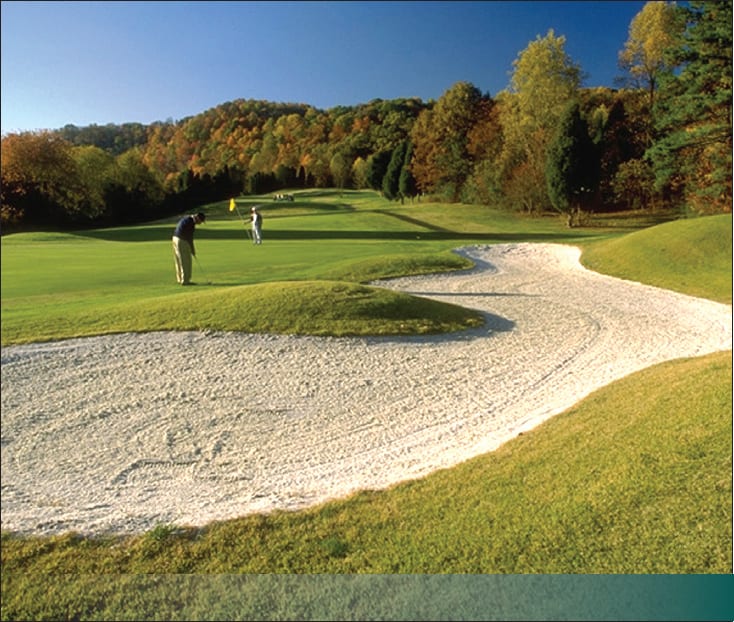 Warrior's Path State Park
To finish off your golfing journey in Tennessee, head to the mountains of East Tennessee. Travel east on Interstate 40 for just under three hours to arrive at Warrior's Path State Park in Kingsport. This prize course's rolling hills at the base of the Appalachian Mountains naturally produce fairways that create fun challenges from a variety of untraditional lies. Fort Patrick Henry Lake is adjacent to the course and offers some scenic peeks throughout the round. Golfers must be willing to share the course with wildlife such as deer, turkey, raccoons, squirrels and rabbits. The practice range at Warrior's Path is the most-used compared to other state park practice facilities, and affordable lessons are offered by the friendly, professional staff.
Park notes: In addition to golf activities, Warrior's Path State Park is known for the state's first "boundless" playground named Darrell's Dream, a one-of-a-kind play area that provides fun and learning opportunities for children of all ages and abilities. There are also two miles of trails on which the park offers guided trail rides and pony rides. Stables are available for guests to board their own horses.
No matter which park you decide to visit to test your golfing skills, you will surely have a wonderful experience. And, continuing their commitment to the environment, greens mowers are now electric at all Tennessee Golf Trail courses, and some areas are being left to grow naturally, avoiding the need to mow.
To learn more about the courses of the Tennessee Golf Trail, visit tnstateparks.com/activities/golfing.