Home for Life showcases ways to remodel for retirement years
Home is where the heart is for most Tennesseans. It's comforting, it's safe and it's where we make memories. But what about our home's sustainability for the future? We expect our safe havens to last for years to come so we can continue to enjoy them with family and friends.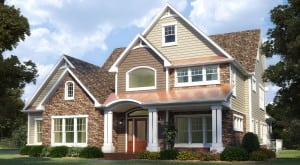 In January 2010, the first of the 80 million baby boomers turned 65 years old — which means that nearly 30 percent of the U.S. population is now entering their retirement years. According to a recent survey conducted by the AARP, though 84 percent of baby boomers would like to stay in their current homes during retirement years, only 16 percent have taken any steps to adapt their homes for retirement.
Home for Life, a collaborative effort by a team of designers, universal design consultants, efficiency specialists and professional organizations, offers a variety of ideas that enable homes to "live" better, last longer and stand out in efficiency.
Home for Life is designed to showcase the concepts of universal design and aging in place — an important topic for remodelers and consumers alike — as baby boomers begin to enter their retirement years in record numbers.
The Home for Life team began by constructing a 1970s-model suburban home, implementing updates based on aesthetics, functionality and efficiency. For example, the design team added efficient front-loading washers and dryers and elevated them for easier access. Hallways were widened and grab bars installed for safety. Efficiency was a major consideration in the redesign, and the team worked to ensure that all rooms were comfortable and free of drafts. This cut down on insects and dust and reduced monthly energy bills. Apart from efficiency, design elements were thoughtfully considered as updates were made to the home.
The Home for Life project can benefit any family living in an older home. In fact, the team's remodeling efforts and examples could be implemented to update any home. Members interested in taking Home for Life's virtual tour, including a closer look at the remodeling project, can do so by visiting www.homeforlife2014.com.
"We brought together experts in design, active adult lifestyles and energy and resource efficiency to create Home for Life," said Rick Strachan, Hanley Wood group president of residential remodeling. "Our goal for the Home for Life virtual tour is to showcase what remodelers and baby boomers need to consider to adapt homes for the retirement years, including universal design strategies, lowered operating costs and durable, low-maintenance products and systems. We also feature the latest offerings from the industry's leading-edge product suppliers."
For more information about the Home for Life project, visit www.homeforlife2014.com.