The River Cafe in Normandy is an oasis for travelers and townsfolk alike
Wandering nomads first stumbled upon the fabled phenomenon of the oasis centuries ago,  a small cluster of trees and water surrounded by miles of sand. That's how I felt after driving an hour and a half through the beautiful, even mystical, hills of Coffee County, past Old Stone Fort State Park, along the winding back roads of a proudly rural parcel of Tennessee. The word "oasis" came to mind as I drove into Normandy, a small town on the banks of the Duck River, just a mile or so away from the Tennessee Valley Authority's storied dam.
Locals warned me not to blink or I'd miss it, but that was hardly a problem as I rolled over the railroad tracks and around to The River Cafe, a quaint restaurant and live music venue facing east on Front Street.
In the courtyard next to the brick building sits a sentinel 1963 Shasta trailer, prettied up in red and white, complete with wings that beckon a bygone era of nomadic American road travel. It's a whimsical symbol, an icon to alert visitors they are about to have a unique cultural experience that can't be had anywhere else, especially at the more familiar, accessible chain restaurants cluttering our cities and suburbs.
As I opened the screen door and walked in, I had the nostalgic feeling that comes all too seldom these days: You can't franchise this. This is "real."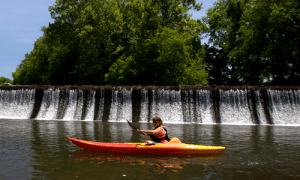 Mismatched tables and chairs rest upon a hardwood floor that's endured the heels of thousands, surrounded by plaster walls that have absorbed generations of chatter, laughter and music. It was clear to me that I was off the beaten path, and I was glad to be. The folks here — members of Duck River Electric Membership Corporation — who staff The River Cafe see to that.
Owner Nikki Mitchell is one of those rare people with whom you instantly feel at home. Her relaxed demeanor and approachability defy her fast-paced juggling act of balancing multiple lives and careers at once. She's been a world-record-breaking pilot, a community organizer, a philanthropist and, perhaps most notably, the longtime office manager of the late country music legend, Waylon Jennings. The latter is a role she continues to maintain, managing Jennings' likeness and music as either gets licensed to film, television and advertising around the world.
"Waylon is the reason I'm here in Normandy with the cafe," she says. "A few years before he died, he gave me one of his long, black Cadillacs he loved so much. I think it was more for him to have something to drive in Nashville when he came to town," she said, laughing.
"But I kept it for a long time after he passed away. One of Waylon's fans asked if I'd sell it. I thought about it for a while, and it felt right. I always wanted a place of business above which I could live, on the second floor — and I found it all in Normandy. I used the money from the sale of the car for the down payment on the building. And I know Waylon would have felt right at home here."
Jennings' presence is indeed felt in the cafe. An original poster advertising Buddy Holly's fated last concert is framed alongside black-and-white pictures from the 1959 performance. A young Jennings is seen at stage right, playing bass as a member of The Crickets. Jennings famously gave up his seat on the plane that would crash that night, claiming Holly, Richie Valens and the Big Bopper, the recipient of Jennings' generosity.
Road-worn gig boxes are stacked along the back line of the small stage in the center of the cafe. Jennings' name and that of his son, Shooter — who has followed in his father's footsteps — are stenciled on the boxes, another symbol of nomadic life and the continued legacy of these traveling troubadours. Jennings' band members Richie Albright, Jerry "Jigger" Bridges and Fred Newell have played here with singer Tommy Townsend as Waymore's Outlaws. Fellow outlaw troubadours Lee Roy Parnell, Ricky Ray and Blue Mother Tupelo have performed at Nikki's behest. Concerts are held every Saturday night, and reservations are recommended.
The menu is a lush assortment of Southern homestyle cooking fit for wanderers and homebodies alike. Nikki's brother, Mike, gets up at 4 a.m. on weekends to prepare the undisputed star of the menu: mouthwatering brisket. Another favorite is the bread pudding spiked generously with whiskey from the nearby George Dickel distillery. The food is excellent and plentiful, the staff is friendly and the Saturday night entertainment is always compelling.
As I waved goodbye to the friendly people of Normandy and headed back to my car to go home, I lingered. The screen door shut behind me, and the muffled voices and laughter continued inside. I sat in my car with the windows down, listening to the birds chirping from the score of trees around me, and I didn't want to leave. It was a feeling I've had before as I've traveled through small towns: Something was telling me that I was already home.
Getting there
The River Cafe, 4 Front St., Normandy
The River Cafe's operating hours are limited to weekends: Saturdays from 7 a.m. to 9 p.m., and Sunday's popular brunch begins at 11 a.m. with the music of renowned guitarist Don Jones. Call 931-857-3806, or search for "Normandy River Cafe" at www.facebook.com.
Full Moon, Full Life — Sept. 29
A fundraiser for pancreatic cancer research will be held in Normandy on Saturday, Sept. 29, featuring the music of Jamey Johnson, his band and Waylon Jennings' band. Tickets for this outdoor concert will go on sale at The River Cafe July 4 weekend.
Kayak rentals
Just minutes from the Duck River, the folks at Normandy Kayak Rental will outfit you for an all-day adventure in kayaks, canoes and their newly-added paddle boards. For information, visit www.normandykayakrental.com.
Petticoat Junction
This remodeled farmhouse serves as a B&B-type getaway for scrapbooking, craft gatherings and women's retreats in groups of 15 or fewer. Visit www.pjretreat.com.
Nikki Mitchell

Never a dull moment

We lamented the lack of space we had for this story while writing about Nikki Mitchell, whose accomplishments could clearly fill up every page of The Tennessee Magazine. Nikki is a pilot who, in 1998, along with  co-pilot Rhonda Miles, flew around the world in a single-engine aircraft. The record-breaking flight is chronicled online at www.bridgeofwings.com.

Nikki has organized countless benefits, fundraisers and retreats for causes of all kinds over the years. As a recent cancer survivor herself, Nikki and a community of supporters organize "Casting for Recovery" retreats for women who have survived and are fighting cancer. Through the retreats, Nikki combines another love, fly-fishing, and employs the help of the Music City Fly Girls, a local fly-fishing group, to find solace and healing in nature through a weekend of outdoor activities and workshops.