The Gary Sinise Foundation builds smart homes for wounded veterans and their families through its RISE program
Two dates irrevocably changed Gary Linfoot's life. The first came on May 31, 2008—a hot, blustery night in Bagdad, Iraq.
Linfoot, a U.S. Army chief warrant officer 5, was on a routine mission. He was hovering his helicopter in a holding area as he waited to provide air support to ground forces. Linfoot had flown the mission hundreds of times during his 23-year military career that included 20 rotations in Iraq. After each 30- to 90-day mission in Iraq, Linfoot would return to the states and his family: wife Mari, daughters Allyssa and Kylie and son Haydon.
"It became a way of life," Linfoot recalls of the home/away rotations. The California native initially enlisted in the Army Reserve after graduating from high school. His goal was to become a helicopter pilot, which he achieved in 1990 after completing flight school and graduating as a warrant officer. Seven years later in 1997, Linfoot joined the Army's elite 160th Special Operations Aviation Regiment (Airborne) (SOAR(A)). By 2008, he had already served in Germany and Afghanistan and at Fort Bragg in North Carolina and Fort Campbell in Kentucky.
On this May night, however, his helicopter lost the main drive shaft, sending it into catastrophic mechanical failure. Linfoot quickly put the copter into auto rotation, giving him one chance to land safely. He successfully landed the helicopter, but environmental conditions, particularly the intense wind, brought the helicopter down—hard—on the tarmac.
Linfoot broke his back on impact. His spinal cord was severed at L1. Fragments of bone also penetrated his spinal cord. At Walter Reed Hospital, Linfoot learned that he was paralyzed from his bellybutton down. His co-pilot also broke his back but, fortunately, did not damage his spinal cord.
"It was obviously life-changing," Linfoot says. "It's a permanent injury and has required quite a bit of adjustment. It affects me and my family. I try to look on the positive side. At least I came home. Many are not as fortunate."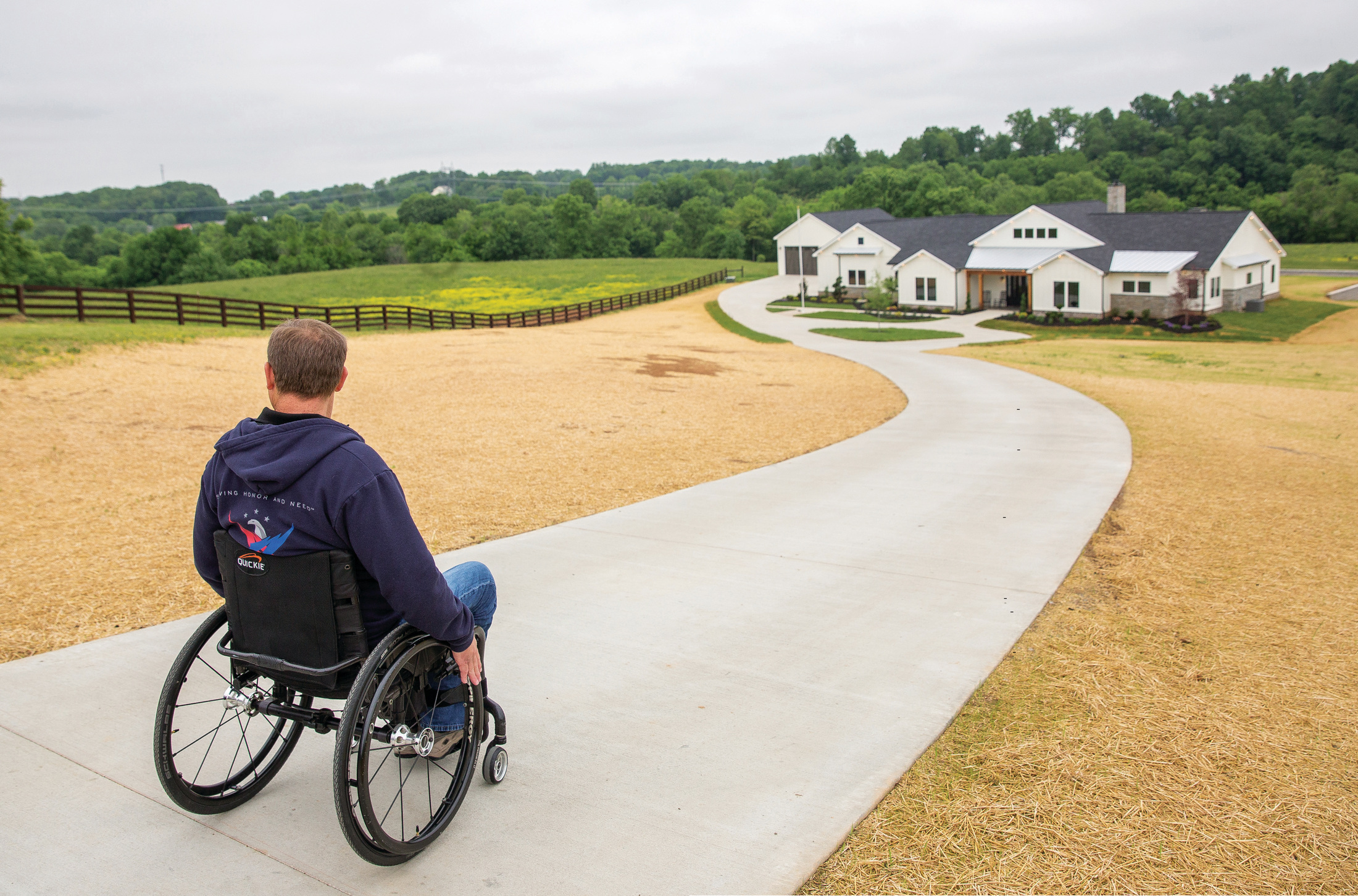 Better times ahead
The second day of change—a hugely positive difference this time—came several years later as members of the Gary Sinise Foundation touched an Apple iPad to open the door of Linfoot's new 3,300-square-foot smart home.
While confined to a wheelchair in his former home, Linfoot struggled with the simplest tasks. He constantly banged into walls with his wheelchair; there simply wasn't enough room to maneuver.
Linfoot couldn't raise or lower blinds without crawling over furniture—once an easy jump but now all but impossible since his legs were paralyzed. Just getting a glass from a kitchen cabinet was now a time-consuming challenge. That doesn't even speak to the most difficult task of completing his daily personal hygiene in a bathroom that would never be easily accessible from a wheelchair.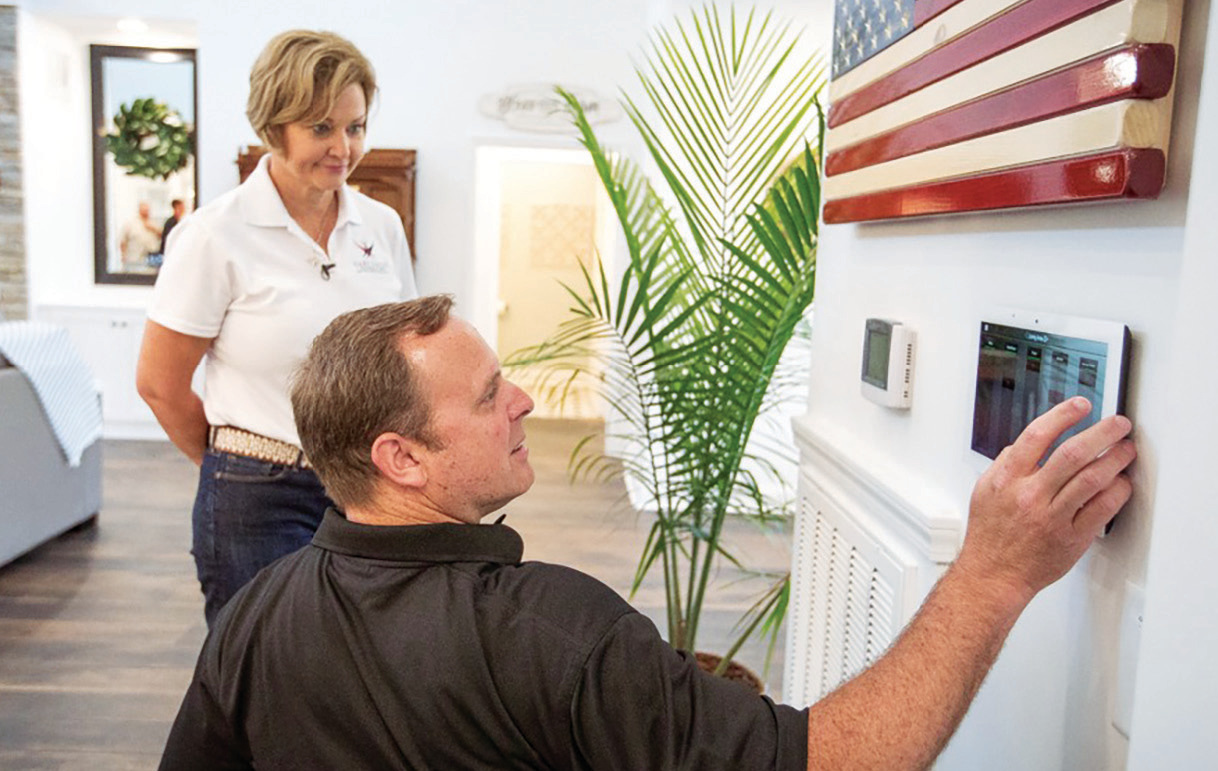 A new life
The new house has literally changed his life.
"We were able to design the house around my needs," Linfoot says, "but it doesn't look like a house that is handicap-accessible. Ours looks like something designed by Chip and Joanna Gaines on HGTV."
A soaring ceiling immediately greets you in the entry. Dark hardwood floors and generous space make it easy to move in a wheelchair. Stunning white kitchen cabinets hide accessibility secrets.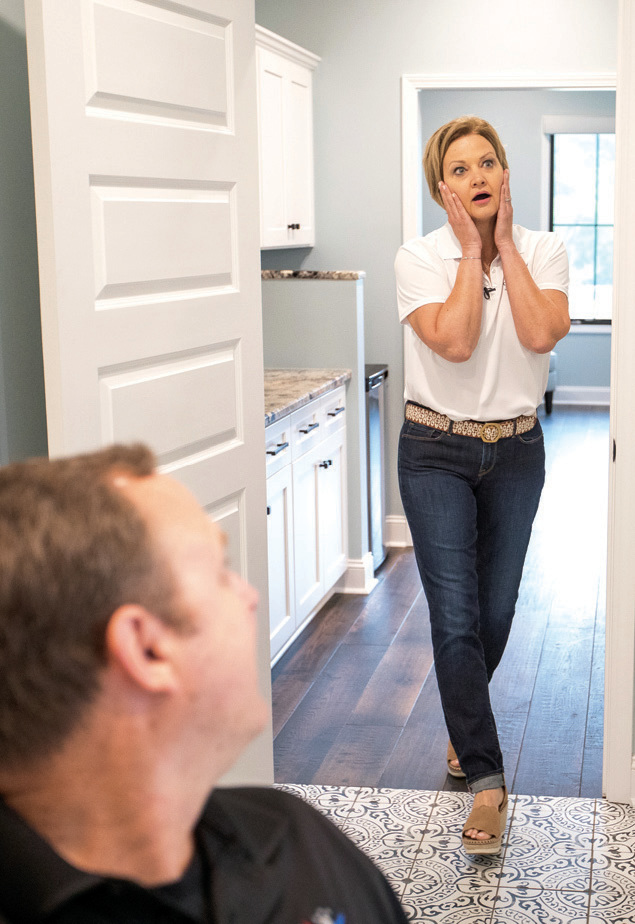 "The microwave is down low so I can microwave again," Linfoot says. "I can pull the handle on one of the kitchen cabinets, and the drawer goes down. This allows me to get glasses down.
"The bathroom is also wonderful. In our old house, we converted a walk-in closet into a shower. It was always hard for me to maneuver. Now we have a beautiful bathroom that is fully accessible."
Technology plays a starring role
Linfoot can open the front door with a touch-controlled iPad. He can also turn lights on or off with the same device. The blinds are now adjusted via a remote control. The bathroom is fully accessible. Linfoot can even bathe his beloved yellow lab using a built-in dog bath at just the right height.
"All of the technology is very convenient and makes life easier by making life simpler," he says.
Lance Wascom, managing partner of ELAN dealer AVLX, designed and installed the home's technology infrastructure.
"After speaking with Gary, we agreed that remote access and simplicity of operation were the most important features," Wascom says. "Using the ELAN Control System along with connected technologies from Nortek Security and Control, we were able to design and install an intelligent home system that's super easy to use while offering major benefits and almost limitless expandability for future needs."
A home controller integrates the myriad technologies.
"When Chief Warrant Officer 5 Linfoot approaches the Intelligent Touch Panel, it recognizes his face, presents a personalized menu of control options, sets his preferred lighting and tunes to his favorite Pandora music station," Wascom says. "The mobile app offers full control from anywhere. The Linfoots can easily see when someone is at their front door, even if they are halfway around the world."
They can also control the shades in three rooms.
"With these systems integrated, Gary doesn't have to move back and forth between rooms to adjust the lights and can even turn them off from his wheelchair or couch when he wants to watch a movie," Wascom says.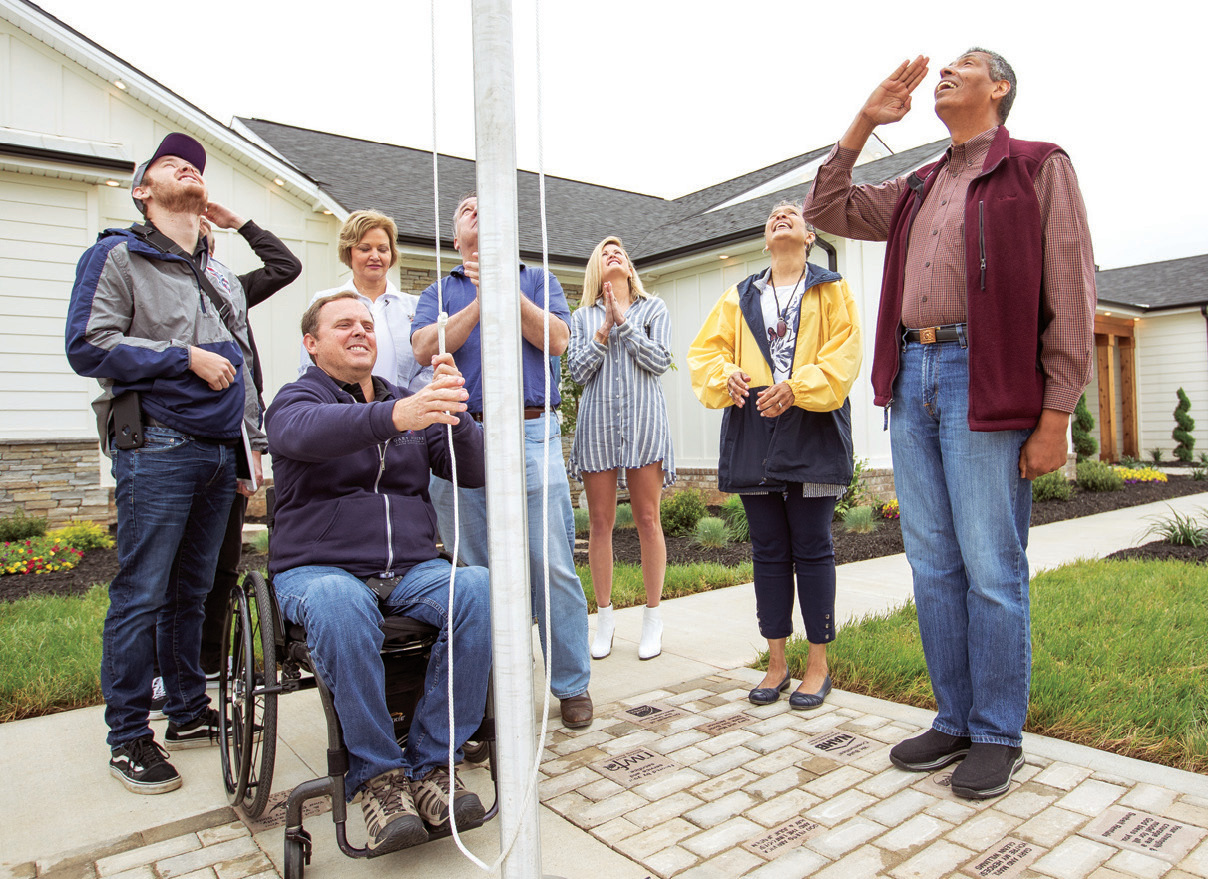 While watching the main TV in the living room, the Linfoots have a Sunfire surround system that features five distinct audio zones, each of which can be individually controlled for volume and content. Four TVs receive content that include two DirecTV receivers and an Apple TV.
"Gary needs his home's technologies to perform day in and day out, so AVLX used a Furman F-1500 power conditioner and UPS to protect from power surges and ensure optimal voltage delivery to each piece of rack equipment," Wascom explains. AVLX also integrated the home's HVAC system using two ELAN thermostats and four temperature sensors that provide instant access and climate scheduling options.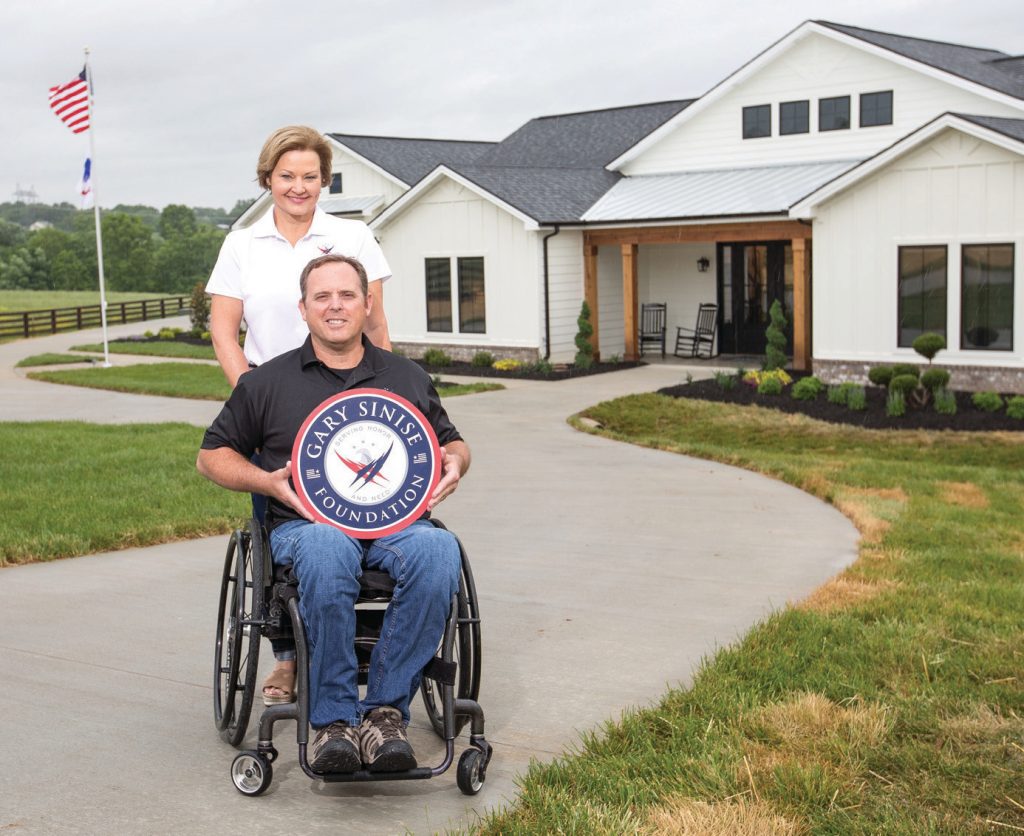 R.I.S.E.
"We love it here," says Linfoot, a Cumberland Electric Membership Corporation member, of the family's home in Adams that has scenic views of Red River.
The technology-driven home was actually a gift.
"My wife and I found this property," Linfoot says. "We planned on building a house here someday. In the meanwhile, Gary Sinise and I were both at the Ronald Reagan Library about two years ago. He came up to me and said, 'You're going to let us come and build a house for you.' It was hard to accept a huge gift like that, but that is the way some Americans have chosen to give back to vets."
Linfoot discovered that Sinise has a foundation designed to help veterans, particularly those returning from the Middle East. He started learning more about the R.I.S.E. program (Restoring Independence, Supporting Empowerment) operated under the Gary Sinise Foundation.
The R.I.S.E program builds specially adapted smart homes for the most severely wounded heroes. It also provides home modifications, mobility devices and adapted vehicles to injured, wounded, ill and aging heroes.
"These are not cookie-cutter homes," Linfoot notes. "Each is custom designed for the family and needs of the veteran."
As Linfoot knows personally and the R.I.S.E. Foundation recognizes, these homes alleviate stress on the entire family.
"Everybody is going to have their challenges in life," Linfoot says. "We are all going to have trials and tribulations, and it will not always be easy.
"This is my trial, and it is up to me to be positive. There are things you can't control, but you can control how you are going to react. You can choose to be bitter or do the best you can. After the injury, I had bouts with depression that got pretty bad. I didn't want to die, but I knew life the way it used to be was over now. I had to get past that. I decided to live my life and make it worthy of the friends who didn't come home."
---
Getting Involved
Here are some other organizations that help our vets:
Gary Sinise Foundation
818-716-3646, garysinisefoundation.org
Fisher House Foundation
Free housing for families of patients receiving medical care at VA medical centers. 888-294-8560, fisherhouse.org
Vietnam Veterans of America
Advocates for Vietnam vets through legislation and community support. 800-882-1316, vva.org
Wounded Warrior Project
Offers physical and mental healthcare for wounded veterans of military actions following Sept. 11, 2001. 877-832-6997, woundedwarriorproject.org
Disabled American Veterans
Offers physical and psychological rehabilitation programs for disabled veterans. dav.org
Honor Flight Network
Transports military veterans to Washington, D.C., to visit the memorials dedicated to their service and that of their friends. [email protected], honorflight.org
Tragedy Assistance Program for Survivors (TAPS)
Care for those grieving the loss of a loved one who died while serving in the armed forces. 800-959-TAPS, taps.org
Iraq and Afghanistan Veterans of America (IAVA)
Health, education and employment support for the 2.4 million vets of Iraq and Afghanistan. 212-982-9699, iava.org
Children of Fallen Patriots Foundation
Scholarship program for children who have lost a parent in the line of duty. 866-917-2373, fallenpatriots.org
Lift Up Veterans
Provides financial assistance to active military, retired veterans and their families with housing, transportation, clothing, school supplies and more. 517-815-1090, liftupveterans.org