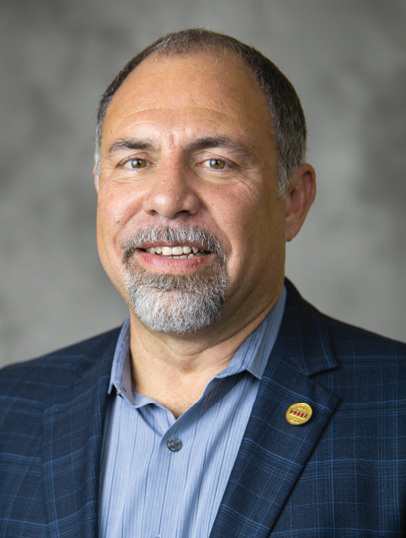 Earlier this year, I was in Washington, D.C., to meet with our congressional representatives about the issues that impact you as electric cooperative members. I know that when some hear the term "lobbyist," it brings to mind people who work for large companies, manufacturers and other huge businesses who try to change laws and regulations to their benefit.
That's not what we do when we talk to our elected leaders. We go to build relationships. We talk about you — our co-op members — and your needs. We want lawmakers to know and trust us, and we want them to think about you as they make decisions that will affect you.
Visiting with D.C. lawmakers is a valuable opportunity to educate them about electric cooperatives and our rural communities. This year, one of the specific issues we stressed is that infrastructure planning cannot just be for larger cities. We pressed Congress and the Trump administration to explore options for a broad infrastructure package, urging them to look beyond urban cities and traditional improvements such as roads and bridges.
Co-ops support bipartisan efforts to develop a robust infrastructure package that improves the economic outlook in America's rural communities. We know that electric cooperatives are transformational forces in their local communities, enabling rural economic development and improving the quality of life for 1 in 8 Americans.
As owners of critical infrastructure, co-ops play an important role in our nation's economy — supporting 612,000 American jobs and generating $88 billion annually toward U.S. Gross Domestic Product.
Electric co-ops provide for the energy needs of our local communities by investing heavily in energy innovation, including advanced metering, community solar projects, battery storage, energy efficiency projects and electric vehicle infrastructure.
Another major concern we have is addressing the needs of broadband in our communities. According to the Federal Communications Commission, an estimated 6.3 million households in electric co-op service areas lack high-speed internet access. Research shows that a lack of broadband to unserved rural co-op households leads to $68 billion in lost economic value over 20 years.
We lose jobs, and we lose our youth. If that trend continues, we'll lose our communities. Access to broadband infrastructure is essential for a modern economy. Electric co-ops are essential partners in many communities in the effort to close the digital divide.
We urged Congress to support programs that enable broadband access for all Americans. We want lawmakers to target federal resources at unserved and under-served communities through existing grant and loan programs that:
Leverage federal funds to support networks that will meet the growing speed and data needs.
Improve the accuracy of federal broadband data maps to better identify broadband coverage gaps
Target federal resources to close the digital divide.
Electric co-ops have already invested millions of dollars to meet our members' expectations. Co-ops are industry leaders in adopting grid modernization, security and resilience technologies. Working with the Tennessee Valley Authority, co-ops rely on a diverse energy mix to meet the energy needs of their local communities.
Our meetings with elected leaders aren't as visible as putting up poles and wires, but they are extremely important.
For more information on staying informed and involved in legislative issues that impact your cooperative, go to takeaction.tnelectric.org.