I've never written as much as I have during the past 18 months.
Tennessee has adopted new social studies standards that go into effect during the upcoming school year. My nonprofit organization, Tennessee History for Kids, produces booklets that help teachers and students cover these standards.
Since the standards changed, the booklets had to change with them. So we phased out the old titles and replaced them with new ones that target grades from 1 through 11 — writing, designing and printing about 1,100 pages of new material in the process. The booklets are:
"Critters and Maps," written for first graders.
A second grade booklet called "Your Land, My Land."
Two third grade titles — one called "Around the World" and another called "Across the Ocean."
Two fourth grade booklets called "Upon a Pivot" and "Torn Union."
Three booklets for fifth grade — "American Machine," "Long March to Tennessee" and "Work for Freedom."
An eighth grade title called "Free and Independent State."
A booklet called "Don't Keep Them in Doubt" for 11th grade U.S. history classes.
For many teachers, the shift in standards will be relatively stress-free because, in most cases, the changes represent a "scaling back" of material. However, grades 3 through 5 underwent major changes because of a shift in how Tennessee history is taught.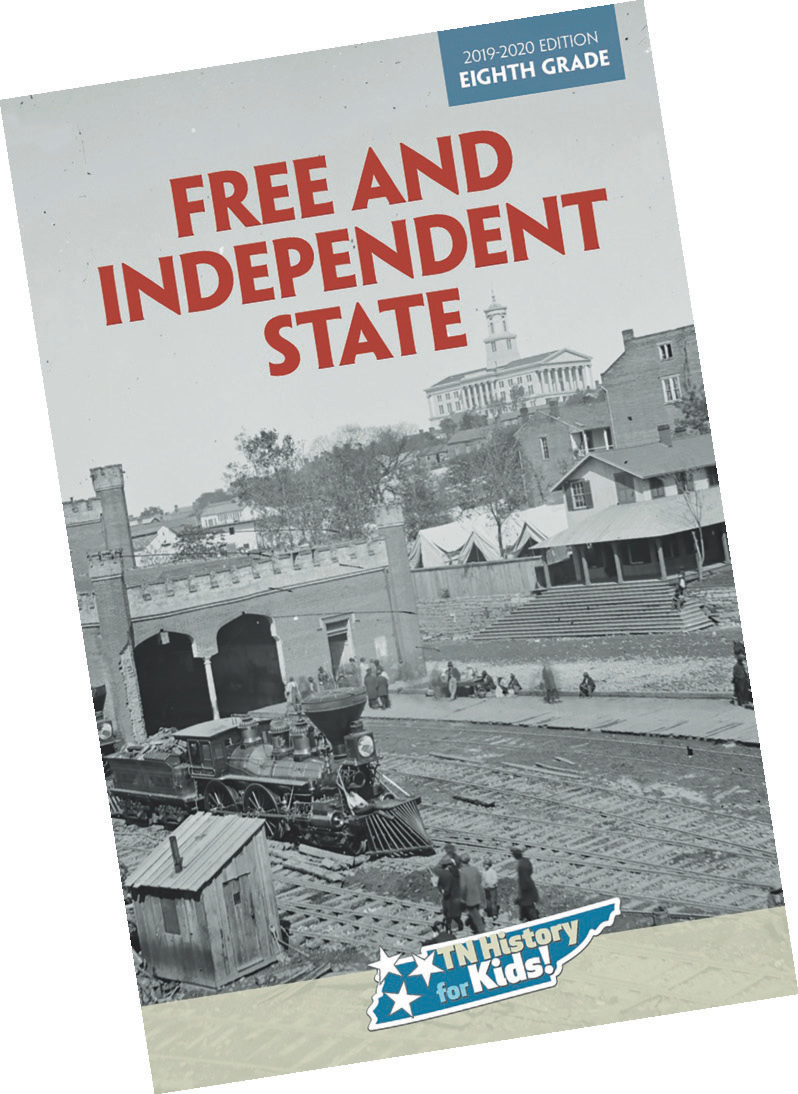 You see, back in 2002, Tennessee stopped teaching a stand-alone semester of Tennessee history and began covering state history "embedded" into U.S. history classes in grades 4 and 5. Now the state is returning to covering Tennessee history as its own course in the spring of fifth grade while leaving Tennessee history as an "embedded" addition to U.S. history courses in grades 8 and 11.
Now for a few tidbits about the booklets:
The material in the first and second grade booklets is basic, as one would expect. There are chapters on concepts such as laws and rules, the definition of culture, and products and services. Since the standards call for some basic Tennessee geography in grades 1 and 2, there are also sections on the three Grand Divisions, Tennessee's cities and state symbols.
People are surprised to learn that our bestselling booklet is about world geography. We have revised this third grade title, called "Around the World," and added to it 32 pages of U.S. geography. Now the booklet not only covers landforms, latitude and longitude, and world geography but also the 50 states.
There have been many additions to the third grade standards ranging from Colonial history to basic economics. These additions required publication of a second third grade booklet called "Across the Ocean."
The separation of U.S. history from Tennessee history means we now have three U.S. history booklets — "Upon a Pivot," "Torn Union" and "American Machine." The production of U.S. history booklets represents a major shift for Tennessee History for Kids; it will be interesting to see how it goes.
I had trouble coming up with a title for the first of the fourth grade U.S. history booklets, which covers American history from about 1700 until about 1820. It seemed like every title I came up with had already been taken ("A Shot Heard 'Round the World," for instance). I then read a letter that George Washington wrote to the governor of Virginia in which he expressed his concern that Americans moving across the Appalachian Mountains stood "upon a pivot" and might turn to other European powers such as Spain and France. Since future residents of Tennessee were in this category, I thought "Upon a Pivot" would be a great title.
Tennessee History for Kids is indebted to artist David Wright for allowing us to use an image of his marvelous painting "Gateway to the West" on the cover of our fifth grade Tennessee history booklet, "Long March to Tennessee." The second Tennessee history booklet ("Work for Freedom") features on its cover Bobby Cain walking to Clinton High School on the first day of school in 1956 — the event that signaled the end of school segregation in the South.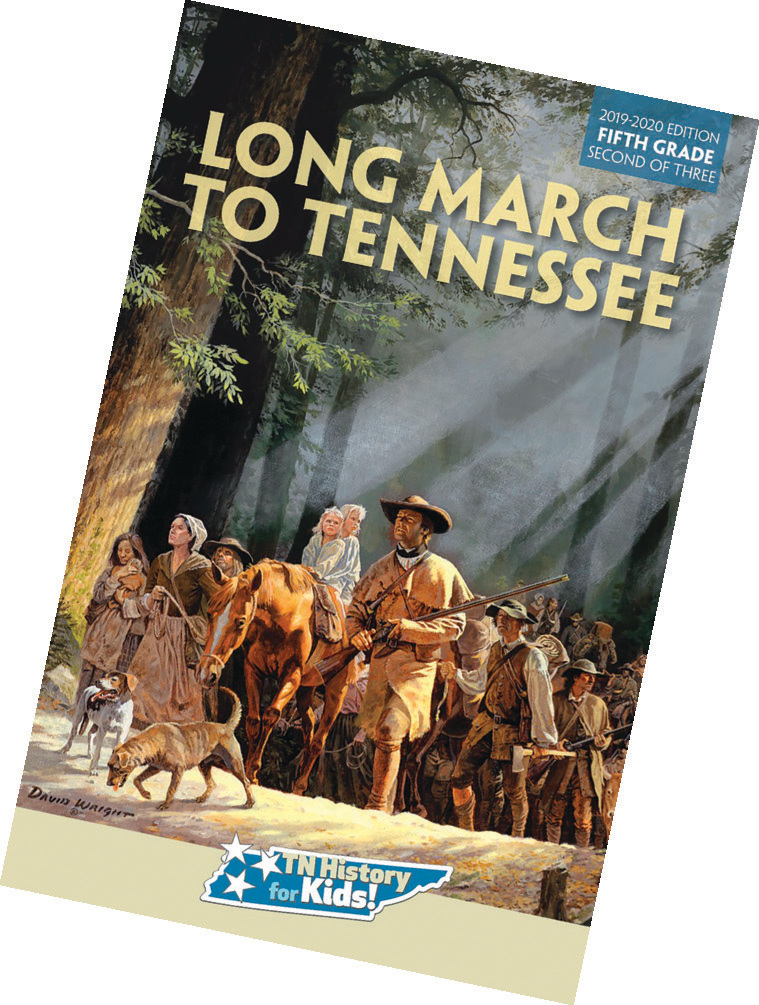 As we produced the booklets, Tennessee History for Kids brought on board three teachers in each grade to help us edit the chapters, make the material grade-appropriate and write questions at the end of each chapter. Based on their feedback and what we have heard from teachers already using the booklets, our best may be the title for eighth graders. "Free and Independent State" features chapters on topics such as Tennessee's statehood era, slavery in Tennessee, the coming of the railroads, the Battle of Shiloh and the life of Nathan Bedford Forrest.
The cover of "Don't Keep Them in Doubt" features a photo taken during the Scopes Trial that may have never been published before. You see, the Chicago Tribune sent a photographer to Dayton in July 1925 who took and developed hundreds of photos. A small number of those were published at the time, but most weren't. A few months ago, the Tribune posted some of these never-before-seen photos on its website. I stumbled across them one day while I was researching the trial and purchased the rights to use three of them in the booklet. The cover shot features Dayton High School student Howard Morgan testifying in the trial while sitting behind a large WGN radio microphone.
New social studies standards go into effect in Tennessee classrooms this coming school year. Order your new grade-specific booklets produced by Tennessee History for Kids at www.tnhistoryforkids.org.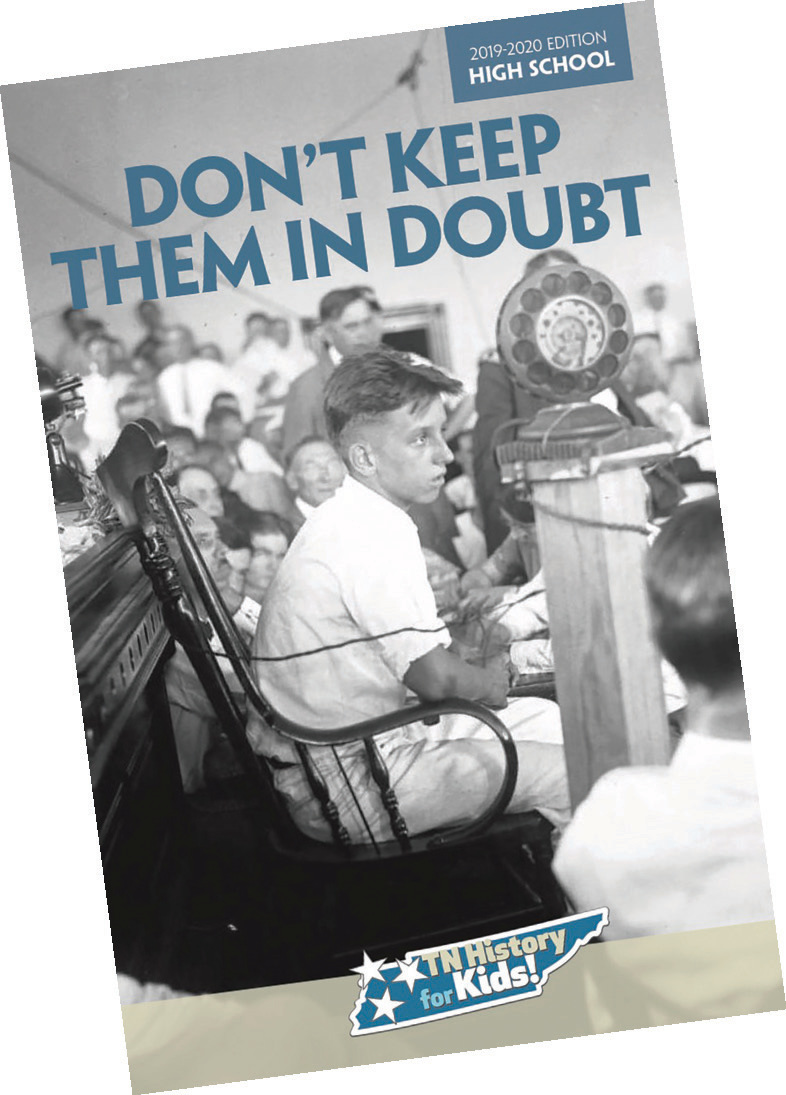 I'm proud of our new booklets and grateful to the sponsors who have made it possible for us to offer them for only $2 each (which means it costs more to photocopy them than it does to buy a new one!). Among those sponsors is the Tennessee Electric Cooperative Association (publisher of The Tennessee Magazine), BlueCross BlueShield of Tennessee, Nissan, Bridgestone, Education Networks of America, AT&T, HCA and the HCA Foundation.
Tennessee History for Kids also receives a grant from the Tennessee Department of Education and the Tennessee General Assembly.
If you would like to order booklets, go to www.tnhistoryforkids.org and click on "Order."