I recently read that Tennessee Temple University of Chattanooga was closing after 69 years in operation. Tennessee Temple is merging with a university in North Carolina, and many of its students and faculty will be moving there. However, the fact of the matter is that there will no longer be a Tennessee Temple University.
Knoxville College, a historically black institution started after the Civil War, is suspending classes this fall. No one knows what will happen to the school's lovely campus atop a hill in Knoxville.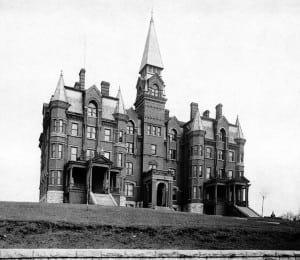 Lambuth University in Jackson closed four years ago. It had survived a Civil War, two world wars and several economic downturns, but it closed in 2011. Its former property now serves as a remote campus of the University of Memphis.
The closures of Tennessee Temple, Knoxville College and Lambuth remind us that colleges and universities don't last forever. There are former college campuses all over Tennessee that have left little more than a historic marker or old building.
What I didn't realize is how many of these defunct colleges and universities there are.
Fortunately, Professor Ray Brown of Westminster College in Missouri has begun to pin down the number. He has published a long list of these on the Internet at         collegehistorygarden.blogspot.com/search/label/Tennessee.
Some of the institutions on Dr. Brown's list are places that have changed their names but still remain open. Southwestern Presbyterian University is now known as Rhodes University, for instance. Mossy Creek Baptist College is now Carson-Newman University. Grant Memorial University (named for the Civil War general) is now Tennessee Wesleyan.
However, a look at his list and a search through old Tennessee history books remind us that some of these institutions simply faded. For instance: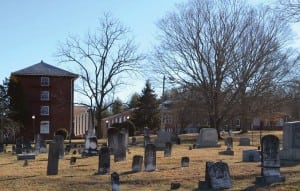 Washington College
This Washington County institution was founded by Samuel Doak, the Presbyterian clergyman who delivered the sermon to troops mustered at the Sycamore Shoals of the Watauga River before they marched to the Battle of Kings Mountain in 1780. Many important people in early Tennessee history attended Washington College. Some of them are buried there! However, the institution decreased in stature after the Civil War, and now only part of the campus is used for adult education classes.
Burritt College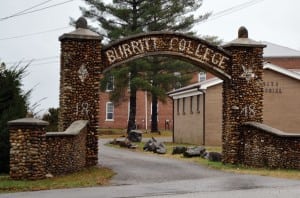 Founded in Spencer in 1848 by the Church of Christ, Burritt College became one of the South's first coeducational colleges. But after the emergence of public colleges, it was hard to get students to go there. Burritt College became a high school in 1917 and closed entirely in 1939. However, its main building is still standing and is used by (among others) Van Buren County and the University of Tennessee Extension office. There is even a museum devoted to the history of Burritt College and run by a lady named Bonnie Adcock. "It is open on Friday and Saturday, and we have a lot of information about Burritt College and the town of Spencer," says Adcock.
Irving College
Irving College operated in McMinnville from 1825 until the beginning of the Civil War. The campus later became a military school and then a public school, which it remains today. None of the old buildings remain, I'm afraid, but this accounts for why there is a public school in Warren County called Irving College Elementary School.
University of Nashville
Started under the name of Cumberland College, the University of Nashville used to be on a hill just south of downtown Nashville. The list of people who graduated from the University of Nashville includes Civil War Gen. Gideon Pillow, Central American adventurer William Walker, 1860 presidential candidate John Bell and "boy hero of the Confederacy," Sam Davis. However, the University of Nashville struggled after the appearance of Vanderbilt University in the 1870s. Today, no fewer than four educational institutions (one of which is Montgomery Bell Academy) trace their origins to the University of Nashville. But the institution itself is long gone. Few people in Nashville know that the stone wall that runs around what is now a series of local government buildings once encircled the University of Nashville.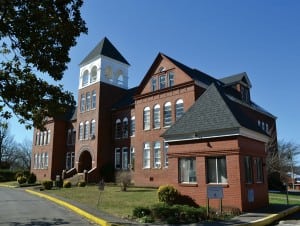 Fairmount College
Another long-gone institution is Fairmount College, an all-female college in Monteagle that had among its alumna a young lady from China named Soong May-ling, who later became Madame Chiang Kai-Shek. Who would have thought?
If you start to research this topic of past Tennessee colleges (be warned: it is addictive), you can't help but note how many of them had been for women: Siena College (Memphis), Centenary Female College (Cleveland), Howard Female College (Gallatin), Chattanooga College for Young Ladies, Boscobel College (Nashville) and Mary Sharp College (Winchester). According to "The Tennessee Encyclopedia of History and Culture," Mary Sharp College started in 1851 and was "the first women's college in the United States to offer degrees equivalent to those offered at men's colleges."
Ward-Belmont College in Nashville is probably the best known all-female college in Tennessee history. It had an enrollment of about 1,200 young women in the 1920s and, for several decades, was considered one of the finest so-called "finishing schools" in the South. Among the alumni of Ward-Belmont College were newspaper columnist Iris Kelso, actress Mary Martin and Sarah Cannon, whose stage name was Minnie Pearl.
But this impressive alumni list didn't keep the Ward-Belmont campus from being taken over by the Tennessee Baptist Convention in 1951. Ward-Belmont thus became a Baptist institution called Belmont College (later Belmont University). Belmont University still exists, of course, but broke off from the Tennessee Baptist Convention in 2007.