Chapel Hill Lions Club uses monster trucks to raise monster bucks for community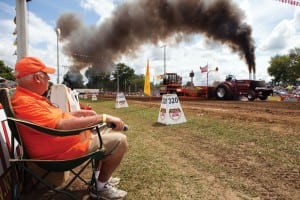 Watching trackside as Jeff Shafer pulls 299.110 feet with his modified two-wheel-drive truck "Win, Lose, or Draw," you see the dirt fly, feel the ground shake and fight to cover your ears enough to muffle the sound of the powerful engine. The act of pulling a heavily weighted sled down a dirt track using a highly modified truck or tractor is what it's all about come the third weekend in July in Chapel Hill.
Thousands of spectators will fill the stands lining the dirt track later this month as the 39th Annual Lions Super Pull of the South gets underway. It's one of the most anticipated summer events in Marshall County.
Competing in five different classes during the two-day event, drivers push their machines to the limit to create as much torque as possible for each pull. Every inch can make the difference in winning or not. During the third session of the 2014 Super Pull, Shafer placed third — only 1.335 feet separating him from the first-place winner, Jeff Bartley.
"The event is all about this community," says John Moses, longtime Chapel Hill Lions Club member and Duck River Electric Membership Corporation board member. "Everyone volunteers to make this happen so 100 percent of the money can go back into the event and the community."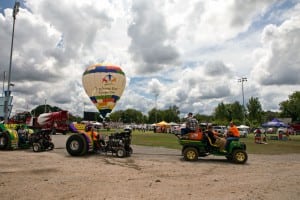 The Chapel Hill Lions Club built and maintains the  track, which is located adjacent to the community high school. "We've added 750 stadium seats to the facility since last year and returned about $100,000 back to the community," Moses proudly states.
While the Super Pull is now a nationally recognized event, it all began as a friendly local competition. "On Saturday nights, farmers brought whatever trucks or tractors they had," says Moses. Weights were loaded by hand onto sleds, and away pullers went. The rules were simple then: Bragging rights were earned by pulling the most weight the farthest distance.
The prize money for the first official pull in 1976 was little more than a $2,000. In comparison, that wouldn't by a set of tires for the machines vying for the Super Pull titles today.
The event is a well-known, sanctioned stop on the National Tractor Pullers Association (NTPA) circuit, which hosts some 80 events across the country each year. Named a top ten pull numerous times, the Chapel Hill purse has grown to more than $100,000 with national sponsors and competitors from across the country arriving in custom-built 18-wheel rigs. The pulling machines today resemble those original trucks and tractors about as well as a 1976 Cutlass Supreme compares to a Formula One race car.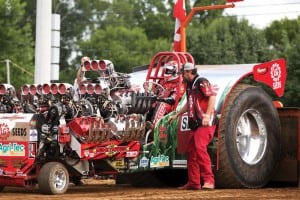 This event has exploded in popularity amongst the drivers and crowds and it's all because of the army of more than 400 volunteers who make it happen.
DREMC helps sponsor this event and will have several employees and some board members volunteering.
"Helping build and strengthen their communities is part of each electric cooperative's mission," says David Callis, executive vice president and general manager of the Tennessee Electric Cooperative Association. "Electric cooperatives and have a history of working together — whether it's bringing industry to rural communities, rebuilding after storms or volunteering in their hometown."
Believing the power of working together is stronger than any individual, electric cooperatives helped to form a national brand — Touchstone Energy Cooperatives (TSE). Two years ago, TSE came on board as a key sponsor of the Chapel Hill Super Pull along with DREMC. Volunteers from electric cooperatives across the state will assist DREMC employees to help make this another successfull year.
The Lions Clubs International is also known for working together on very worthy projects across nation and the world. One of its best-known projects is raising money to help sight-impaired children and adults find solutions. The outreach organization asks attendees to please consider donating old glasses or lenses at the Super Pull or to a Lions Club near you. Donations will be recycled, and clubs will find deserving individuals need them.
The Super Pull benefits everyone involved — spectators, competitors and the community alike.
"This is a big deal!" says Michael Watson, DREMC general manager. "The impact of this event is not just locally, it's felt around the state and region. What jumps out for me the most is how this event meshed with what electric co-ops stand for and the Touchstone Energy brand  — concern for community and helping each other."
---
39th Lions Super Pull of the South
July 24-25
Chapel Hill Lions Club Memorial Sportsplex
310 N. Horton Parkway, Chapel Hill
For ticket information, visit lionssuperpull.com.
The Chapel Hill Lions Club encourages spectators to bring any used glasses or lenses to be donated to help individuals across the state.