Murfreesboro barber shop spreads holiday cheer with festive window displays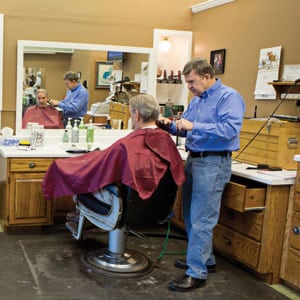 'TIS the time of year for traditions and festive holiday decorations. At the Palace Barber and Style Shop on the court square in Murfreesboro, the two meet to the delight of passersby. Each Christmas season, barbers Randall Hall and Bill Fann fill their two 16-foot-long display windows with a delightful miniature village complete with buildings, classic cars, miniature people, a bucolic landscape and operational trains, something they've been doing for close to two decades.
Though the three-chair Palace Barber Shop has been in existence since 1928, providing good haircuts and a place to swap the local news, it wasn't until after a move in 1993 that the window-village tradition was born. The new location, a former shoe store on the Murfreesboro town square, boasted large window displays on each side of the front door.
As Christmas approached after Hall and Fann settled into their new space, they were discussing what to do with that space. That's when they decided to decorate the windows for Christmas with a train. They envisioned perhaps a few lights along with a small train maybe going around a Christmas tree. But that initial idea has grown into much more.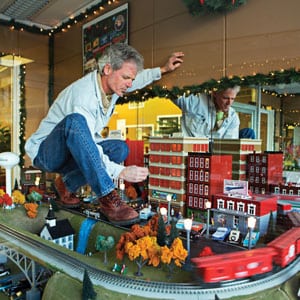 "We started out with help from a customer, Ed Delbridge, and one of his employees, Mark Travis," Hall says.
Today Hall and Fann do a rough layout in the basement, assembling a few scenes from the thousands of model buildings, cars, houses and people they have gathered over the years for their old-fashioned town. The effort is definitely worth it, judging by how popular the displays are with all ages.
"They go to a tremendous amount of work to spread holiday joy," says Chris Jones, a barber shop customer and general manager of Middle Tennessee Electric Membership Corporation. "It's special."
So if you're window shopping for some holiday spirit, a stroll around Murfreesboro's town square culminating with a viewing of the Palace's intricate display should definitely be on your itinerary.