DeKalb County man collects pieces of our spacey past
Ron Moses is not your typical retiree. If he has any leisure time at all, it's taken up gathering artifacts from his childhood. Moses is a collector of memorabilia, specifically pop culture items having to do with one specific theme: space.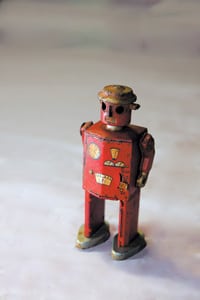 "I was fascinated with space travel and science fiction when I was a boy," says Moses, surrounded by thousands of toy robots, radar guns, spaceships and flying saucers dating from Buck Rogers to Star Wars. "Everyone else was into football or cowboys and Indians. I guess I've always been a little different that way."
The DeKalb County home he shares with his wife, Mary, a portrait artist worthy of her own article in The Tennessee Magazine, is a Sears and Roebuck kit home built in 1911 by his grandparents. Moses replaced virtually every floorboard and wall in the house after moving in 25 years ago. In a converted garage behind the old place, neighboring a peaceful pond and garden he built from nearby rocks, Moses houses his sci-fi museum. Mary's painting studio sits just behind that, under the shade of an elderly maple tree. They are members of Middle Tennessee Electric Membership Corporation.
Walking into Moses' makeshift museum is like stepping back in time. A vintage jukebox plays a Ricky Nelson song from 1956, and a pool table rests under an antique beer sign. Thousands of vintage vinyl records and 45s line the walls, along with movie posters, metal lunch boxes and action figures.
Moses points out the rack of Superman comics dating back to the '40s, the oldest of which is a No. 55 from 1946. "I only collect Superman," he says without a hint of apology. "It's the only comic I was ever interested in." Remembering that Superman hailed from another planet, it's not hard to see the superhero's connection to the theme.
Ron and Mary met and married 32 years ago and left Tennessee for Dallas, Texas, when General Dynamics hired Ron to design print circuit boards for F-16 fighter planes and other projects. They came back home after 25 years, when Ron became a vendor of arcade games and pinball machines. They've raised five children together and now have nine grandchildren, who naturally love spending time in Grandpa's world, playing with toy robots and honing their skills on the "Multicade," a one-of-a-kind arcade game that houses 76,000 old-school video games, a DVD player and a VHS tape player. Moses designed and built the Multicade himself.
Word of Moses' collection reached the producers of History's "American Pickers" last year, and he soon found himself playing pool with co-host Frank Fritz as a wager over some antique metal signs. Moses won and got the price he was asking.
"That show has viewers from all over," says Moses. "I've heard from people I hadn't talked to in years. It's been a good thing."
The hosts of the show ended up with two vintage robots after making Moses an offer he couldn't refuse. "But I think they sold each for ten times what they paid me," Moses added, laughing.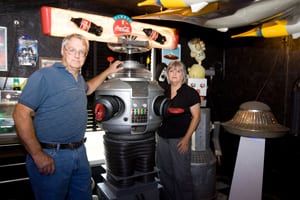 One robot the hosts didn't walk away with is the famous B-9 robot from the hit TV series "Lost in Space." Viewers of the show will remember the robot's famous alerts, "Danger, Will Robinson!" The show used several models of the B-9, one of which stands proudly at the entrance of Moses' gallery.
Perhaps the rarest and most unique robot in Moses' collection is an unassuming little red robot made in Japan in 1948. It is among the first toy robots distributed in the U.S., launching a robot craze that has spanned generations.
As a part-time jukebox restoration specialist, Moses will repair old jukeboxes by appointment but doesn't do much else in the work-a-day world anymore. Choosing not to use the Internet in any way to bolster his collection, the 63-year-old Moses prefers to scour auctions and private sales, and he attends all the miles-long yard sales that are so popular throughout the country.
"Every piece in here has a story to it," says Moses. "I can tell you where I found it and how I got it, and it wasn't sitting in front of a computer looking at pictures on eBay."
Next to a life-size mannequin of Arnold Schwarzenegger as The Terminator stands the oddest, most intriguing thing in this already-odd and intriguing museum. Moses calls it "Penny Man." It's a mannequin with more than 10,000 pennies glued to its chest, arms and head, as if a metallic fungus from another planet is slowly covering the man while he sleeps. Moses has applied every penny himself over the last two years, using two pairs of pliers to bend the pennies as needed to fit the contour of the mannequin. Penny Man's curly hair has even been molded into shape.
"This has been a fun project," says Moses, looking proudly at what he's accomplished. "It has no value, I'm sure, to anyone but me. But maybe one of my kids might like to have it after I'm gone. Who knows?"
Who knows, indeed? Ron Moses and people like him know that value is subjective. One man's junk is another man's treasure, as they say. But it's this attention to detail and the stories behind the "stuff" that turn plastic molded toys into pieces of Americana. And an old mannequin covered in pennies turns magically into a stunning conversation piece — and something visitors will never forget.