Murfreesboro's Uncle Dave Macon Days celebrates 35 years
Gospel singing is led in the white chapel. The fall of a hammer on an anvil rings from the blacksmith shop, where the forge roars and belches heat. Kids laugh as they take pony rides near the 1,500-gallon cedar bucket. And pickers pluck their instruments in front of the other historic structures of Cannonsburgh Village: by its iconic working gristmill, beside the old schoolhouse and on the shaded front porch of the telephone operator's home.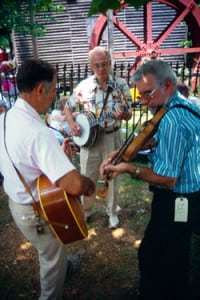 Add in the fiercely competitive singing and dancing competitions featuring highly talented performers, artists showcasing their traditional talents, concessions doling out tasty festival foods and even a "motorless" parade — nary a combustion engine is included or allowed — and you have the full slate of family-friendly, endlessly entertaining options at Murfreesboro's Uncle Dave Macon Days.
"I tell people that if you can't find something fun to do at Uncle Dave Macon Days, someone had better check your pulse!" says Patsy Weiler, the festival's media and public relations director, excitedly describing the varied aspects of the annual old-time music and dance festival. "There's history; there are re-enactors; there are arts and crafts; there's music; there are award-winners; there are shade-tree pickers and dancers. We think it is quite a weekend."
From its humble beginnings as an afternoon banjo-picking contest at the Rutherford County Courthouse square in 1978, Uncle Dave Macon Days has grown into a premier summertime event that draws 25,000 to 30,000 people and brings more than $2 million in revenue to Rutherford County, says Weiler, according to the Rutherford County Chamber of Commerce. This year, the event celebrates 35 years and runs Friday, July 13, through Sunday, July 15, at Cannonsburgh Village.
David "Uncle Dave" Macon, who lived near Murfreesboro, was a master banjo-player who made his musical mark after the turn of the 20th century, touring the South and then becoming one of the first superstars of the Grand Ole Opry. Known as the "Dixie Dewdrop," he continued entertaining until shortly before his death in 1952 and was elected to the Country Music Hall of Fame in 1966.
"Uncle Dave is credited with being the musical bridge that kept the music of the late 1800s alive into the 20th century," says Weiler. "He had always been known for entertaining people; he'd always set up on the square and entertain. In his 50s he was discovered by a Loews Theatres talent scout and played their different theaters throughout the Southeast. And then, in the mid-1920s, he became part of the Grand Ole Opry. He was one of its first superstars because people were already following him as he toured on the theater circuit."
The first Uncle Dave Macon Banjo Pickin' was organized by the late Jesse Messick, a Murfreesboro pharmacist, and Uncle Dave's grandson, David Ramsey Macon. From the start, it was to honor Uncle Dave Macon, memorialize the era in which he lived and draw folks back to the downtown square. Six contestants entered the inaugural musical contest, for which trophies were the only prizes awarded. In contrast, this year's contest winners will leave with a share of more than $10,000 in prizes offered in music and dance competitions.
"We are the home to three national championships: old-time buckdancing, old-time clogging and old-time banjo," says Weiler. "That's just not a term we throw around. That is genuine and official because it is recorded in the Congressional Record in Washington, D.C.
"There is really a lot of competition for those national titles."
Besides the coveted titles, Uncle Dave Macon Days honors musicians whose careers impact old-time music. At this year's celebration, bluegrass banjo legend J.D. Crowe will receive the Trailblazer Award, which recognizes an artist whose innovation and influence have broadened the reach of traditional music. And Grand Ole Opry member Mike Snider, a popular country comedian and entertainer, will be given the 2012 Heritage Award, which goes annually to "an individual who has spent a lifetime perpetuating and preserving old-time music."
"We feel it's really important that we recognize those individuals who have dedicated a lifetime career to promoting and perpetuating the traditional folk arts," says Weiler. "And these two have certainly done that. J.D. Crowe has announced that he is retiring at the end of this year. So people are going to have a chance to come in here Friday night at 7 p.m. and see one of the last performances of a bluegrass master. And on Saturday, Mike Snider will be riding in the 'motorless' parade at 10 a.m. and will take the stage at 7 that night."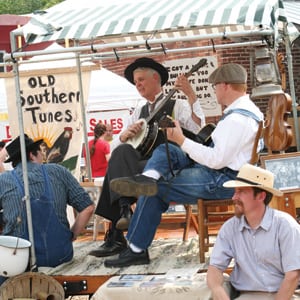 On Friday and Saturday, admission is $5 per day for adults; two-day tickets are $8. Children under 12 accompanied by an adult are free. Admission is free to everyone on Sunday, when there will be gospel and shape-note music on stage.
Parking is available for a nominal fee at lots near Cannonsburgh Village, including at Park Place, a former silk factory just down the road from the event grounds. Parking is free at Murfreesboro's city parking garage downtown, and free shuttles will run regularly between Cannonsburgh and these two off-site parking areas.
"I think the event is not only to honor Uncle Dave Macon but to honor his lifetime," says Weiler. "As this county grows, it's important that people have a touchstone, a place to connect with each other and to the traditional music and dance heritage of this area.
"The festival provides an environment where everybody can come and have a great time. We're here to preserve the traditional folk arts of music and dance in Middle Tennessee. But our real focus is on fun, friends and families … with a funnel cake thrown in for good measure."
Meet Uncle Dave
Uncle Dave Macon Days will be held Friday-Sunday, July 13-15, at Cannonsburgh Village, 312 S. Front St., in Murfreesboro.
For more information, including a schedule of events, visit www.uncledavemacondays.com or www.facebook.com/uncledavemacondays. Or call the Rutherford County Chamber of Commerce at 800-716-7560.