Fayette County artist miniaturizes memories
For nearly five decades, Eads artist Simon Jackson has seen the beauty and value in historic buildings around him and worked to save the memories of the weathering landmarks. With a creative eye for detail and skilled hands that do just about anything, he uses simple tools and profound patience to produce intricately appointed miniaturized versions of vintage structures.
"Over the years, I've grown to love old landmarks," Jackson says, "and I love doing this type of work. It's something I really, really enjoy."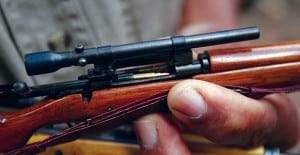 Jackson began early on his creative journey. As a young boy, he fashioned "little wooden airplanes" and other models. By the time he turned 6, he says, he wanted to "try something different."
"So I finally built a (miniature) house — my birthplace — for my mother for her birthday," Jackson says. "She kept it until she passed, and Daddy kept it after that. But it was destroyed. I'm sad about that."
That meaningful birthday gift for his mother set Jackson on a path that has had him continually honing his craft, scaling down historic buildings and endangered structures as they succumbed to deterioration and population expansion. Now 53, Jackson estimates he's created more than 500 miniature buildings in his career — "stores, barns, old homes, outhouses." He quickly adds, though, that he still has many more ideas "in mind for me to do."
The Fayette County artist says he's done "a little bit of everything" in his nearly five decades of miniature construction. He says he's "preserving history in time," making perfect miniaturized representations of special structures as he encounters them.
"Some of them are empty; some of them aren't," he explains. "The buildings that are beat up, run-down, abandoned, I may put some leaves in there. If it's an old, beat-up house somebody's still living in, I'm going to make it that way.
"It's more for me to make, but I try to make everything."
Indeed, attention to detail is what sets Jackson's artistry apart. Take, for example, discarded drink cans he fashions to enhance his scaled-down scenes:
"Sometimes I'll make them and crumple them up like they've been run over or somebody got mad and stomped them."
His realistic and uncanny re-creations have earned Jackson wide-ranging acclaim. The Memphis Pink Palace Museum as well as the Tennessee State Museum and Tennessee Arts Commission in Nashville own his works. Graceland, Elvis Presley's Memphis home, is another client. In fact, his model of Presley's Tupelo, Miss., birthplace was so popular with visitors that it had to be moved to a larger area to accommodate the crowds that stopped to examine its details.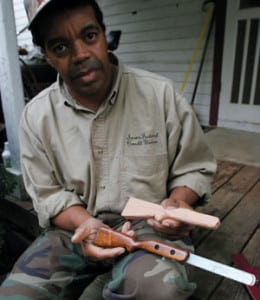 He's shown his work at events as far away as California and the Smithsonian Institution in Washington, D.C., and individuals across the country have commissioned him to "preserve" their own histories in miniature replicas of birthplaces, grandparents' homes and other meaningful sites.
Jackson says he's re-created buildings of all degrees of deterioration: those still standing, those that exist only in photographs and those that are mere memories.
"All you have to do is just tell me about it, and I'll sketch it out," he says.
The Eads artist says it takes him from four or five months to a little over a year to adequately re-create a building to his stringent specifications. Detail work like using a fingernail file to tediously lay miniature bricks around a store's column is a time-consuming corner Jackson says he wouldn't consider cutting.
"It takes time to do this — a lot of time," he says, adding that often it's "real hard" to see a piece leave after he's completed it. "It's like letting a child go. Some of them I wish I'd kept. But that's life. I have to keep going forward, not look back."
Over the last few years, Jackson has added scaled-down hunting and military rifles to his line of miniature offerings. Bolts on the weapons swing open to reveal rounds in their chambers, and scopes sport crosshairs. He's even made boxes of ammunition.
For deer hunters, Jackson has also started producing tools — bone saws and gut blades — that sport miniature rifle stocks for handles.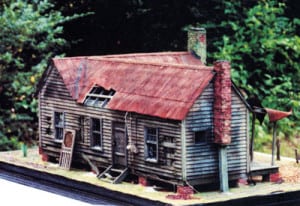 "Anything I choose to do, I do the best I can," he says. "Whether it's the guns or the houses, I give it my all. I let my work speak for itself. All you have to do is look at it. The more you look, the more you see."
Jackson says he's looking forward to turning his attention from the miniature firearms back to his buildings. He has no "inventory;" all of his works have been purchased and are being enjoyed by their owners. And, as he said, he has plenty of ideas of what to work on next.
"My plans are to do an old mechanic's shop, a three-story brick house, an old dogtrot house … if I live long enough," he says with a smile and a chuckle. "I love these old buildings. Even if the original buildings are gone, my replicas will still be there to serve as representations of them."
Jackson Lifelike Art

To contact Simon Jackson, Fayette County artist specializing in miniature re-creations of buildings, barns and houses, call 901-465-6816.