Hello,

I inherited these plates from my grandmother. They are made by Old Chelsea England. I have found the same pattern in blue and white but have had no luck in my research of the red and white. I would love to know when these plates were made. They are not in very good condition. I decided to put them into daily use because I love the pattern, and they are showing the wear. I have six dinner plates, two salad plates and six saucers. Any information you can give is greatly appreciated.
Dawn, McMinnville
Dawn,
Furnivals Pottery Company's Old Chelsea pattern in pink was made from 1905 to 1913 in England. Although the blue Old Chelsea is more plentiful, both colors sell for $6 to $45 per piece. Serving pieces sell higher than place setting pieces. Although use may endanger the dinnerware, I fully approve of using the pieces every day. Why not? What good is saving this when it can bring sweet memories and smiles now?
Dear Connie Sue,
My husband has a moon bank from his childhood. He got it from his grandfather. I would like to know its value, please.
No name, online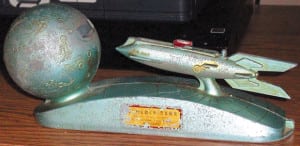 No name,
Your husband's mechanical moon bank with spaceship was made by Duro Pattern and Mold Company of Highland Park, Mich., in 1953. It was made for banks to distribute as client premiums. Duro included the sticker to identify the banks during production.
In working condition, the red tab on top can be cocked toward the back of the spaceship. A coin placed in front of the tab is then propelled into a slot in the moon. If the bank is in pristine condition without pock marks, cocks and releases smoothly and has its nonlocking tab on the base that releases banked coins, the value can reach $75. The bank pictured might sell for around $30.
Dear Connie Sue,
Do you have information on this butter dish (at bottom)? It belonged to my grandmother who passed away in 1966. She used it every day when I was a little girl. The bottom of the plate has a logo of Red Horse Inn and the number 8409.
Sue, Watertown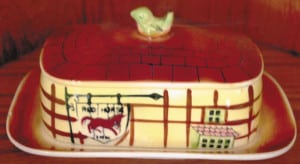 Dear Sue,
In addition to the imprinted marks you describe, the butter-keeper had a foil label that read "Made in Japan." It was marketed along with a vinegar bottle and sugar and creamer set in the 1950s and '60s. Each piece sells for $12 to $25 each.
Dear Connie Sue,
I bought this floor lamp a few months ago. At the base there is a wooden bucket with brass bands and a lid for storage. It has three legs and a woven material shade. If you can, let me know about its approximate age and value.
Thank you,
Anita, Palmer
Dear Anita,


Not yet considered an antique, your lamp was popular around 1960 to complement our craving for Colonial American styles. I guess the bucket implies made-by-cooper (barrel- and bucket-maker) sugar buckets. It should sell for just under $50.