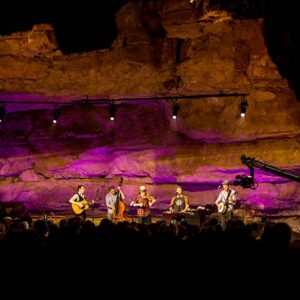 Photography by Michael Weintrob.
"This is what we like to call a double-whammy for the soul." Todd Mayo speaks with the enthusiasm of a tent revival preacher. He's talking about one of his favorite subjects: Cumberland Caverns' Bluegrass Underground, the Middle Tennessee concert series he organized with business partner Todd Jarrell.
"Places of beauty and natural wonder just do something to people, and music does the same thing," says Mayo. "Put them together like this, and it's miraculous."
The large, open space at Cumberland Caverns, appropriately called the Volcano Room, is perhaps the only music venue in the world that can say it's been 3.5 million years in the making. Volcanic runs created the unique listening room at Cumberland Caverns, and performers say the acoustics are magical.
Started on Memorial Day 2008, Bluegrass Underground now boasts overflow crowds and a recurring PBS program complete with an Emmy award for lighting. It's no wonder the artist roster reads like a roots music who's who. Everyone wants to play there.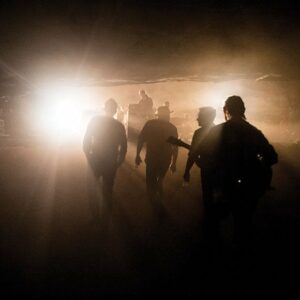 "When I tell people we put on concerts in a cave," says Jarrell, "I see their expression, and I realize it doesn't sound all that appealing. So I printed photographs from the concerts on my business cards, and now I don't have to say anything. I just hand them a card, and they're like, 'Wow!' You have to see it to believe it."
"No matter how many people you have attending," says Mayo, "you'll feel like you're in the most intimate of spaces. The sound is right there at your ear, and it just comes in around you without your even realizing it."
Named by countless sources as one of America's most unique concert halls, the Volcano Room has become a bucket list destination for concert-goers around the world — and all within a few short years.
Located in McMinnville in the Caney Fork Electric Cooperative service area, Cumberland Caverns is host to hundreds of thousands of visitors a year from all over the globe. A portion of the historic Trail of Tears runs through the park, and various tours are offered.
Other venues have been built "into" their surrounding natural landscape, but few have collaborated with nature as closely as the Volcano Room.
Colorado's Red Rocks Amphitheater, for example, is a popular concert arena built into the side of one of America's most picturesque rock formations. It's 6,500 feet above sea level and subject to the elements. The concerts in the Volcano Room at Cumberland Caverns, on the other hand, can never be cancelled due to rain and use the special acoustics of the rounded rock walls to provide an amazing live music experience.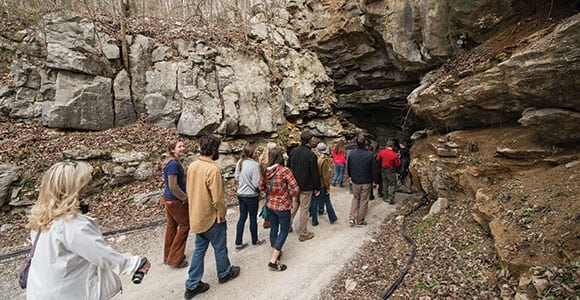 Parking is plentiful, but there is a healthy hike from the parking lot to the venue seating, so wear comfortable footwear. While Bluegrass Underground shows are open to all ages, the Volcano Room is not handicap-accessible. It's fine for most physically active attendees, but keep in mind that it is a cave, after all. As a hiking trail, the path leading to the stage would be classified as "easy," but the downhill slope requires sturdy footwear with good traction and ankle support.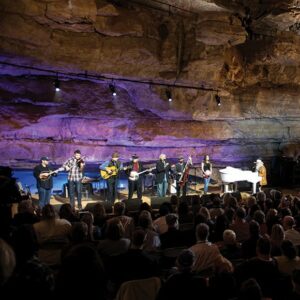 Many folks make the mistake of dressing up for their first show there … but soon realize they are overdressed among the other attendees who are more appropriately attired for a day hike. Attendees are not discouraged from bringing their own chairs and sitting along the dirt path leading to the main floor seating area.
Bluegrass Underground's website suggests arriving one hour prior to showtime. Full service restrooms are located in the back of the main floor seating area, and concessions are available before and after the show and during intermission. Tour guides are on site to lead attendees to the seating area and back up the trail again when concerts are over.
Whether you see a nationally touring bluegrass band or a local singer-songwriter, your experience at the Volcano Room will be one you'll tell and retell for years to come. How many people can say, "I saw a concert in a big, beautiful cave"?
The folks at Bluegrass Underground are betting there will be more and more all the time.