On a picturesque farm nestled in the quiet countryside of Franklin County, you will find the Robin-son family home, built with love, pride and lots o hard work. For the past 32 years, Mike Robinson and his family have owned and operated Sugartree Farms in Belvidere where they raise Angus beef cattle.
Robinson says he considers himself more of a self-starter than a generational farmer. His father worked for an air-conditioning contractor in Manchester, and his grandfather owned a small country grocery store. Both had small farms growing up, but Robinson takes pride in starting his family farming operation from the ground up.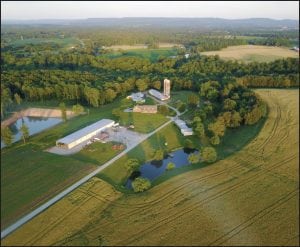 "My love for the farm life began when I started working for other farmers in the area. I enjoyed it and wanted to continue in that line of work," shared Mike. "I borrowed $9,600 from my grandfather to buy my first 18 acres."
In 1982, he began milking Jerseys on his farm, Sugartree Jerseys, and sold Grade B milk that was used primarily for cheese products. He switched to Grade A in 1996 and milked approximately 150 head of cattle for seven years. He sold his herd in 2004 but kept a few Jerseys that still roam the farm today — mostly for breeding purposes. He also tried his hand at a hog operation for a short time until there was a decline in the market.
Robinson's wife, Krislyn, and their four children are very involved with the farming operation. A former elementary-school teacher, Krislyn home-schooled the twin boys, Tracy and Kary, who are now 24 years old. "They have always been involved with the farm," says Krislyn. "Mike told me if I would stay home with the boys rather than go back to teaching, he would buy me a tractor with a cab, and he did just that! They would ride in the cab in their carseats, being lulled to sleep by the vibrating tractor noise. As soon as the tractor would shut off, they would wake up."
Today, the sons assist their father on the farm and also operate a store that sells bag and bulk feed. The family also sells farm equipment and straw to customers in surrounding states. Robinson is known as "the Sugartree Man" to many. "The friendships you make dealing with so many aspects of farming are wonderful," says Krislyn.
Farm life comes natural to daughter KayLee, 17, a senior at Riverside Christian Academy. She can roll hay just as well as the Robinson men. KayLee was a winner in a short-story contest about electric cooperatives and joined the Duck River EMC delegation that was part of the Washington Youth Tour in June.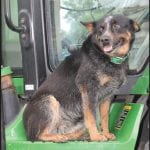 Zook anxiously awaits for her tractor ride.
Daughter Callie Pearl, 13, has a very special role as well. She is considered the snack and beverage girl, often having dinner prepared for the family as they arrive home after a long day. Both girls are very active in their local 4-H Clubs.
"We all work together so well and know what the others are thinking," says Mike. "We take pride in the family business, and I think it shows. Safety is always a concern on the farm, and there is always a fear of equipment coming in contact with power lines or accidently hitting a pole." That is why it was so important for the Robinsons to work closely with the DREMC Decherd District in relocating poles and lines on the farm to ensure safety. They showed their appreciation by baking cinnamon rolls for the office's recent employee appreciation event.
Life on the farm is fun for others, too. The Robinsons have hosted Sugartree Tractor Drives, which started seven years ago as a way for farmers to showcase their equipment. Antique tractors are revved up, and in years past, the farmers even had the opportunity to hook up to a plow and show off their farming skills. Though not held every year, the drives were a fun way to bring the community together for family activities, a good meal, fellowship and a tractor caravan along the winding backcountry roads. As many as 50 tractors have made up the convoy. And when the twin boys graduated, they chose to have the tractor drive as the way to celebrate their achievements.
Managing the herd and maintaining a home make quite a 365-day-a-year project. Most of the planting, cultivating and harvesting takes place from about March through November, but there's no rest during the other months as this is the time they "fix what was torn up in the field," laughs Mike.
There is no such thing as a "typical" day on the farm. Mother Nature plays a big part in when the planting and harvesting occur. Robinson tries to leave the house around 6 every morning, being joined on many trips to the field by his canine companion, Zook. She likes to do her part on the farm by riding in the tractor cab, brushing up on her rabbit-spotting abilities. When the Robinsons aren't in the field, paperwork is always awaiting completion at the house.
A longtime Duck River EMC member, Robinson shares that the cooperative has always been special to his family. Not only does DREMC help his family stay safe around power lines, but Robinson's mother, Kay, attended many of Ann Throneberry's Holiday Foods Programs in Franklin County, and Callie Pearl continues to enjoy the holiday-themed cookbooks she's collected over the years.
All of Robinson's hard work has definitely paid off as he was recently named Tennessee Farmer of the Year by the University of Tennessee Extension. He will compete against 10 other state winners in the Southeastern Farmer of the Year competition at the Sunbelt Expo in Moultrie, Georgia, in October. The award recognizes excellence in agricultural production and farm management, along with the leadership in farm and community organizations. This award also honors family contributions in producing safe and abundant supplies of food, fiber and shelter products for U.S. consumers. Tennessee is the spotlight state for this year's event. "It would be special to bring this award back to the state of Tennessee," says Robinson. "I am very honored to receive this nomination."
In addition to their duties on the farm, the Robinsons are all involved in organizations outside of the home. Krislyn is active with the local Tennessee Farm Bureau Women and teaches Sunday school at Lexie Church of Christ. Mike is involved with the Franklin County Farm Bureau, is a repeat member of the Farm Credit Advisory Board and has served for more than a decade on the CFW Waste Management Board. Twins Kary and Tracy are involved with the Tennessee Farm Bureau Young Farmers and Ranchers Program.

The tractor drives on the Robinson farm have been a much-anticipated attraction for the past few years.
Everyone in the Robinson family contributes to the farm's success in his or her own special way. "I couldn't imagine farming without them," says Mike.