90-year-old Buddy McNabb skydives with family for milestone birthday
When 88-year-old Lucien "Buddy" McNabb of Waverly told his family he wanted to tandem parachute out of an airplane for his 90th birthday, none of his children, grandchildren or great-grandchildren was surprised. But there was a catch: He wanted one of them from each generation to join him. Following the excitement of his announced birthday wish, he added that the family would be trying to be recognized by Guinness World Records for the most number of generations from one family to tandem parachute from a plane.
"I was ready to go," says Buddy's son Randall, 51. "I had done this with him once before, so I said yes with no questions asked. We did this together when he turned 80, so I knew what to expect."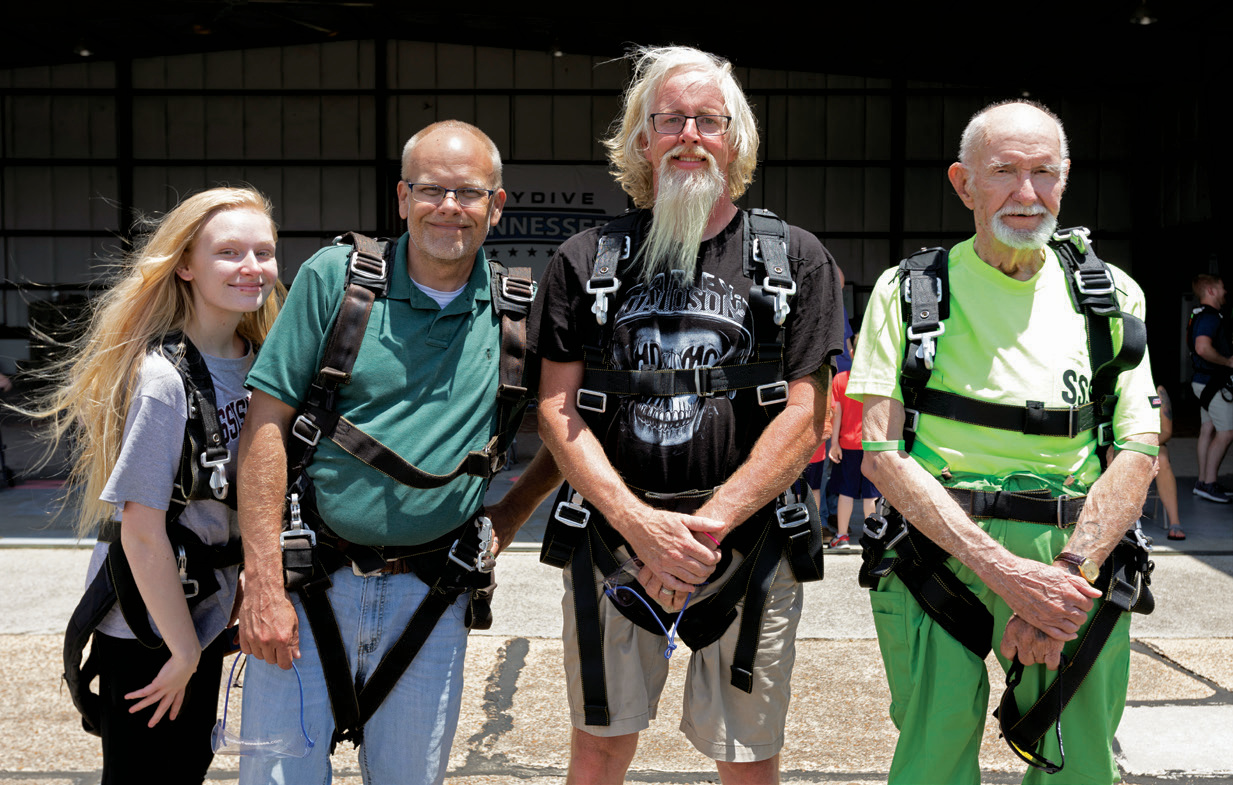 Buddy's grandson Brad, 49, who's Randall's nephew, says he hesitated for a moment.
"I was not exactly thrilled to do it, but Buddy never really surprises any of us, so of course I said yes," says Brad, who lives in Chapel Hill. "Then we asked my son Tim, and he just had no interest at all in jumping out of a plane. However, my daughter Hannah, then 16, was so excited to take part. But we had to wait until she turned 18. It worked out fine because she turned 18 the same year Buddy turned 90."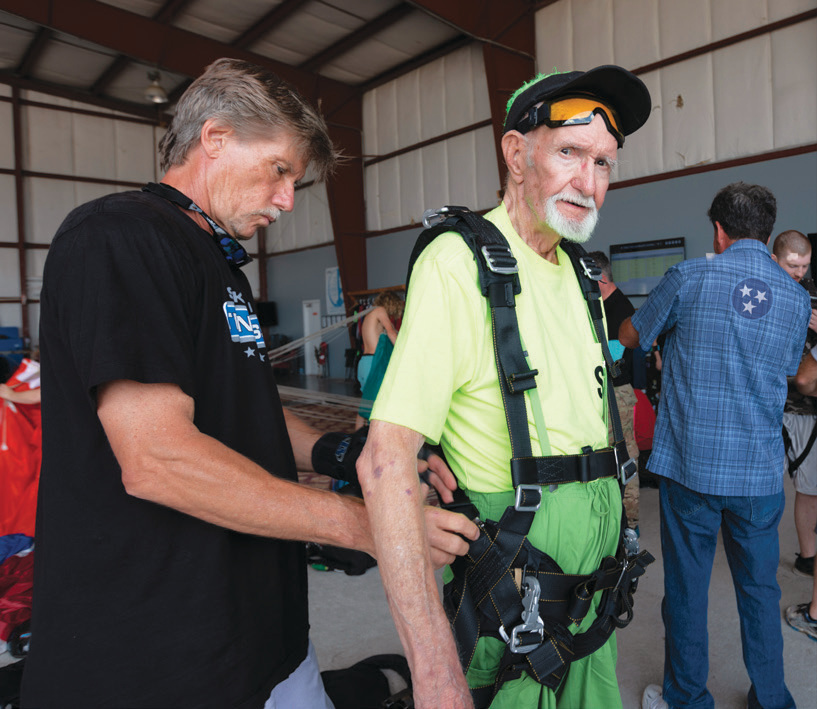 Hannah, who graduated from Blackman High School in Murfreesboro this year, looked at it as an adventure, something many of her peers wouldn't get to experience.
"The hardest part was having to wait until my 18th birthday because I really wanted to do this with them," says Hannah, who works at Walmart. "Yes, when the time came, I was nervous, but I told myself that the only way out of the plane would be to jump. It was just amazing."
For Buddy, who grew up in Waverly, tandem parachuting has become no big deal. As a crop-duster pilot in his younger days, he spent a great deal of time with his feet off the ground. He also ferried planes from the nearby Cessna factory to their buyers for a time, though he primarily made his living as a truck driver.
Buddy did his first tandem jump 10 years ago, when he turned 80. "I just decided this would be something fun to do, so I went out to the Humphreys County Airport and did it," he says. "Randall joined me, and it was great, but I got bitten by the bug to keep on jumping."
Since that first jump 10 years ago, Buddy has made five tandem jumps and turned his love of tandem jumping into a way to raise funds to help veterans and recovering alcoholics. He also generates attention for area food drives. These jumps, in particular, are very personal.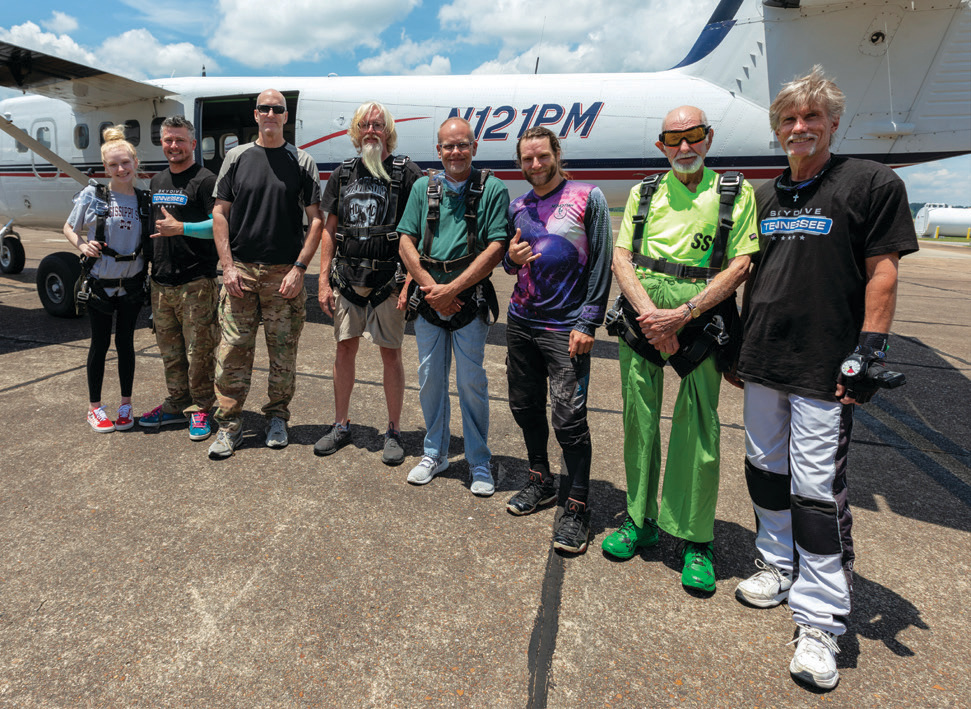 Buddy, self-admittedly, has lived a colorful life. "I was not a very nice person for the first half of my life," he says. "I ran away from home at age 13 and lived a rough life that included drugs and alcohol. In the early 1970s, I turned it all around, and I haven't had a drink since Oct. 11, 1971."
He has told his story in "To Hell and Back in a Bottle," an autobiographical tale that he says he hopes will be an inspiration to others.
In spite of having multiple jumps under his belt, the experience never gets old. "Jumping tandem out of a plane is a very different experience than flying," he says. "There you are, going 150 to 160 miles per hour in the plane when you step out of the door. A blast of wind hits your face, and it's a little bit of a shock, but I love the excitement. You free fall for several seconds, then your jump instructor opens the chute. You're lifted back up as it opens, then you just hang on for the ride."
Sounds pretty straightforward, but Buddy says he was secretly hoping for some twists and turns along the way.
"You can go in circles and all kinds of stuff, but they don't do a lot of wild aerobatics when you're doing tandem with an old dude like me," he says with a laugh.
Buddy had planned to do the "generation jump" in his hometown at Music City Skydive at the Humphreys County Airport in Waverly, but because of the number of people participating, they moved to Skydive Tennessee in Tullahoma. With its 20-plus seat Twin Otter, Skydive Tennessee could accommodate not only the family and their flight instructors but also several photographers.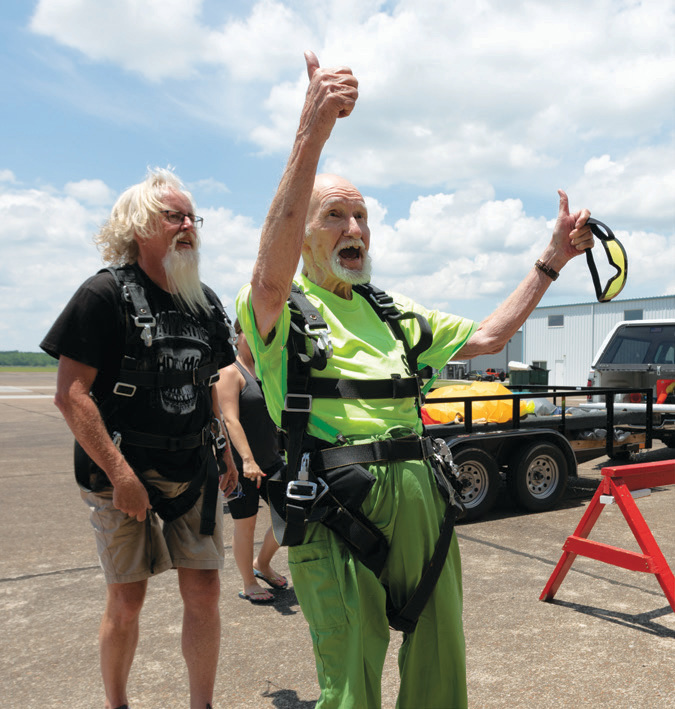 Randall admits that on the morning of the event, there was a lot more fanfare than they were accustomed to for one of his father's jumps. "Family came in from everywhere — I guess because of the chance to go at a Guinness World Record." Buddy agrees, commenting on the crowd: "First, there were the four of us and our professional parachutists, then there were three or four photographers and video folks, plus the pilot and a couple more. I think there were about a dozen people."
Buddy was the first to leave the plane with Randall right behind him. Third out of the plane was the initially reluctant Brad who was eagerly followed by his daughter Hannah. The teenager says she can see herself doing it again one day and can't wait to share the experience with future generations. "I can't wait to tell my kids that I jumped out of a plane as part of four generations of our family."
Buddy takes a more philosophical view of his adventures as a tandem parachuter.
"For me, there's no way to be any closer to God than when you're up there at 14,000 feet in God's country," Buddy says. "It's a beautiful experience."
Editor's Note: The McNabb family is awaiting word from Guinness World Records staff to certify their quest.