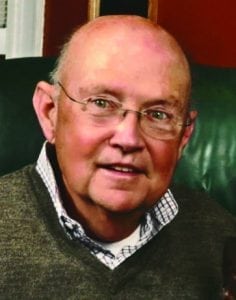 History is all around us — if you'll only look. That simple philosophy is what drives historian and writer Harbert Alexander to preserve an increasing collection of tales from West Tennessee's past. Alexander, who has long been a notable figure in Jackson, has published four books filled with vignettes that range from funny to sad to curious. "Tales of Madison," the first collection, came out in 2002 and featured stories of figures connected to Jackson and Madison County such as ill-fated railroad engineer Casey Jones. Two years later, he followed up his maiden effort with "Old Trails and Tales of Tennessee." This volume includes stories about Thomas Edison, Billy Graham, German prisoners of war who worked the fields of West Tennessee during World War II and the tragic sinking of the Sultana riverboat at the end of the Civil War, claiming 1,700 lives in the worst maritime disaster in U.S. history.
Ten years after his first book came out, Alexander teamed with artist Ralph J. McDonald for a coffee table book called "Autumn Memories: Recollections of Fall Days Afield." In this book, Alexander shares several stories related to the rich tradition of hunting. His stories are accompanied by McDonald's paintings of ducks and other fowl, rabbits, deer and hunting dogs.
Alexander's most recent collection is "Soldiers, Saints and Sinners: Stories of Long Ago," released in 2015. Like his previous works, this book is filled with interesting tales that take readers back in time.
One of the things that makes Alexander's work so appealing is that there is a combination of familiar figures like record-setting balloonist Steve Fossett and musician Carl Perkins and people whose stories might have otherwise been lost to history such as George Frederick Burgoyne Howard, an English con artist and imposter who posed as a Baptist minister in Jackson in the 1880s.
Alexander says people are always sharing tales they say he should include in his books. He keeps notes about these stories until he has enough that he can flesh out into a collection readers will enjoy.
"It feels a bit like a detective search," he says of the process of digging deeper into the stories in order to find what truth he can and make them come alive.
Alexander's love of history actually began with his fascination with archaeology as a little boy. When farmers plowed their fields, he'd look for arrowheads. His interest only grew as he got older, and he was even Madison County historian for 23 years and currently serves on the board of the Tennessee State Museum.
His work can be appealing to those who don't have a lot of time to read at one sitting. The stories tend to be around four or five pages long and can be read in only a few minutes. Chances are that once you begin reading, however, you'll be tempted to keep going to find out what interesting character lies in the pages ahead.
Alexander is at work writing stories for his next collection, "Echoes and Footprints," which should be available this fall. He says that at this stage, he's writing about two stories a week in order for the book to be completed for an autumn release. In order to make his deadline, he's set aside a different kind of writing project: a novel about baseball and finding one's path and purpose in life that he plans to get back to after "Echoes and Footprints" is completed.
Though he likes the novel project because it'll expand what he's known beyond West Tennessee history, Alexander says he suspects he'll keep writing the historical vignettes as long as there are stories to tell. And the likelihood of history ceasing to have more stories to offer up is pretty slim.
"History is much richer than we can imagine," he says.
For more information:
Harbert Alexander's books are available at online retailers as well as regional locations such as the Casey Jones Railroad Museum in Jackson, On the Square Gallery and Gifts in Bolivar and Burke's Book Store in Memphis. A more complete listing is available on Alexander's website at harbertalexander.com.
Alexander also enjoys speaking to groups, which is where he says he sells most of his books. You can contact him through his website.